Chocolate toy-filled eggs and Easter egg hunts are all the rage these days and have become significant icons in the celebration of Easter. Many people instinctively associate Easter with Christianity, not knowing that the tradition of painting hard-boiled eggs to herald in springtime actually pre-dates Christianity.
All around the world, the egg is a symbol of new life, fertility and rebirth. However, for Christians, the Easter egg is symbolic of the resurrection of Jesus Christ. The hard shell of the egg represents the sealed Tomb of Christ, and cracking of the shell represents Jesus' resurrection from the dead.
Easter egg activities are a fun way to introduce your child to the meaning behind the holiday, while enjoying the chance for creative expression to unfold. Here are three great ways for decorating your precious eggs!
Method 1: Spray paint


What you need:
Spray bottles (Daiso)
White eggs
Food colouring
Toothpicks
Directions:
Place the eggs in a pot of water and bring the water to a boil.
Remove the eggs and let them cool.
Add water to the spray bottles. Using a toothpick, add a little food colouring and shake.
Lay out some paper on the table and place the eggs in the centre. Spray the edible food paint on the eggs as desired turning them to cover them fully. Leave them to dry.
Tip: To achieve the pastel effect, pat dry the eggs with a paper towel.
Method 2: Marbleize
What you need:
White eggs (brown eggs work too but the colors can be less vibrant)
Food coloring
White vinegar
Cooking oil
Containers
Directions:
Boil the eggs.
Prepare containers with 1 part food coloring, 1 part oil, 1 part white vinegar. I used 1 tbsp here. I find that a little less oil helps create nicer patterns cos I had a smaller surface area to drop the egg into. The vinegar helps to intensify the colors. The oil creates the marbling effect.
Dip the eggs as you wish. We tried dipping them halfway by holding it halfway into the dye
Dip the eggs in another color.
Method 3: Embellishments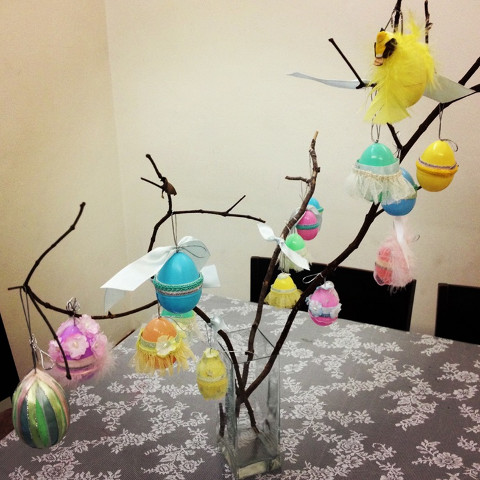 What you need:
Plastic eggs
Craft glue (if you have a hot glue gun, that would be the best!)
Feathers
Ribbon/trim
Artificial flowers
Glitter
Buttons
Stickers
Anything else you can think of, really!
Directions:
Stick the various embellishments onto your eggs with glue. Feel free to bedazzle them as much as you fancy!
String them up use them as decoration pieces around the house. You could create an Easter egg wreath for your front door. Or hang your eggs from a collection of nice twigs collected from around your neighbourhood.
Craft ideas and pictures reproduced with permission from scissorspaperstoneblog.com. Find more ideas online!
If you find this article useful, do click Like and Share at the bottom of the post, thank you.
Want more comprehensive info? Check out our e-guides here.