Want your child to learn how to ride a two wheeler? We spoke to our winners of our Learner Bicycle Giveaway, whose children had a free 2 hour session on the Learner Bike.
Find out how the experience was like for them!
Dawn Seah, mother of Ong Qian Ying (below), 7 years old
My girl does not know how to ride a bicycle. So she was very excited when I brought her to Coastline Leisure at Pasir Ris Park to learn how to cycle for the first time.
After registration, the staff at Coastline Leisure provided knee guards, elbow guards and a helmet to ensure the safety of the child. Then the trainer selected a Learner bike for my child based on her height. He adjusted the seat level to make sure that it was suitable and comfortable for her to ride on.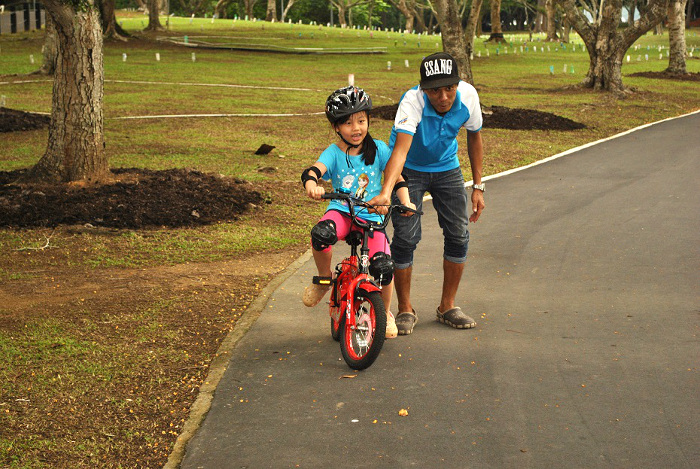 The trainers were very friendly. They made her feel at ease with them and guided her on how to balance on the Learner Bicycle. Initially, she had difficulty learning how to balance the bike as she was afraid. However, the trainers were very patient and kept on encouraging her. After much attempts, she was finally able to balance on the bike!
The trainer then 'upgraded' her to a normal bicycle from the Learning bike so that she could learn how to paddle and balance at the same time. After several attempts, she was able to ride a bicycle independently for a short distance. It was a great achievement for my child that she could cycle!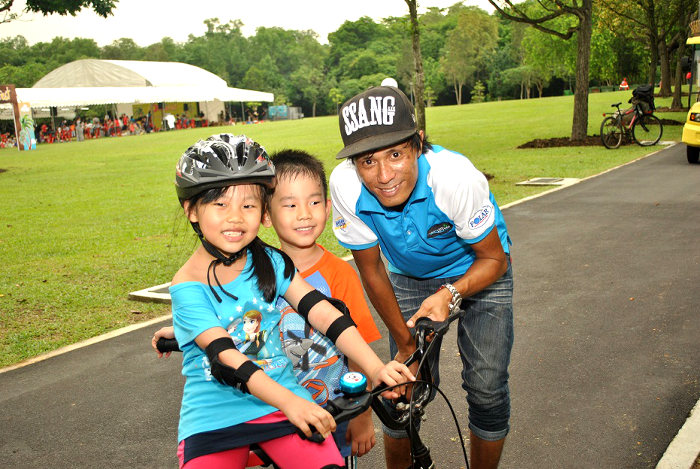 The trainers at Coastline Leisure were all very professional. I'm intending to bring my second child there to learn how to cycle. I'm sure with the help of the trainers, my second child would also be able to learn how to ride a bicycle independently in no time. I would definitely recommend Coastline Leisure to my friends!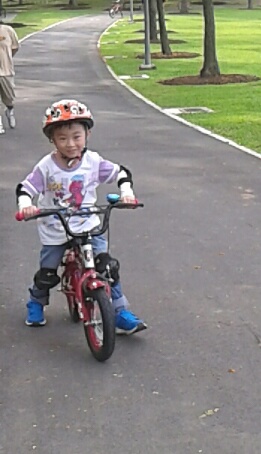 Jenny Ng, mother of Daryl Teo (right), 4 years old
My son had a great time learning from the two friendly trainers from Coastal. Although he was quiet during the session, the trainers built a great rapport with him.
In the past 2 hours, I saw him transform from a boy who could not even balance on a two-wheel bike to one someone who can lift up his legs and balance on his own.
At the end of the session, he told me 'I had a great day!'. We will definitely return for another session as he has yet to master how to balance on the Learner bike so that he can graduate and cycle on a normal one. We had an enjoyable afternoon on the Learner's Bike!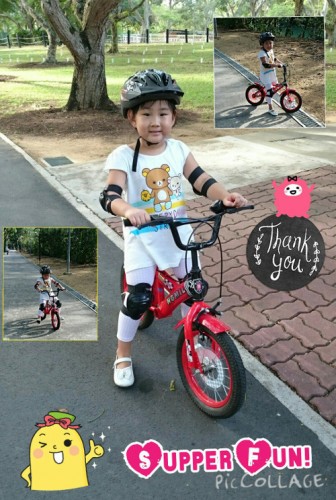 Teng Chiew Yen Joanne, mother of Chloe Teh Yu Han (below), 5 years old
My girl was surprised when given a 2 wheeler with no pedals. She was excited to have a try and started pushing it but she couldn't balance. It wasn't really fun for her as there was no instructor around to teach her the right technique. Nonetheless, she started to get a hang of it when we went to a slope to play. With the gravity on the slope, it helped her to focus on balancing the bike rather than pushing it.
After a while, she was gliding down the slope and learning to brake. This helped to build her confidence and she enjoyed the session so much that she requested to attend cycling class. Thank you for giving us a chance to experience this!

Wong Siew Siew, mother of Rainie (below), 7 years old
My girl was very excited when she found out that she will be learning how to ride a bicycle. She was initially quite worried when she got on the learner bike, as she was unsure of how to manage a bike without pedals. But she managed to learn how to balance herself on the learner bike within half an hour. She was so happy that she requested to upgrade to a normal bike so that she can start cycling, and she could ride a two-wheel bike within 1.5 hours.
Now every weekend, she never fails to ask me to bring her to the same bicycle shop to rent a bicycle to cycle!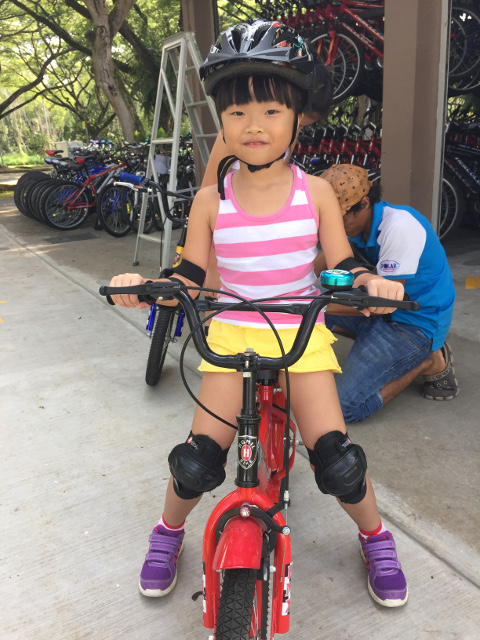 Looking to hold a corporate event, school excursion, family day or sports events? Coastline Leisure does events and excursions as well.
Coastline Leisure is located at East Coast Park and Pasir Ris Park.
Tel: 65839030 (Pasir Ris) / 64433489 (East Coast Park)
Pasir Ris Park Carpark C, Singapore 518226
East Coast Park Area E2, Singapore 468960
Operating hours:
Mon – Thur: 9am – 9pm
Fri, Sat : 9am – 10pm
Sun & PH: 8am – 8pm
* * * * *
Like what you see here? Get parenting tips and stories straight to your inbox! Join our mailing list here.
Want to be heard 👂 and seen 👀 by over 100,000 parents in Singapore? We can help! Leave your contact here and we'll be in touch.