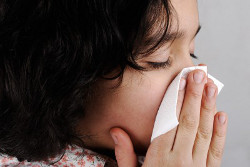 Question: My son is 4.5 years old. He has a sensitive nose and has a runny nose most of the time. He will recover from it for a while when he is given medication, but the condition comes back within few days. Because of this, he also keeps having rashes especially on his neck. Please advise.
Answer: Your child may have Allergic Rhinitis. Common symptoms of Allergic Rhinitis include frequent runny nose, nasal itch, sneezing and a blocked nose. If the symptoms are frequent, especially if it interferes with activity and sleep, I would recommend a proper assessment by your paediatrician. Appropriate use of nasal medications and avoidance of environmental triggers will improve your child's condition. Identification of environmental triggers may require a blood test or skin allergy test.
Allergic rhinitis may co-exist with other allergic conditions in the same child. These include Allergic Conjunctivitis, Eczema (chronic recurrent itchy rash often found around neck, elbows and knees), Bronchial Asthma and Food Allergy. If present, these conditions will also benefit from a proper assessment and management by your paediatrician for optimal control of disease and quality of life.
Dr Jenny Tang
Paediatrician
Sub-specialty in Respiratory, Sleep & Allergy Medicine
SBCC Baby & Child Clinic, Asthma, Lung, Sleep & Allergy Centre
Practice Address
6 Napier Road
#07-05 Gleneagles Medical Centre
Singapore 258499
Tel: 6475 0820/ 6397 6966 (Hotline)
Email: info@sbcc.sg
If you find this article useful, do click Like and Share at the bottom of the post, thank you.
Want more comprehensive info? Check out our e-guides here.