At Blossom Discovery Centre, we believe in offering diverse opportunities for children to explore, discover and create, motivating them to become life-long learners. Apart from indoor activities, some of our outdoor play includes water play, sand play and Chinese calligraphy.
Activities such as water and sand play are a predominant part in a toddlers' learning journey. Research has shown that sensorial play is important for the development of the child. Not only do these gross motor activities improve their physical dexterity and eye-hand co-ordination, they also develop social skills when interacting with one another through play. Cognitive skills are picked up too when the children explore concepts and learn new words!
Chinese calligraphy is a unique programme offered to our K1 and K2 children. This particular art form helps to promote concentration, patience and persistence. Calligraphy introduces and enhances literacy and handwriting skills, eye-hand co-ordination and gives the children opportunities to refine their personality, behaviour and promotes growth and development of the brain.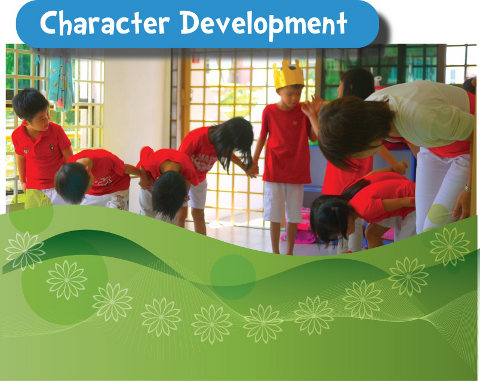 Most importantly, at Blossom Discovery Centre, we truly believe in cultivating good values to our children from as young as playgroup through our character development lessons. Good manners are practiced and inculcated in the children's daily learning through stories and incidental experiences.
Through these various activities, we are proud to provide our children with a well-rounded learning experience at Blossom Discovery Centre.
This was first published in The New Age Parents online magazine