Mother, entrepreneur, designer and innovator. We caught up with Yvon Bock, Founder and Managing Director of Hegen Pte Ltd as she shared with us about her traceability system to handle her breast milk, her five must haves during breastfeeding and why she started Hegen.
Hi Yvon, you're an entrepreneur and mother of four. How do you do it and juggle work and family? Any secrets to share?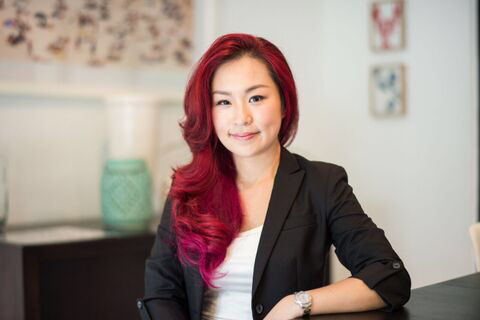 Depending on the time of the day, I am a daughter, daughter-in-law, wife, mother or the founder of Hegen. It is not easy to juggle these roles simultaneously especially when the family is involved in the business. Over the years, I have somewhat perfected the art of mediating the roles and finding time for work as well as for my children and husband.
When Leon and I got married, we had already planned to have a big family. What was vital was the mind-set that our children should adapt to our lifestyle and not vice-versa. Till this day, we still uphold this philosophy dearly.
All our children are trained to sleep through the night from 7pm to 7am since they were 4-6 weeks old. This routine allows me to clear some work emails after dinner and then enjoy some quality couple time in peace. We have set Friday evenings to be our couple "paktor" day. No kids allowed. Our kids are clear on this and very supportive. Also, we ensure once we get home, we try to avoid working on emails or phones unless it is really urgent.
In a nutshell, I can only say it is never easy or even possible to find the perfect balance. I am still learning because life is about continually learning and improving. We can only get better at what we are doing. Just keep that smile on.
Tell us more about that 'famous' photo (below) of the breast milk supply you stored and kept at your home.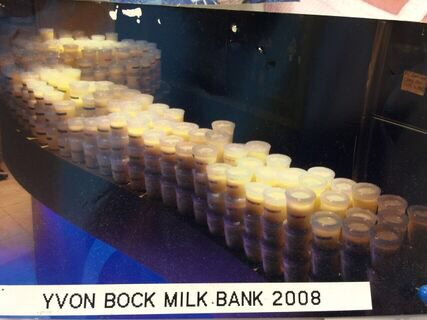 It is because of my belief that breastmilk is the best, I religiously express every four hours on the hour. Due to my frequent travels, I was constantly worried about supply and not being able to produce enough to feed two children at any one time (You can refer to my breastfeeding journey for each of my child below).
At one stage, we had over 1500 6oz/180ml containers stored in four deep freezers plus six freezer compartments with members of our families!
Organizing the milk is an art. I adapted our warehousing traceability system in my home in order to effectively handle my breast milk ensuring a first-in first-out system. I even added a colour by month labeling SOP!
Yvon's breastfeeding journey with her four kids:
Eldest son, Russell Robert Bock, 11 years old: Latched on & bottle fed with breastmilk for 8 months, continued breastmilk till 12 months
Second son, Brandon Landis Bock, 9 years old: Latched on & bottle fed with breastmilk for 12 months, continued breastmilk till 18 months, resumed drinking breastmilk when Lucas was born till Brandon turned 4 years old.
Third son, Lucas Alexander Bock, 7: years old: Lattched on for 1 month, refused to latch, continued breastmilk till 20 months, resumed drinking breastmilk when Kimberly was born till Lucas turned 4 years old.
Fourth daughter, Kimberly Alexis Bock, 5 years old: Latched on/bottle fed with breastmilk for 24 months, continued breastmilk till 30 months.
Did you face with any negative feedback while breastfeeding for all four children?
Some of the older generation actually dissuaded me from breastfeeding. They had a misconception of breast milk and believe that I was depriving my children of the additional nutrition formula could provide.
Breastfeeding outdoors was also often frowned upon in the past even though I was properly covered. It came to a point where I almost felt shameful about breastfeeding in public. I cried about this on numerous occasions.
What was your biggest challenge while breastfeeding
When I had my first child, I did not have much milk during the first 2 days. However my milk suddenly kicked in on day 3 and that was like a floodgate being opened, I ended up having painful and stressful engorgement. My breast expanded by 3 cup sizes during the pregnancy and when engorged, were both painful to a point where latch on suckling was almost impossible! Luckily there were hospital-grade breast pumps to help me to express and lactation experts to guide us through this early journey.
Some mummies get really stressed when they feel they can't produce enough milk for their babies. What would you say to them?
I believe every mommy has milk. It's part of Mother Nature. However, due to several factors in the modern world today, our emotions and physiques may affect our milk supply.
Give whatever breastmilk you can to your baby. Please don't feel any less of or beaten because of lesser milk. Your love for your baby is not measured by the Milliliters (ML) of milk that you have. Everyone has milk but some have more and some have less. Just do what you think is the best for your child.
What was the biggest lesson you learnt from breastfeeding?
Beyond the nutrients and health benefits for both baby and mommy, what is priceless is breastfeeding allows me to spend quality skin-to-skin bonding with my children.
Share with us a special moment you had in your breastfeeding journey.
My third child was born prematurely at 34 weeks. He was too tiny to latch on and had to be in the incubator for a few days and fed formula because I did not yet have milk. I felt lousy at first but pulled myself together and was determined to kick start my milk flow to feed him breast milk through the tube or spoon through the help of breast pump. It was very challenging, both physically and mentally but when my milk finally kicked in, i was overjoyed and in tears! It was all worth it.
A husband's support is important during this period too. How did your husband support you in your breastfeeding journey?
Yvon (in pink) with her family, parents and parents-in-law. Husband Leon is in the middle, in black.
Leon is equally passionate about advocating breastfeeding. I wouldn't have gone far in my breastfeeding journey without his support and encouragement, both physically and psychologically.
He did research night after night, attended antenatal course with me, approached lactation consultant to help me and fend me off negative or discouraging comments from relatives.
What are your top 5 breastfeeding products must haves:

Breast pump
Nursing cover
Breastmilk storage containers
Cooler bag with cold pack
Purelan oil
What drove you to create Hegen?
Children are my passion. I have always dreamed of having many children and am passionate about maintaining and nurturing their well-being as our next generation.
The opportunity arose when I left my job in the finance sector and my father who is a contract manufacturer of baby products decided to rope me in towards the expansion of his business.
Together we embarked on a dream of making a difference to parents and children all over the world.
As a mother of four, I have been through the breastfeeding journey multiple times. I constantly struggled juggling motherhood and my career. I wear multiple hats – mother, daughter, wife, designer, entrepreneur. Hegen allows me to tie all these roles together and also in my dream of helping other mothers in their own paths.
How do you hope Hegen will be able to help all the breastfeeding mums out there?
Hegen focuses on helping both mother and child enjoy their breastfeeding journey through simple, practical and highly innovative products that are designed to enhance the user experience. Our product range defies convention and focuses on recognisable features that directly addresses and solves users' pains, and we have taken the time to ensure the design, development, prototyping, material selections, actual user trials are all conducted comprehensively.
We challenged ourselves to create a quantum leap product through a combination of technological advancements and a well-thought out design; choosing to return to the drawing board than to put a product out without key points being fulfilled.
What can we expect next from Hegen and from this mother of four?
I am passionate about improving lives through well-thought-out designs with an eye for little details. I strive to help the young and the old by inventing meaningful products. I daydream a lot or sometimes you can say I overthink. I can start off with a new idea and subconsciously drift into crazy, wild ideas. I pen my concepts down in sketches and work with my design team to try to materialize these ideas into reality.
Hegen will continuously introduce new innovations and products to our range. Consumers can look forward to new additions to the Hegen range moving forward. Watch this space!
This article is part of Breastfeeding with Love campaign, initiated by The New Age Parents and New Age Pregnancy.
Join the Breastfeeding with Love Group to find out more and be part of our breastfeeding online community!
Click on the logos to find out more about our supporting partners.
Like what you see here? Get parenting tips and stories straight to your inbox! Join our mailing list here.
Want to be heard and seen by over 100,000 parents in Singapore? We can help! Leave your contact here and we'll be in touch.