Were you ever at the hospital or clinic and the doctor asks you for your child's last immunization, but you can't remember? Or when you brought your sick child to the doctor but can't recall when his fever started and what was the last symptom?
With Cadi.Sense kid's eHealth Journal, you can now keep track of your child's health bio data, all in the palm of your hand!
Automatic Vaccination Updates
With automatic vaccination and medical appointment reminders, you can never forget your kid's next vaccination again! The app comes with a simple and useful reminder tool that alerts you when you child's next appointment is due. The reminder also allows you to add medical appointments easily and organise each one neatly within your child's profile. What's more, once you download this app, a standard list of recommended vaccination dates will be automatically created for you according to your child's age.
Storing Sweet Memories
Did your baby just take his first few steps? Did she just utter the words "Pa Pa"? Besides health reminders and alerts, you can use Cadi.Sense to add a milestone of your child with a picture along with your own description. Organize your child's milestone neatly in your e-journal and share these sweet memories with your partner and friends!
Hassle Free Fever Management
For those who are using Cadi.Sense Wireless Thermometer, this Cadi.Sense app acts as a fever management tool as well.
After setting up your Cadi.Sense Wireless thermometer at home, you'll be able to use this app to view your kid's current temperature and create a new medical record with any description of your child, doctor's comments or medication given. A temperature chart will also be collated anytime when your child falls ill.
With this function, you can now monitor your child's fever as accurately as possible and show an accurate temperature trend to your doctor so that he can better understand your child's current condition for a better diagnosis.
The app will also trigger a fever alert when your child's temperature goes higher than the threshold (e.g. 37.8 Degree Celsius) which you can set within the app.
Your Own Electronic Health Booklet
This app works well without the Cadi.Sense Wireless Thermometer and is more than just a fever management tool. Besides keeping your child's health data, you can even store your own data, your spouse and your parents' health data.
An electronic health booklet developed for you to keep track of your kids' health and vital information, Cadi.Sense kid's eHealth Journal is now available on the Apple Store for iPhone and iPad. The Android version is now available on Google play.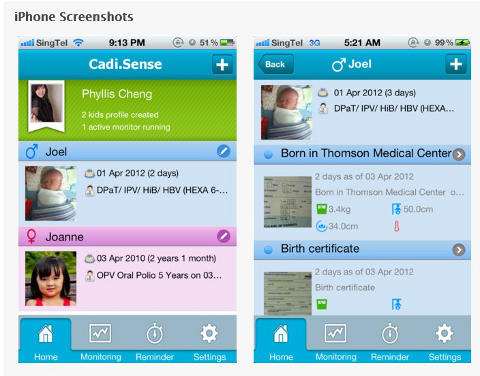 To find out more about Cadi.Sense wireless thermometer, visit www.cadisense.com
To find out more about the app, visit the iTunes Apple Store.
If you find this article useful, do click Like and Share at the bottom of the post, thank you.
Want to be heard and seen by over 100,000 parents in Singapore? We can help! Leave your contact here and we'll be in touch.