Eggs and bacon sizzle in the frying pan, filling the kitchen with a savoury aroma. The phone rings on the dining table and I turn to pick it up, leaving the breakfast to continue cooking.
When I look back, the frying pan is on fire. Flames reach upwards from the pan, halfway to the cabinet above.
We have a fire extinguisher – there it is, by the countertop. But wait – has it expired? Do I know how to use it?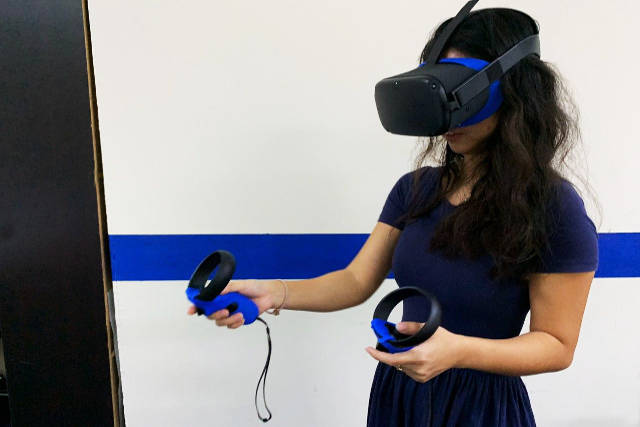 A member of Beat The Heat Singapore demonstrating the VR gameplay
Singapore homeowners can now experience all of this in a realistic yet safe environment through a Virtual Reality (VR) game by Beat The Heat Singapore – a campaign by four final-year students from NTU's Wee Kim Wee School of Communication and Information. The team aims to increase Singaporeans' fire preparedness levels and empower homeowners to respond appropriately in household fire situations.
Their survey of 159 homeowners found that 72.3% of them do not own a fire extinguisher, which is worrying considering that 62.1% of the fire calls in 2018 were from residential premises, according to Singapore Civil Defence Force's Fire, EMS and Enforcement Statistics 2018.
"We realised that many Singaporeans are complacent that a fire will not happen to them, including our own family members," said Ms Jacinta Chuah, one of the team's members.
"Even after three fires occurring in my neighbours' flats, my parents didn't see the need for a fire extinguisher in our house until now. We hope to empower more homeowners to take action to safeguard their homes and families."
⇒ Related Read: Fire Station Open House Tour
In the VR game, players learn how to use a fire extinguisher and experience how a small, initially controllable kitchen fire can quickly get out of control if not extinguished properly and quickly.
A screenshot of the VR gameplay depicting the stove on fire when a greased pan is left unattended for too long
"I was worried when the fire got bigger, and I realised I wasn't sure how to use a fire extinguisher, but there were instructions to help. It's also my first time trying VR, so I'm surprised to see how real it felt," said Mdm Yow Yeng Cheng, one of the first participants to experience the VR game.
The public can look forward to an immersive game walkthrough which will be released on Beat The Heat Singapore's Facebook page on Monday, 24 February 2020. The walkthrough features a married couple taking on the VR game challenge and testing their ability to save their child in a household fire situation.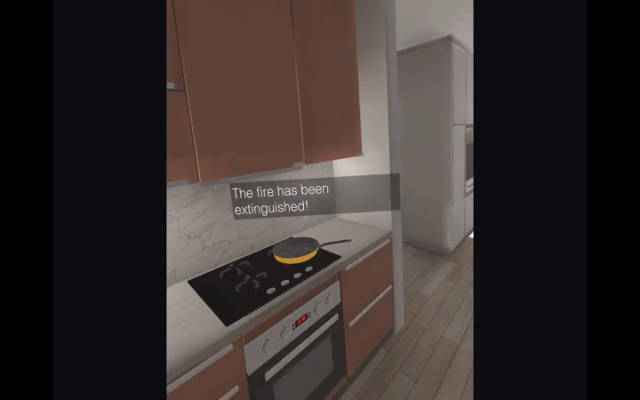 A screenshot of the VR gameplay depicting the fire being successfully extinguished
In light of the COVID-19 situation, pop-up booths for hands-on sessions with the VR game are temporarily on hold.
The team developed the game in collaboration with AAT Training Hub Pte. Ltd., a Workforce Skills Qualifications (WSQ) accredited safety training provider.
"VR is immersive and transports the player to another scene, one that they might not be able to imagine by themselves," said Mr Iqbal Musthapa, Head of Learning and Technology at AAT Training Hub.
"It makes the issue of household fires more personal and less of a distant thought. With VR, the process of learning how to be prepared against fires is now fun, novel, and experiential."
The team's research also found that one of the main barriers to purchasing fire extinguishers was Singaporeans' cost perception of them – 66% of surveyed homeowners believe fire extinguishers to be more expensive than they are. A 1kg dry powder fire extinguisher typically costs between $35 to $40, while respondents indicated prices in the range of $60 to $100.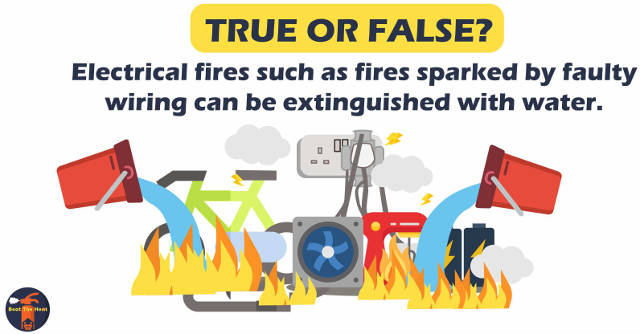 One of Beat The Heat Singapore's Facebook collaterals
In response to these misconceptions, Beat The Heat Singapore's Facebook page also provides information on fire preparedness to debunk myths surrounding the topic.
By Beat The Heat Singapore.
* * * * *
Like what you see here? Get parenting tips and stories straight to your inbox! Join our mailing list here.
Want to be heard 👂 and seen 👀 by over 100,000 parents in Singapore? We can help! Leave your contact here and we'll be in touch.