Did you know that a baby's skin is one of the most precious areas that require greater care? Your newborn baby's skin is very much different from yours – it is delicate, thinner and underdeveloped in many ways, including being vulnerable to moisture loss and irritation.
Delicate Skin That Needs Protecting
Your baby's skin is the first defense against bacteria, germs and other harmful substances. Although it functions as a protective barrier, it is more permeable and vulnerable to toxic chemicals compared to an adult.
It's no wonder parents fret about the harmful bacteria that come into contact with their babies' skin and are constantly looking for the best infant skincare – a quintessential routine in baby care.
Introducing Dodie, a French premium baby care brand with more than 60 years of expertise and the leading brand for babies in French pharmacies. All Dodie products are suitable for newborn babies and contain organic ingredients which are hypoallergenic and dermatologically-tested for sensitive skin.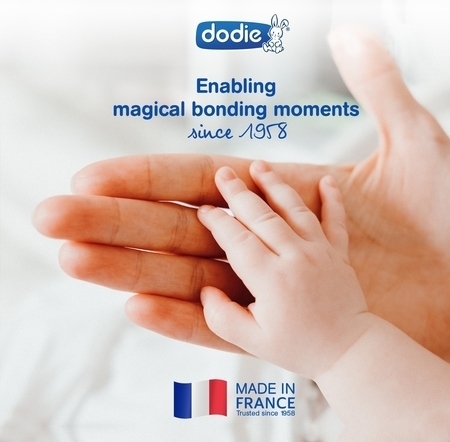 More than 200 Dodie products are in 25 countries, and more than 20 million babies around the world have tried and fallen in love with Dodie.
Not-So-Perfect Baby Soft Skin
You may have had the perception that a baby's skin is soft and perfect but it can dry out easily and be prone to irritation. Moisture loss happens naturally through our skin, and even more so for a newborn baby living in sunny, humid Singapore where heat rash is a common affliction. Moisturising is a crucial part of daily skincare and given how delicate your baby's skin is, you would want a natural and safe product specifically formulated for babies.
Dodie's 3-in-1 Moisturising Cream nourishes and protects your baby's sensitive skin. It is dermatologically tested to be suitable for newborns and babies with sensitive skin. It is hypoallergenic, formulated to minimise allergic reactions and ophthalmologically tested so it will not cause stinging in your baby's eyes.
98% of the ingredients in this cream are of natural origin and it contains three key ingredients – aloe vera, witch hazel water and cotton extracts, all of which are 100% organic. Its creamy and non-sticky texture makes it perfect for Singapore weather, as the cream can be absorbed easily without leaving a greasy feeling. It is a must-have for your baby's skincare routine.
Gentle Washing
It is essential to use a soap-free product for your baby's bath. The choice of baby cleansing product should have very mild surfactants that will not dry out or irritate your baby's skin.
The 3-in-1 Cleansing Gel from Dodie has a soap-free base that allows for gentle washing. It is dermatologically and ophthalmologically tested, making sure there is no irritation to your baby's delicate skin and eyes. Containing 100% organic aloe vera, witch hazel water and cotton extracts, this cleansing gel not only effectively cleans your baby's face, body and hair but also soothes your baby's delicate skin.
After applying to your baby's wet skin and hair, gently massage to lather and then rinse thoroughly. This cleansing gel gives your baby the perfect balance of comfort and freshness after the shower.
On No-Shower Days
Two to three baths a week are recommended for newborn babies and no more than one bath a day is recommended for babies four months or older as excessive baths can dry out a baby's skin. There may also be times when it is not practicable to rinse off cleaning products, such as when you're on the go with your baby.
So, what happens on no-shower days?
This is when Dodie's 3-in-1 Cleansing Milk and 3-in-1 Cleansing Water come in handy! Both products effectively clean your baby without having to rinse off, making them your best travel essentials. Simply apply the product with a cotton pad to clean baby's bottom, face and body.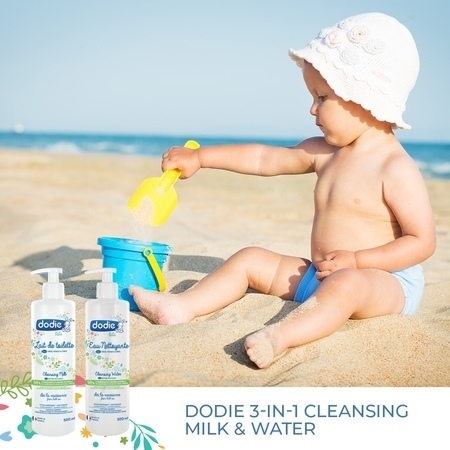 They are formulated to comfort and soothe your baby's skin so your baby's skin maintains hydration after cleaning. Similar to the 3-in-1 Moisturising Cream, all aloe vera, witch hazel water and cotton extracts are organic.
Baby's Bottom Line
Knowing how sensitive and vulnerable a baby's skin is, you would want to only use hypoallergenic and dermatologically-tested products suitable for a newborn's sensitive skin.
Dodie's baby skincare provides that assurance and has 98% of its ingredients from natural origin. There are no added parabens, phenoxyethanol, methylisothiazolinone (MIT), phthalate and alcohol, ensuring that your baby receives only the best natural skincare.
For the best deals to get Dodie's baby skincare, head on over to Lazada now!
This post is brought to you by Dodie.
Photos by Dodie.
* * * * *
Like what you see here? Get parenting tips and stories straight to your inbox! Join our mailing list here.
Want to be heard 👂 and seen 👀 by over 100,000 parents in Singapore? We can help! Leave your contact here and we'll be in touch.