Esther Lim, Founder and CEO of Leap SchoolHouse takes a walk down memory lane to mark the things that make us Singaporean and shares her moments that made an impact on her as a Singaporean.
I was born in Singapore at a time where amongst many things, high-rise flats were sprouting all around, the Kallang Theatre and old National Library were torn down and the train system was getting ready for its first roll.
The things I saw whilst I was in primary school and on have changed so much compared to the experiences of the children today. Here are some things that I remember and always tickle me when I look back.
#1 Teeth Brushing Along The School Quadrangle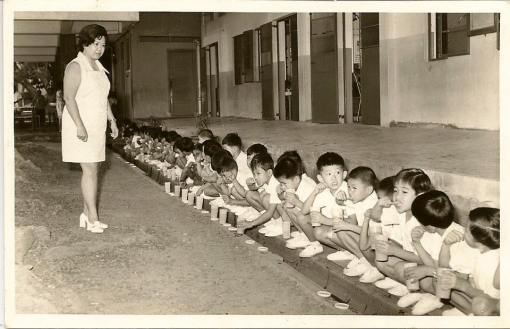 Brushing our teeth after recess by the drain with only water. Image credit: Edward Lam
This could be a something distinctly Singaporean. To promote good oral practices and hygiene, all primary schools in Singapore gave each child a toothbrush and mug for teeth-brushing sessions 2-3 times a week. Because there were not enough sinks, we often ended up squatting by the drain to brush our teeth.
#2 Milk Scheme
In primary school, we would pay a nominal fee and receive a packet of milk from the school twice a week. This scheme was implemented, as many children were under-nourished. I remember paying less than $5 for a month's supply from the school. Every year, an art competition was held and the winning entries would get their pictures printed on the tetra packs.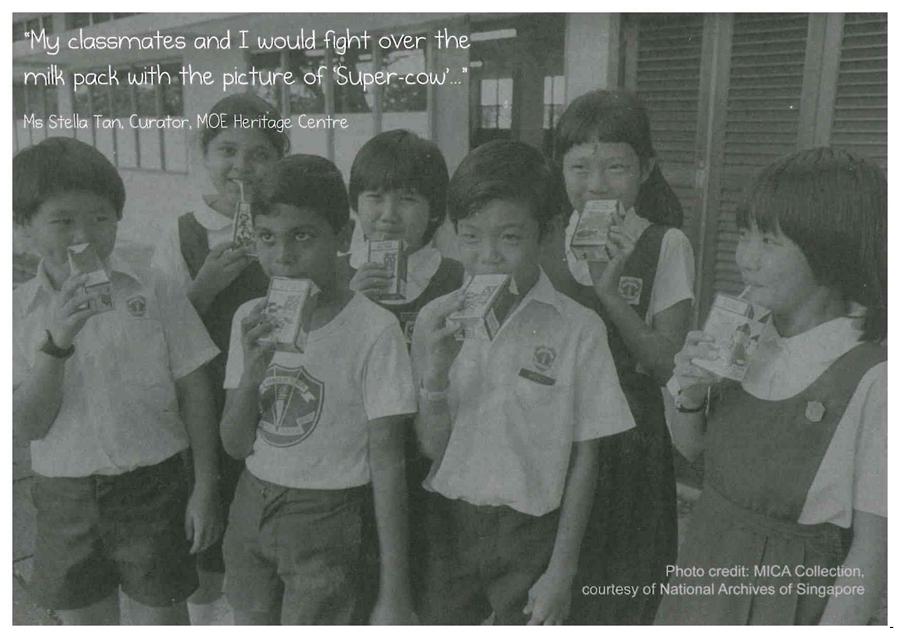 Image credit: MICA Collection, courtesy of National Archives of Singapore
#3 MRT Inaugural Ride
The first MRT train launched in 1987 and travelled only through 4 stations, from Ang Mo Kio to Yishun. That made travelling to school faster and more efficient. The first train ticket for a student started from as little as $0.30!
Old map of SMRT, taken from an SMRT Brochure. Image credit: remembersingapore.org
#4 Studying A Ninth Subject
Religious knowledge was offered to secondary school students as an additional subject. There were options to take on subjects like Buddhist Studies, Confucian Ethics and Bible Knowledge. We had to take a local examination with our 'O' levels and the credits could be used for admission to tertiary education.
Religious Knowledge textbooks. Image credit: National Archives of Singapore
#5 Bilingual Studies And Mother Tongue Language Campaigns
Since the start of school, we had to take lessons in English and our Mother Tongue. Despite so, many Chinese spoke a mixture of dialect with Malay language. To promote the use of Mandarin as our second language, there were plenty of memorable campaigns the government set in place.

Speak Mandarin Campaign Posters. Image credit: remembersingapore.org
Singapore Today
Singapore is where it is right now as our forefathers have put in so much. The focus was evident; to move our country from third to first world and the key to doing that is to literally splurge on educating our generation of tomorrow. There are abundance of government scholarships available and even many private sector companies chipped in. I too have been one of the blessed ones to be able to further my education with scholarships offered.
Through it all though, the one thing that stood out would be the bilingual language system of teaching and learning. I remember having to learn both languages and the pressure of failing one or the other was definitely there. However, the bilingual system has led us to be global and to be able to step out of Singapore onto the international platform with ease. We are all able to read and communicate effectively and make friends with people all over the world. Singapore has become a big melting pot and we have Mr Lee Kuan Yew to thank especially for the language policies he championed.
Living in tropical Singapore, the safety as I walk down the streets, the guarantee of the presence of a transport system to travel to my destination, the transparency of the education journey one can take to enhance and deepen our knowledge, these are things that as I see more with the globalization of the world, makes me appreciate it better. Sure, there are imperfections but when has there ever been perfect governance?
As we commemorate our 50th year of independence, let us take some time to also count our blessings and to teach our little ones how not to take the given for granted. And as we make progress, may we always remember the spirit of resilience that our forefathers and pioneers have shown us.
What are some memories you had of Singapore while you were growing up? Share them with us in the comments below!
By Esther Lim, CEO and Founder of LEAP SchoolHouse
Born and educated in Singapore, she holds a Master Degree in Education (NTU/NIE), Bachelor Degree in Arts (NTU), Diploma in Marketing – Top student for the year 2000 (Chartered Institute of Marketing). Esther has more than 10 years of teaching experience and has taught widely in both Secondary and Primary schools. She was also involved in curriculum planning and development work for the primary unit at MOE for several years. Esther has also conducted workshops and talks for educators, locally and overseas. Esther is also a mother of three children.
For more info, visit leapschoolhouse.com.sg
If you find this article useful, do click Like and Share at the bottom of the post, thank you.
Want more comprehensive info? Check out our e-guides here.