Mention the word creativity, one will immediately come to think of anything to do with the arts. But creativity is beyond just the arts.
When a toddler figures out how to fit a start-shaped object into the mould of his toy, or when a pre-schooler discovers how he can use an umbrella to reach the far end crevice to retrieve his toy car, both of them have actually applied creativity in solving their own problems.
What makes a creative toy? What kinds of toys help children to think creatively?
Here are some questions to help you through your selection:
Are they made of natural materials?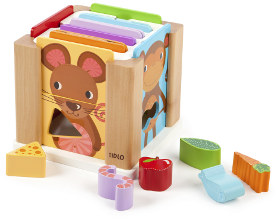 Look, listen, touch, feel and taste. It's all about the senses for young children. Young children delight and take comfort in touch; their hands stroking against the soft fur of their favourite stuffed toy, their fingers grasping onto the hardwood of their blocks. Unfortunately, plastic toys are not able to give children such sensorial pleasures and comforts.
Can the toy be played in more than one way? Can the toy be shared? Can two people play it simultaneously? Some examples of open-ended toys include blocks, different themed play-sets (kitchen, dollhouse, pirate ship) and play dough. Another example is the humble toy puppet. These toys are a safe way for children to define and explore their relationships with the environment as they have no story or background attached to them.
Do they promote imagination?
Most open-ended toys such as stuffed toys and puppets also promote imagination. Because they are based on unknown characters, this encourages children to use their own imagination to invent and define the toy's own character and personality. The puppet can be their friend, their pet, a character in their story. This is perhaps one of the reasons why children also develop strong emotional relationships and attachments to their stuffed toys. They make great tools for interaction, imaginative play, as they help facilitate role-playing and acting.
Now that you have narrowed down what sort of toys you are looking for, you might still be lost in a myriad of toys that are out there in the market.
The New Age Parents narrows down two toys that fit the above bill.
Tidlo – Too Wood to be true
Tildo is a range of traditional wooden toys (from the UK) that focuses on role-playing, pretend play and interactive play. Whether it's learning the time, sorting shapes and animals, or pretending to be a pirate on a voyage for endless treasure, Tidlo range of premium wooden toys allows your child to play alone, in pairs or in groups. Tildo range of theme sets such as a kitchen station and a little cottage. These help children to be more aware and understand their environment a little better.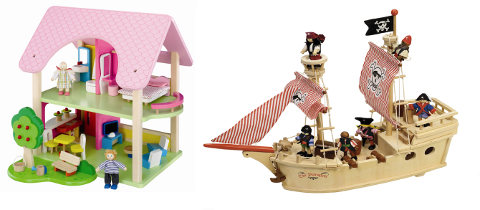 Trudi Puppets – It's a wolf. No wait… it's also a lamb!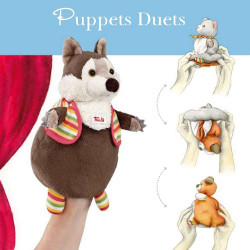 A puppet series focusing on creativity and imagination, what we love about this is the reversible 'twist' to each soft adorable plushie. A two-in-one puppet, turn the animal inside out to find a hidden surprise! On one side, meet Miss Sheep. With a flip inside out, meet Mr Wolf! The only thing left is a storytelling session with Mr Wolf and Miss Sheep. Better still, if your child is old enough, you can get him or her to invent or share a story with you. Featuring a line of other animals, these huggable hand puppets can be used on the go, great for story sessions but also great for role-playing too.
Simple Toys. Timeless Joy
The toy market is ever increasing with a new plethora of gadgets and gizmos in electronic forms. The easy accessibility and use of today's modern technology have caused such toys to be left in the dark. As 'old school' as it might sound, what your child can learn and get out of playing from the new showy electronic devices, these sensorial and open-ended toys can offer so much more.
Let your child's imagination run wild, with the pleasure of simple, timeless toys.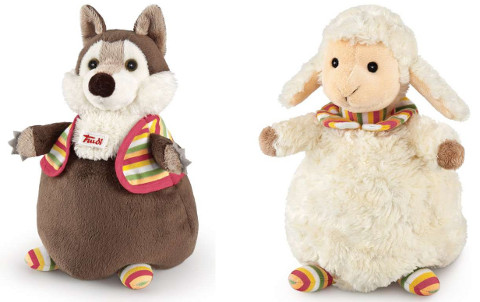 This post is brought to you by The Imagination Factory.
* * * * *
Like what you see here? Get parenting tips and stories straight to your inbox! Join our mailing list here.
Want to be heard 👂 and seen 👀 by over 100,000 parents in Singapore? We can help! Leave your contact here and we'll be in touch.