Many people dream of achieving something, and so do Mr and Mrs Diggory, who along with Eek the little mouse, are the main characters of the play. Their dream is to win a prize for growing the most enormous turnip in their garden, hence giving rise to the play's title. But dreams do not just come true without any effort or hard work put in, and so Mrs Diggory has to nag her big, bumbling gardener of a husband to get started if he wants to win the prize.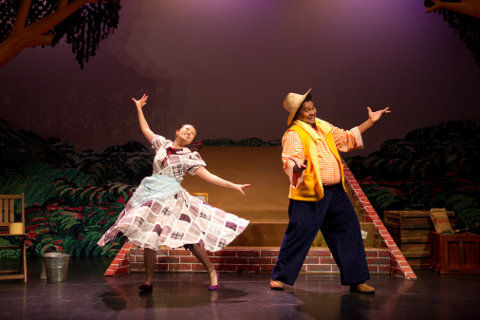 They are aided by the mysterious random magician and Eek, who also has a dream – to be noticed. Eek's story brings across the message of not judging someone or their ability by their appearance, and is a message many may well be able to relate to, for at some point or another, we may have encountered situations whereby others doubted us. If so, Eek's ultimate triumph will serve as an encouragement to persevere in the face of opposition and rejection, to continue to believe in ourselves, and not let the negative feedback of others pull us down.
The character of Eek the mouse was very credibly portrayed by Isabella Chiam, the puppeteer whose deft handling of the mouse puppet was most impressive – one could see and feel the emotions of the mouse through her own facial expressions and body language. It is definitely no mean feat to be able to manipulate a puppet so well so much so that it comes alive on stage as a real character, holding its own against the other human characters, whereby we just can't help but feel for and empathise with Eek, through his highs and lows in the play. Kudos to Isabella for her skillfulness indeed!
As for Mr and Mrs Diggory, the casting of Faizal Abdullah and Ethel Yap was an interesting pairing, with Faizal's big build and dark skin colour an apt choice for portraying the earnest and tanned gardener, an attention-grabbing contrast against the slim and fair Mrs Diggory. They realistically depict the nuances of a typical husband-wife relationship with its occasional squabbles, because she knows him and his weaknesses so well. At the same time, their common aspiration of becoming "rich and famous" unites them, and families will surely enjoy watching them sing and dance to cheerful tunes that express their dream of growing the most enormous turnip.
This play also offers opportunities for parents to build on their children's vocabulary from the many synonyms of the word "enormous" (i.e. mammoth, massive, monumental and monstrous) and "pull" (i.e. heave, tug, yank) mentioned in the songs and chant, or even to teach their children about the various vegetables (i.e. carrot, cabbage, brinjal, beans) that Mr and Mrs Diggory sing about. What a wonderful opportunity to reinforce healthy eating with children! What's more, parents can even consider doing simple cookery activities using turnips (or other vegetables) with their children as a follow-up after the play.
A captivating play with exciting moments that promise to keep you at the edge of your seats, as well as lots of funny interactions among the different characters that will have you in laughter, this is one play you certainly don't want to miss! With its strong interactive element, members of the audience may even get a chance to participate alongside the characters on stage!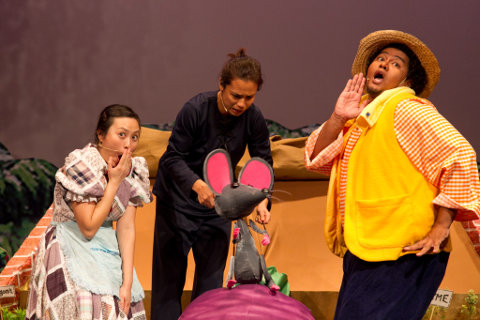 So what are you waiting for?
Purchase your tickets now before the play ends its run on 8 June!
ACE FESTIVAL LITE! 2013 – THE ENORMOUS TURNIP
Event dates:
21 May – 8 Jun 2013
Mon – Thur, 9.30am, 11.30am & 2.30pm
Sat, 10.30am, 2pm & 4pm
Approximately 55 mins including meet and greet
Venue:
Alliance Francaise Theatre
1 Sarkies Road Singapore 258130
Approximately 55 mins including meet and greet (There is no interval for this show)
Written by Wah Chia Ling