Do you know? Our human skin has multiple layers with varied functions including something called the stratum corneum layer. Being the first line of protection against the environment, the stratum corneum helps to prevent skin from drying besides various other barrier functions.
Meet stratum corneum's good friend – Ceramide
To maintain a well-moisturised skin, the stratum corneum layer contains tiny molecules called ceramide. It is a lipid (a group of naturally occurring molecules) that fills the gaps in between the cells and is able to attract therefore helps retain moisture. It looks something like this:
Photo: Pigeon Newborn Pure Skincare
What protects your baby's skin?
There are two main natural substances that help protect babies' sensitive skin, says Dr Mark Koh, Head and Consultant of Dermatology Services at KK Women's and Children's Hospital. "Vernix, a layer of white creamy substance, provides a waterproof layer to the skin in the unborn baby and helps the maturation of the skin. At birth, Vernix acts as a lubricant and protects from bacteria outside the womb. Ceramide acts more as a barrier to help the skin remain moist and supple."
⇒ Related Read: Common Newborn Baby Skin Problems Skin
However, as a baby's skin thickness is 1/3 thinner as compared to an adult's skin, a baby's skin barrier function is immature to fully manage on its own. Hence, it's important for parents to take good care of their baby's skin. Here are useful pointers to note for parents from Dr Koh.
Recommended baby skin care tips and routine
Daily baths with just slightly warm water and using a gentle cleanser / soap substitute
Daily moisturising with a baby-friendly moisturising cream
Wear loose, thin, cotton clothing
Tips on preventing diaper rash
Prompt diaper changes (once baby pees or poops)
Use an appropriately sized diaper based on the baby's weight, to ensure it is not too tight or loose.
Use soft and more absorbent diapers
Use water and a gentle cleanser to clean the baby's bottom instead of wet wipes, especially when diaper rash occurs
Use a protective barrier cream at each diaper change
Seek medical attention early from a GP, paediatrician or paediatric dermatologist if diaper rash occurs, especially if the rash is persistent or worsens after one or two days, despite frequent diaper changes.
⇒ Related Read: Common Rashes In Children And How To Manage Them
Common practices parents do that might damage baby's skin
Using strong soaps and disinfectants that are not formulated for use on babies
Excessive use of powder, which may have a drying effect on the skin
Excessive use of medicated oils, which can irritate babies' skin
Swaddling the baby in too many layers of clothing, which may cause the baby to overheat and develop

heat rash

The use of pacifiers can increase the baby's risk of developing milk rash around the mouth
What to do when baby's skin start to have allergic reactions
Stop using products that have been recently introduced into the baby's skincare regimen
Avoid using products which may irritate the baby's skin, such as medicated oils
Moisturise with doctor-recommended moisturisers
Seek medical attention from a GP, paediatrician or paediatric dermatologist for diagnosis and treatment if the rash persists or worsens after a couple of days
What parents can look out for when buying for baby skin products
Dermatologically-tested on babies, infants and young children with good results
Specially formulated for babies' skin
No preservatives, no fragrance, 0% parabens
pH balanced
Contains substances that help to restore the baby's skin barrier e.g. ceramides
Introducing PIGEON's New Range of Baby Skin Products: Newborn Pure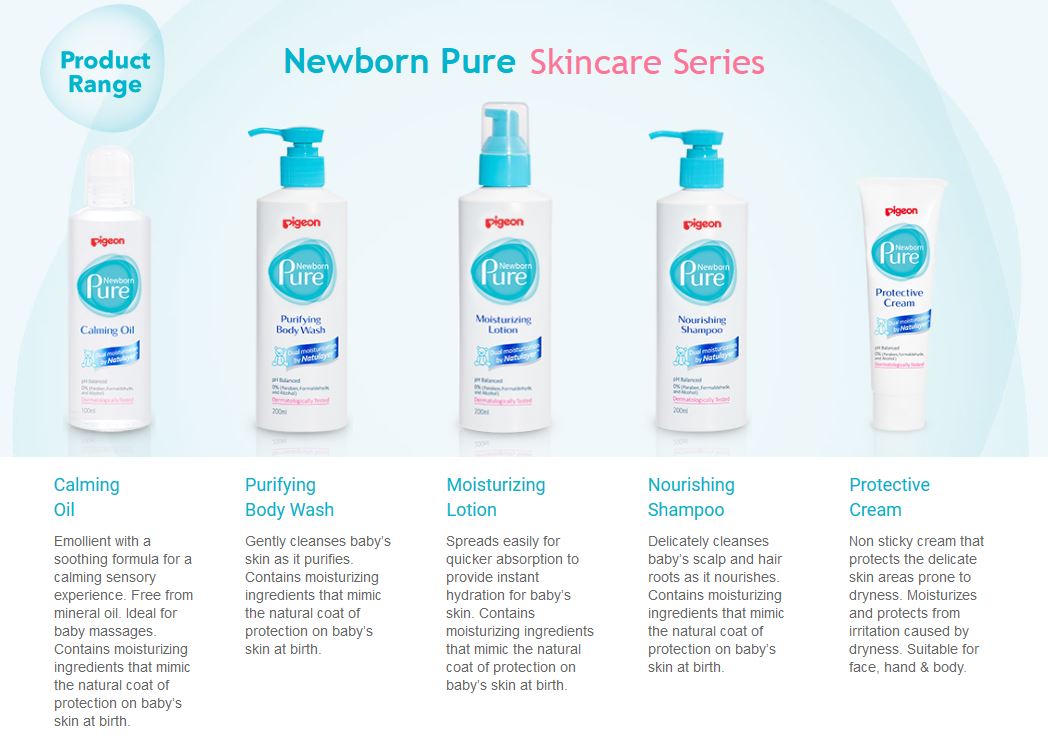 Photo: Pigeon Newborn Pure Skincare
Great skincare starts at birth and mums more than ever are investing in high-quality baby skincare products that address the most common skin issues. The PIGEON Newborn Pure Skincare Series contains a unique trademark formula, Natulayer™. Inspired by Mother Nature, it mimics Vernix and Ceramide to provide a dual layer of protection and comfort for a newborn's delicate skin from birth. The scientifically proven Natulayer™ formula also helps to maintain the skin's fatty protective layer by ensuring balanced pH levels.
PIGEON's first premium skincare series is dermatologically tested for safe use on all skin types, contains no Parabens, Alcohol or Formaldehyde, and has a natural fragrance. The series also includes natural extracts from Olive Oil and Rice Oil.
The series is exclusively available at Motherswork, selected Guardian pharmacies and selected department stores. For more information, visit Pigeon Newborn Pure Skincare Series.
* * * * *
Like what you see here? Get parenting tips and stories straight to your inbox! Join our mailing list here.
Want to be heard 👂 and seen 👀 by over 100,000 parents in Singapore? We can help! Leave your contact here and we'll be in touch.