"I was so surprised when my elder daughter contracted the same infectious disease for the third time!" said Ms June Lim, a mother of two daughters.
Although thankfully her daughter was not hospitalised after contracting Hand, Foot and Mouth Disease (HFMD), it was a stressful period for June and her family. June had to look after her sick daughter for more than a week until she was cleared of HFMD while taking precautions to prevent the infectious disease from spreading to other family members.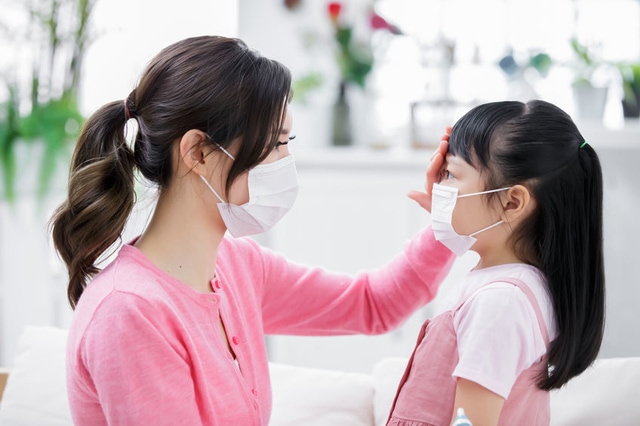 She shared, "I thought my daughter would be more immune to HFMD as she already caught it twice in preschool, moreover she is now in primary school. We also could not trace for certain how she caught HFMD."
"Thank goodness we had a family personal accident insurance plan which included coverage for infectious diseases such as HFMD. We managed to claim for the doctor's visit and medication, and I felt relieved that follow-up consultations were also claimable," she said, highlighting the benefits of buying a 2-in-1 personal accident plan with infectious disease coverage.
When our worst fears happen without warning
There are many things that seem out of our control as parents these days. Without warning, an infectious disease (e.g. COVID-19 and dengue fever) or a personal accident could disrupt our lives in an instant.
While these are events that we may not have much influence over (other than trying our best to stay out of harm's way), there is one thing you can control — whether you are covered for life's worst moments if they do occur.
As breadwinners and caregivers of our children, falling ill or getting into an accident could result in a loss of income, hefty hospital bills and long-term expenses such as physiotherapy.
What if we could cover ourselves for these calamities for less than $0.30 a day?
How can we cover ourselves for life's worst moments?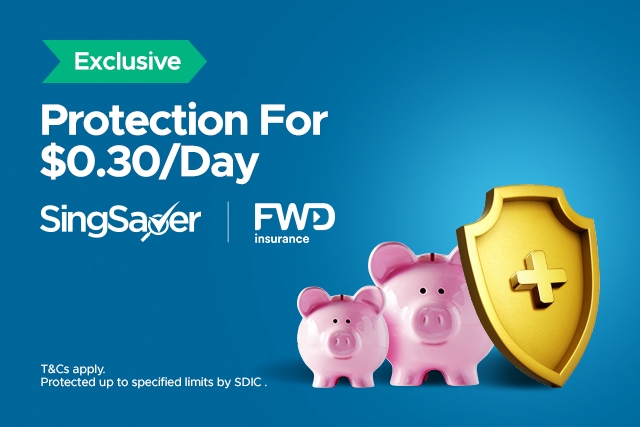 Instead of racking up bills in the tens of thousands, you can insure yourself for the same amount, starting from less than $0.30 a day, or $98 a year with SingSaver Exclusive: FWD Personal Accident & Infectious Disease Coverage.
This is less than $10 a month (or the price of two bubble teas)! Furthermore, you can get further discounts by purchasing the couple or family bundles too.
It's an affordable plan that isn't just for personal accident insurance coverage but also covers infectious diseases like COVID-19, dengue and Zika which could severely disrupt the lives of you and your family.
In fact, the FWD Personal Accident and Infectious Disease Coverage offer a comprehensive list of 24 infectious diseases, compared to other insurance plans on the market which cover an average of 20 infectious diseases. Food poisoning is also covered under this comprehensive plan (with a 90-day waiting period after purchasing the policy).
Double the benefits, double the coverage
The SingSaver Exclusive: FWD Personal Accident & Infectious Disease Coverage plan is a 2-in-1 plan and not just a personal accident plan.
If you contract one of the 24 infectious diseases covered in this plan, you can claim up to S$1,000 for both inpatient and outpatient medical expenses in Singapore, $250 for TCM expenses and daily income supplements of up to S$50/day.
Ambulance fees are covered for $250, physiotherapy charges for $500, home modifications for $5,000, and a daily taxi allowance of $10/day (up to 2 weeks).
This plan also offers the highest limit of S$50,000 payout each for death, disability, guardian angel benefit or personal liability related to COVID-19 and infectious diseases.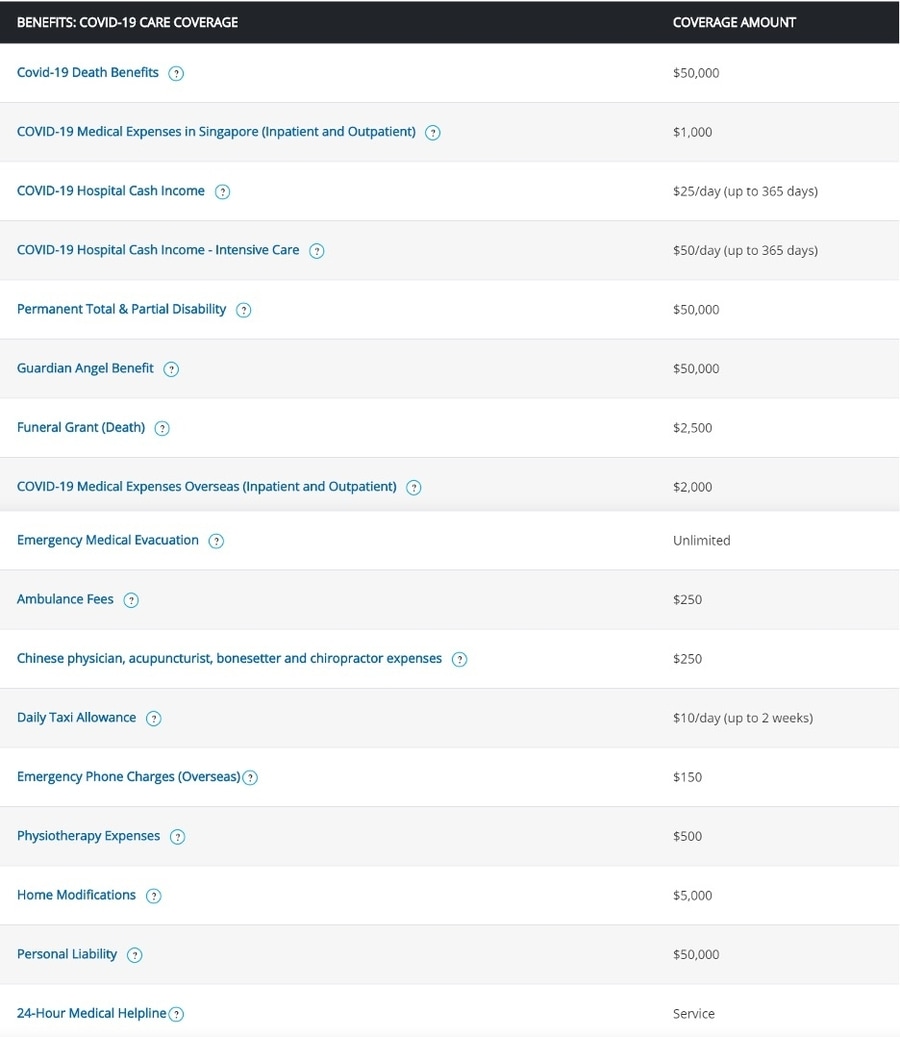 For personal accidents, you are also covered for daily income supplements of up to S$100/day and S$100,000 payout each for death or disability.
While personal accident plans typically have occupational premiums which could increase your premium by up to 80%, this exclusive FWD plan by SingSaver has No Occupational Premium loading. This means you pay the same low price of less than $0.30 a day regardless of your occupation!
Moreover, work-related accidents are covered too (as long as you don't work in an occupation listed in the policy wording and is not considered hazardous). FWD also has a 24-hour medical helpline so you can be assured someone will be there to attend to your needs.
Faster claims with SingSaver and FWD's Exclusive Personal Accident and Infectious Disease Insurance
FWD has reduced waiting times for claims. Infectious Diseases including COVID-19 have a 15-day waiting period from the start date of your policy coverage (much shorter than the waiting period for other insurers which typically takes 90 days).
Since 2016, FWD Singapore has also made it easy for you to submit digital claims via your mobile, be it a local or overseas accident.
You can nominate your beneficiaries easily via downloading and printing the form here, filling it up and mailing it to FWD directly.
Am I eligible for this affordable 2-in-1 insurance plan?
To purchase this plan, you must be a Singapore citizen, permanent resident or valid pass holder under the age of 65.
In the event you have a valid pass and have been in Singapore for more than 14 days, you will be covered if you contract COVID-19 overseas, as long as it is after the waiting period of 15 days and there are no travel advisories issued regarding travel to that particular location.
You should also have no travel history outside of Singapore for at least 14 days prior to the purchase of this policy, must have never been refused to buy or renew any Personal Accident Insurance, or have your insurance been cancelled or voided by your insurer.
Also, you must not have previously tested positive for COVID-19, nor have been advised to self-isolate or self-quarantine by a medical professional or the Singapore Government.
How do I protect myself and my family for our peace of mind?
Protect yourself and your family now with SingSaver Exclusive: FWD Personal Accident & Infectious Disease Insurance starting from less than $0.30 a day.
Visit SingSaver here to sign up immediately!
Brought to you by SingSaver, whose mission is to empower you to lead healthier financial lives through increased financial literacy, and helping you save money while becoming more financially independent.
* * * * *
Want to be heard 👂 and seen 👀 by over 100,000 parents in Singapore? We can help! Leave your contact here and we'll be in touch.
Stay in touch! Subscribe to our Telegram here for all our latest updates.