The transition from preschool to primary school can be tough. With more subjects, tests, and homework, the beginning might be a little messy. Here are some accessories parents can stock up to help junior kick start his school term.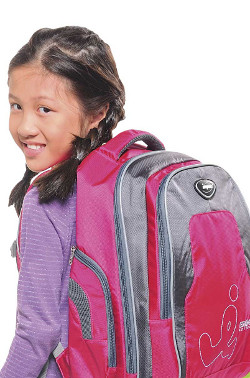 1. Bag to Back
With more subjects introduced, Junior will now need to bring textbooks, workbooks and notebooks to school, on top of his reading book and stationary. That can be quite a load on his shoulder and back. Studies have proven that a child's backpack should not weigh more than 15% of their body weight.
Children are going to carry their school bags for a long time and there are plenty of musculoskeletal problems such scoliosis, which may develop if their bags are more than what they should be carrying. Pay particular attention to your girls, as they generally weigh less than boys, and therefore are not as strong.
TNAP Recommends: IMPACT Spinal Protection School Bag
Besides being the ONLY ergonomic brand medically endorsed and trusted by The Chiropractic Association (Singapore) & Singapore Physiotherapy Association, IMPACT ergo dynamic school bag is designed to enhance straight standing postures and prevent hunched backs.
We love…
The spacious interior and the professional back care system with thick soft paddings to give your child that extra back support and to protect his/her spine
The adjustable chest and waist straps can be adjusted to your child's build and allows the bag to hug snugly to your child's body. This means no swinging or dropping bags even when junior is running with his bag.
Different inner compartments to departmentalize junior's things: two side and front compartments plus two more compartments in the bag interior. No more fussing and digging around for small or loose items! Plus there is an extra elastic band inside to hold the items inside
As light as 700 paper clips; the bag we tried (IPEG-087) was the lightest bag among its class, weighing at only 700g!
Spoilt for choice! The IMAPCT spinal protection school bag comes in a wide variety of designs, colours, sizes and accessories such as stationery pouch, tumbler bag, wallet, file carry bag and ionizer water bottles.
Other features include:
'U' shaped shoulder strap that fits and sits nicely around the neck
3M Scotchlite reflective material to ensure your child's safety on the road
Made in Korea with high grade nylon water resistant material & UV, keeping the inner content safe and damage free
Did you know? Ergoworks has also been voted as the "Best Retailer in Ergonomic" and "Most Favourite School Bag" in several parenting magazines
2. Stride On
Though most of the time is spent in the classroom, there will be Physical Education lessons and recess time for junior to run around and be active. Not forgetting the extracurricular activities he might have after school. It's good to invest in a good pair of shoes for Junior. One with plenty support and comfort to boot.
Here are some tips to look out for when shoe-shopping:
Go for shoes with fastening support. We recommended those with Velcro straps as young children may have difficulty with laces.
Chose those with a patterned or textured sole as this will provide traction and prevent slips on slippery surfaces
Soles should be sturdy to protect the feet from potential injuries, with some flexibility for it to bend with the foot movement
3. Getting the Write Tools
TNAP recommends: Miss BIC Evolution Graphite Pencil and Ecoulations Evoution Colour Pencils
Look Ma! No Splinter!
These wood-free pencil and colour pencils are made of synthetic resin material. This means even when junior accidentally breaks it, you can be assured that there won't be any splinters around that might prick him. The colour pencils are also made from ultra-resistant and recycled material.
4. Let's Read
Every morning or afternoon, junior will be expected to bring a book for reading time before assembly. Take this time to introduce children classics to pique his interest and start building on his word bank.
TNAP recommends:
Dairy of Amos Lee series by Adeline Foo
Adeline's The Diary of Amos Lee, published in 2009, ranks as her best-selling series. All seven titles in the series have made the Straits Times' National Best Sellers' List for more than 84 weeks. The first book, I Sit, I Write, I Flush! has also won the inaugural Red Dot award given by the International Schools Libraries Network, a children's choice award.
Sherlock Sam series by A.J. Low, Adan Jimenez and Felicia Low-Jimenez
Meet Sherlock Sam, Singapore's greatest kid detective. With his trusty robot Watson, Sherlock Sam will stop at nothing to solve the case, no matter how big or small!
* * * * *
Like what you see here? Get parenting tips and stories straight to your inbox! Join our mailing list here.
Want to be heard 👂 and seen 👀 by over 100,000 parents in Singapore? We can help! Leave your contact here and we'll be in touch.