Do you find it challenging to get your child to take in more vegetables and fruits? Does he enjoy eating junk or fast food compared to wholemeal products? Is he refusing to take in more milk as he grows up?
Well, you are not alone!
A 2012 study conducted by the National University Hospital of Singapore found that nearly 1 in 2 Singaporean parents say their child is a picky eater1. Children with unhealthy eating habits, such as picky eating, may be nutritionally compromised. Over time, if this is unresolved, it may put the child at risk of compromised growth, susceptibility to illness and impact cognitive development.
A child needs to consume a complete and balanced diet for all the essential nutrients and vitamins to help them grow and develop to their fullest potential. With a lack of nutrition, a child will be more vulnerable to illnesses and diseases. They may appear to be restless or face difficulty concentrating in class too.
So, what can you do? How can you monitor the level of vitamins or calories that your child consumes every meal? How do you know if he is having a healthy and balanced diet?
Abbott introduces PediaSure-NutriTracTM , an online tool to encourage healthy eating and balanced nutrition for children in Singapore. This online tool is the first of its kind to be designed with the local diet in mind. It is suitable for developing children age 1 – 12 years old.
NOW, You will be able to assess your child's nutritional consumption, the targeted calorie intake and identify the problem in your chid's diet. Such a helpful tool in analyzing the most complex part of a child's diet and the best part is, it's FREE!
Let's check PediaSure-NutriTracTM out!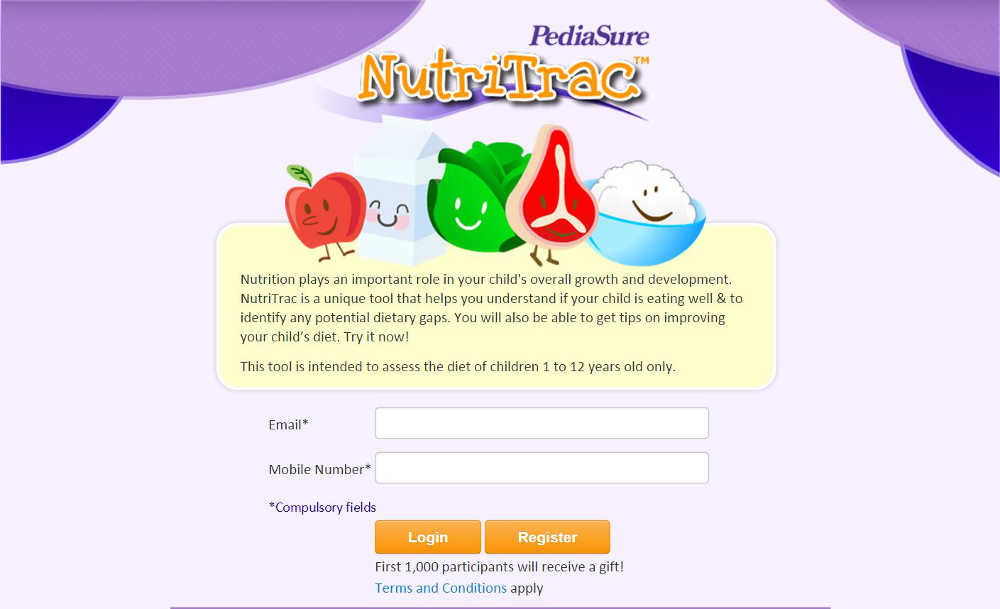 After entering the PediaSure-NutriTracTM website, register as a new user.
Next, you will be prompt to enter your child's particulars. To get the most accurate result, it is recommended to enter your child's exact weight, height and Date Of Birth.
The crucial part is here! Enter your child's daily diet to see if his meals meet his dietary requirement. You can select the food choices that your child consume for a particular meal. As simple as it seems.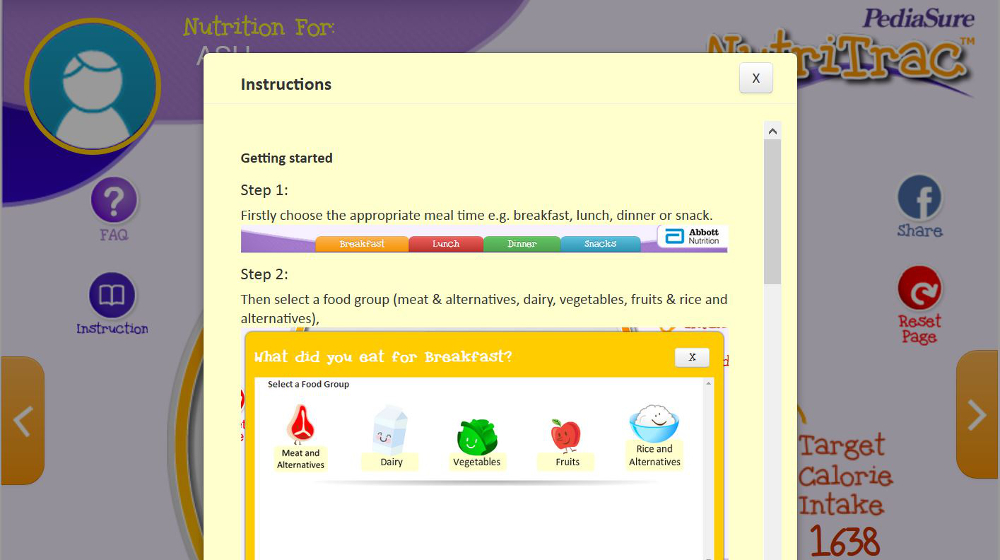 There you go! The results ~
PediaSure-NutriTracTM gives a very detailed insight and report into your child's nutritional diet through his food consumption. There are even some recommendations to improve your child's diet so that they can meet your growth potential. Now, eating a complete and balanced meal is not too difficult especially with a user-friendly nutritional tracker like PediaSure-NutriTracTM!
What are you waiting for? Check out PediaSure-NutriTracTM to access your child's nutrition intake. The first 1,000 users will receive a surprise free gift worth $50 after using it!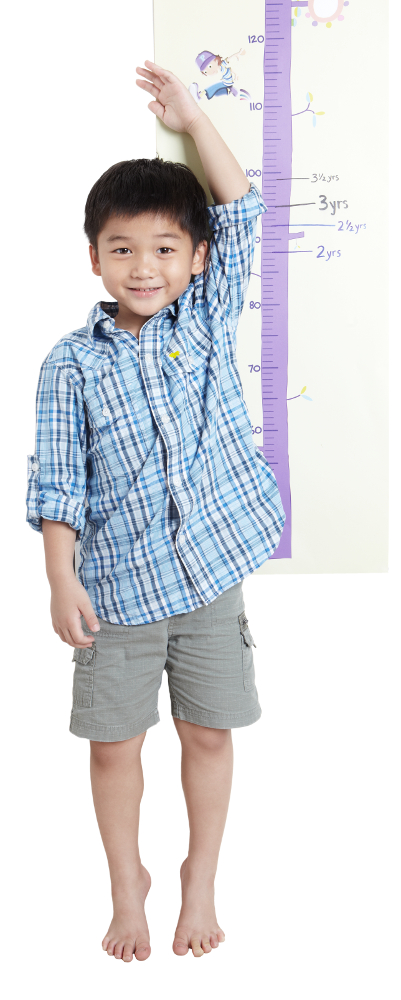 Find out if your child is a picky eater at PediaSure-NutriTracTM and get tips on how you can help him develop healthier eating habits! In addition, get a free PediaSure sample if your child is identified with picky eating habits.
1. Goh DYT, Jacob A. Asia Pac Fam Med J 2012;11:5.
If you find this article useful, do click Like and Share at the bottom of the post, thank you.
Want more comprehensive info? Check out our e-guides here.