The third edition of the community-run festival offers a fully-physical line-up of activities featuring unique tours and experiences that allow them to explore the different facets of home
For the 5.6 million people who live in Singapore, home reflects a connection to a community and continuation of time-honoured practices and memories. Exploring these unique and intimate connections is at the heart of My Community Festival (MCF), a ground-up community event happening from 5 to 21 August 2022, which will feature a fully physical line-up of experiences – a first, since its debut in 2020.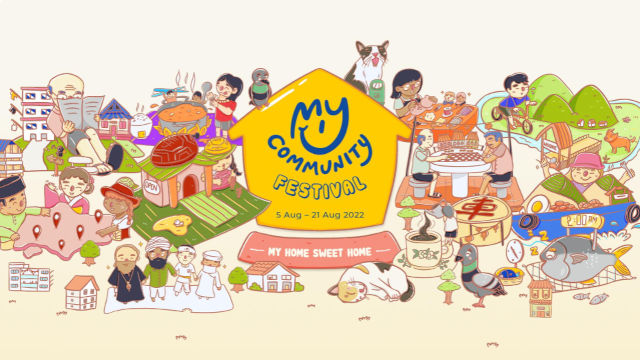 Organised by non-profit organisation My Community with support from the Singapore Tourism Board, – the third edition of the festival centres on the theme of 'My Home Sweet Home' and will give festival-goers exclusive access to the private spaces of the many communities in Singapore, including their homes, workplaces, places of worship, and communal spaces. This year's programme will also spotlight three neighbourhoods – which will become "festival villages", and feature workshops and thought-provoking tours that allow visitors to discover more about the area's history and uncover hidden gems.
"The make up of Singapore as a diverse multicultural society is an excellent platform for us to embark on a discovery of how the local and expat communities build connections to their home here in Singapore. The festival is a collective celebration of Singapore as a home, and with our programmes taking people into the heart of each community, we hope it will enable festival-goers to reflect what home means to them and spark curiosity about the lesser-known places and spaces that make our island home unique," said Kwek Li Yong, Festival Director, My Community Festival.
Hearing from the community, one neighbour at a time
This year's line-up is the biggest so far with 64 unique and riveting tours and experiences split across eight programme series. Each programme will be led by a member of the community who can bring different perspectives and understanding of home and community, as they share intimate memories and knowledge about their personal spaces.
The anchor programme series this year is "My Home, Truly" which pays tribute to the different types of homes in Singapore. Tour participants will get to meet various groups of people ranging from foreign workers, animal shelter workers and students who will take them into the places where they lay their heads in. Participants can look forward to visiting spaces including a foreign worker dormitory, Singapore's last kampung, and rental flats in Jalan Besar to hear heartwarming stories about creating homes out of these diverse types of housing.
The festival this year also includes several new programmes that provide perspectives on how people keep memories of home alive. For people who hold on to broken items for sentimental value, "Find My Fixer" offers participants an opportunity to restore them to their original state or find a new lease of life, while doing their part to live sustainably and reduce waste in Singapore. This includes workshops with a soft toy "doctor", kintsugi artist or teaware design for ceramics, and even a stained glass rescuer. The programme also offers an opportunity to meet Singapore's own version of Marie Kondo, Amanda Ling who can help revive spaces with the art of decluttering.
Festival goers can discover how expatriate communities recreate pockets of their home to form unofficial enclaves like Little Belgium, Little Philippines and Little Taiwan under "My Little Singapore". Besides learning about their culture and their recommendations on where to find the most authentic taste of their hometown cuisine, participants can take the chance to reflect and appreciate how these communities contribute to Singapore's identity as a melting pot.
Another programme "What's for My Dinner?" takes it a step further by having members of 20 Singaporean, ASEAN and international families welcome visitors into their homes to serve up cultural dishes ranging from local fare, regional cuisine from Thai and Vietnamese food, to international flavours like African, Maharashtrian and Northern Chinese food.
Visiting three festival villages over three weekends
Another new aspect of the festival is the introduction of three festival villages as part of "My Lovely Neighbourhood" series of programmes. For each of the three weekends during the festival duration, the festival will spotlight a locale in Singapore to learn about its thriving community through a series of immersive tours, workshops, experiences and performances that is a result of My Community's extensive community mapping exercise within these neighbourhoods.
For the first week, festival goers can head to the quaint seaside town of Changi Village to get acquainted with its wartime history and the variety of shops and eateries. This is followed by a focus on Singapore's largest motor repair village Alexandra Village which is also home to well-known hawkers and unique craftsmen like rattan weaver to glass installers; and lastly the iconic Chinatown, where visitors can immerse themselves in the unique shophouses, discover the various clans associations and the mouthwatering food available.
Each of the festival villages will feature three unique self-guided tours that can be accessed through My Community's community map, comprising a main storyboard and wayfinding signages, allowing visitors to explore curated trails that capture different facets of these neighbourhoods. On the days where the festival village is running, visitors are encouraged to speak to the community stakeholders with stickers on their storefronts and get to know them better and attend co-curated workshops to get up close and personal with their trade.
Returning programmes to uncover the hive of activity in Singapore
Returning favourites such as Welcome to My Island Home, My Prayers and Practices, and After Hours @ My Community have also been refreshed to align with this year's theme, offering new and returning festival-goers an opportunity to discover the best that the festival has to offer from previous editions.
Welcome to My Island Home: Discover the gems out of the city in a morning walk along six offshore islands led by ex-islanders and hear the stories of their beloved island communities. On top of visiting known islands like Pulau Ubin and Kusu Island, look out for special tours to visit transient islands like Pulau Hantu, and an exclusive tour into the PacificLight Power Station on Jurong Island.
My Prayers and Practices: Singapore is home to individuals of different races, languages, and religions. From the Jains and Zoroastrians to the Jews and Theravada Buddhists, join us on a journey to the places of worship of all 10 major religions in Singapore and learn about their cultures and practices. Additionally, there are private tours showcasing home-based rituals such as Seventh Month rituals at a shophouse, Eng Tiang Huat and Bahá'í devotees introducing how prayers and practices are conducted differently in their home!
After Hours @ My Community: The city never sleeps with our unsung heroes keeping Singapore going at night, while the rest of us sleep! Join in on a nightwalk around the spaces including Bukit Brown Cemetery that comes alive at night; and get a behind-the-scenes look at the workings of some bustling hotspots including Mandai Wildlife Reserve and Jurong Fishery Port.
"With the resumption of international travel, offerings like My Community Festival spark curiosity and excitement about what Singapore has to offer, and allow both locals and visitors to discover lesser-known stories and hidden gems. We hope these unique experiences and interactions will foster a deeper understanding and appreciation of the different communities across our country who call Singapore home," said Ms Lim Shoo Ling, Director of Arts & Cultural Precincts, Singapore Tourism Board.
Find out more at here.
Tickets are available for purchase from 20 July 2022.
---
It's the weekend and are you looking for things / activities to do? Check out our weekly roundup of Things To Do This Weekend In Singapore.
* * * * *
Stay in touch! Subscribe to our Telegram here for our latest updates.
Want to be heard 👂 and seen 👀 by over 100,000 parents in Singapore? We can help! Leave your contact here and we'll be in touch.