Seriously Addictive Mathematics (S.A.M) is the world's largest Singapore math enrichment program for children aged 4 to 12.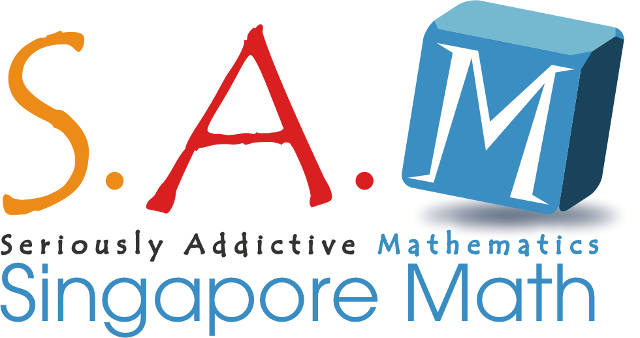 The S.A.M Thinking Math program is differentiated by its emphasis on developing mastery through interest and understanding in math, over memorisation and drilling to chase grades. Its focus on curriculum and coaching enables children to develop a positive attitude and build a strong foundation in math to take on future challenges.
Established in 2010, S.A.M has more than 180 centres in 20 countries and growing. More than 15,000 students worldwide have benefited from the multi-award-winning S.A.M program.
World-Class Curriculum
S.A.M's curriculum is based on Singapore Math – a global top-ranking curriculum according to international surveys TIMSS and PISA, with a focus on problem-solving and developing intellectual competence in children. S.A.M's curriculum is 100% aligned to Singapore MOE syllabus.
The curriculum is complemented by the S.A.M two-pillared approach of Classroom Engagement and Worksheet Reinforcement, and an individual learning plan tailored to each child at their own skill level and pace because no two children learn alike.
Classroom Engagement
Emphasising understanding before procedures, the Concrete-Pictorial-Abstract (CPA) approach is highly effective to help children learn and understand math concepts. Fun and hands-on activities are used to introduce new topics in an engaging and meaningful way.
In addition, the Coaching approach is used to help children explore, discover and build confidence in math. This is done in a small class setting where each child works on his own prescribed learning tasks.
Worksheet Reinforcement
Created by a team of former school teachers and textbook publishers in Singapore, S.A.M worksheets' tasks are comprehensive and varied to develop understanding and mastery, with the explicit teaching of problem-solving heuristics and process.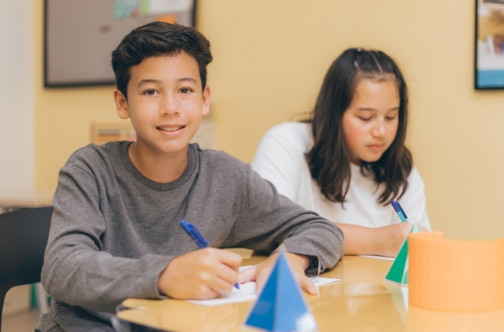 S.A.M worksheets' tasks are incrementally advanced so that learning is challenging yet achievable to keep children motivated. Through guided and independent practice, children develop self-discipline and good study habits.
What Are S.A.M Benefits
S.A.M learners develop a strong foundation and excel in math. They understand the concepts behind the procedures. They develop thinking and problem-solving skills to solve challenging problems efficiently.
S.A.M learners are confident and motivated. They enjoy learning and discovering math. They are independent and develop good study habits that allow them to learn in class and at home.
Who Is S.A.M For
The S.A.M Thinking Math program complements all schools – Singapore schools and international schools and is suitable for all students – for reinforcement and enrichment.
S.A.M allows basic learners to have a good math foundation, average learners to learn at a higher level, and advanced learners to continue to be challenged.
Testimonials
"Our son greatly benefited from the time he spent at S.A.M. He was losing interest in school and homework was a struggle. After one class, I could see the difference in my son. He no longer viewed math in a negative light. S.A.M had made an hour of math a fun-filled learning experience.

Hearing him laugh and seeing him happy while doing math was priceless. The small group dynamic worked wonderfully. I would highly recommend S.A.M; it will get your child thinking mathematically and it is done in a completely positive and encouraging environment."
– Neige V, Mother of Neelan, Grade 1 student
"I am really grateful for all I am learning at S.A.M! I went from being a girl that didn't like math to one that enjoys it. I actually got rewarded at school because the teacher noticed the progress I had made from 3rd to 4th grade, and I owe it to S.A.M! I recommend this program to my friends!"
– Alexia A, Grade 4 student
To find out more about Seriously Addictive Mathematics and the S.A.M centres located island-wide, visit seriouslyaddictivemaths.com.sg or email enquiry@seriouslyaddictivemaths.com.sg
For videos on Bar Modelling, visit Math Made Easy with S.A.M. Learn more about Math Heuristics here.
* * * * *
Like what you see here? Get parenting tips and stories straight to your inbox! Join our mailing list here.
Want to be heard 👂 and seen 👀 by over 100,000 parents in Singapore? We can help! Leave your contact here and we'll be in touch.