After surviving the initial efforts in raising your baby, before you even realise, he is ready to crawl and begin walking. Is your home safe for his next steps? Childproofing your home ensures the safety and comfort of the family.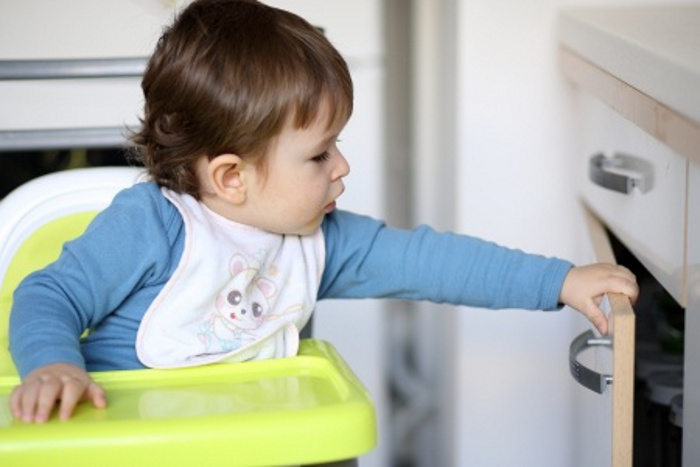 Here are ten important things young parents need to know about setting up their new home.
1. Plan it! Plan it!
For first-time parents, setting up a new home can get tricky as the planning and budgeting are fully dependent on the different phases of life their kids are in. Childproofing ranges from minor installations such as setting up gates at staircases when their kid starts crawling to more extensive renovations such as remodelling their homes and bedrooms once their toddlers leave babyhood.
By planning for the different phases of their lives, you can predict the budget based on your needs.
⇒ Related Read: Feng Shui In Your Bedroom
2. Finding Quality Contractors
Even though small installations can be easily done, parents sometimes face difficulty in making time for it. Hiring a handyman seems to be an option to explore. For bigger renovation works that involve remodelling of the house, you might have to engage in interior designers and contractors to get the work done. Online contractor platforms could be a fast and efficient solution for homeowners to find quality contractors.
3. Red zone No.1: Kitchen
The kitchen is probably the most dangerous place in the house and parents should keep a close watch when their kids are in the area. Parents can consider separating the kitchen with a sliding or a swing door. In addition, parents should install safety latches on all cabinets and drawers to keep children away from kitchen appliances and potentially life-threatening household products.
4. Red zone No.2: Bathrooms
Electrical appliances such as hair dryers or electric rollers should always be unplugged after use to prevent electrocution and burns. Install toilet locks to keep toilet lids closed to prevent kids from falling into the toilet bowls. Lastly, set the water heater thermostat to 48 degrees Celsius. It takes just three seconds for a child to sustain third-degree burns from water at 60 degrees Celsius.
5. Pay attention to every corner of your house
Place safety gates at the top and bottom of stairs and at doorways of rooms where injuries tend to occur. Ensure that all sharp corners are equipped with edge bumpers to protect against any unnecessary injury.
Make sure window blinds do not have looped cords – they can be strangulation hazards for children.
6. Fire and Electrical safety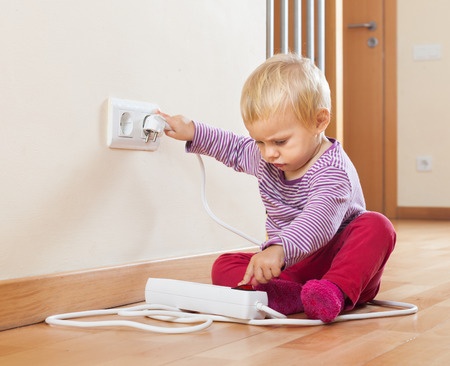 Cover unused electrical outlets with outlet protectors or safety caps. Make sure outlets near any water source are updated with ground fault circuit interrupters, which turn off electricity if appliances fall into the water. It is recommended to install smoke detectors in your house and keep fire extinguishers accessible at all times.
7. Placement and storage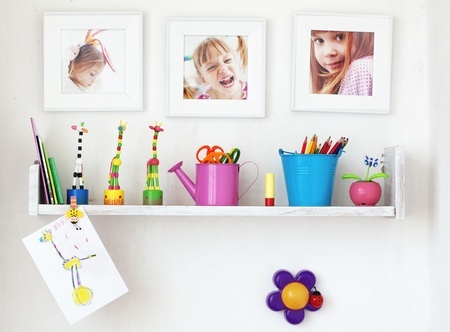 Often, parents do not plan proper storage for their baby essentials and end up leaving them in random parts of their rooms. We would, therefore, suggest installing a mini closet at the corner of the room. Notably, avoid placing a sofa near windows or cabinets where the baby can easily crawl and climb over. Additionally, prevent furniture from tipping by securing bookcases, shelving, and heavy furniture to walls with brackets and anchors.
8. Making Space for Everyone
Having a baby means having more people living under the same roof. When planned the right way, the living space can look more spacious. For example, you can consider remodelling the home by brightening up the room with white, baby blue, or soft yellow elements in the form of lamps, cabinets, tables and curtains.
9. Comforts and Art
Playing with designs, colours and themes are ways to make your house more comfortable to live in.
10. Childproofing is an ongoing process
Your house will keep evolving from the day your child is born. Keeping up with the latest trend doesn't mean that you have to forgo childproofing techniques! It is, therefore, necessary to plan it well and take extra precautions as accidents do happen when you least expect it.
This article is contributed by Mr. Andrew Esmonde-White, Co-Founder of Kluje.com, an online market place for homeowners to find and engage quality contractors.
Want to be heard and seen by over 100,000 parents in Singapore? We can help! Leave your contact here and we'll be in touch.
Like what you read and want more? Receive our latest articles and giveaways when you sign up on our mailing list here.