The first 6 years of your child's life are important in setting them up for success in life. However, with us parents having to juggle both work and family, how far are we able to help our children build the foundational skills they need before primary school?
TNAP sat in for KUNO Method's Kindergarten 1 and 2 classes at Northpoint City, to understand how this leading interactive brain enrichment centre from Japan helps children between 3 to 6 years old cultivate logical thinking, spatial abilities and thinking skills required for STEM learning and the digital economy.
Graphic: KUNO Method
Every term, students go through each of the 6 learning focal areas above with advances in the level of difficulty as they get older. The 7th (and last) lesson of the term is a review lesson where students have to assimilate skills and concepts.
Every lesson in the term is different. During the week of our visit, the students happen to be working on numbers.
Developing The Power Of Thinking
KUNO Method was founded by Mr Yasuyoshi Kuno in Japan over 30 years ago to give pre-schoolers a holistic, comprehensive and structured learning system. Students learn concepts via experiential learning methods to train skills such as:
Independent thinking
Logical thinking
Non-cognitive abilities and interpersonal skills
Executive functions (Planning and organisation, Cognitive flexibility, Self-regulation and focus, Working memory)
In each lesson, students learn in 3 stages:
Stage 1: Learning concept via interactive group play
Stage 2: Practising concept via hands-on manipulatives
Stage 3: Mastering concept with one-on-one dialogue and worksheets
How Is It Different?
KUNO Method is different from other Japanese brain enrichment and Primary 1 preparation courses because it emphasises on:
Purposeful experiential learning at a normal pace, so students can master concepts
Cultivating independent learning and self-reliance, with opportunities to interact with teacher and peers
Executive function, which is critical to long-term success beyond school years
"Output" or application of skills and knowledge (can students apply what they have learnt?)
Ability to focus and complete table work, so they are better prepared for the primary school learning environment
Skills that support Math, Science and language learning (learning how to learn)
KUNO Method teachers typically have a degree in relevant disciplines such as Early Childhood Education, Psychology and Linguistics, and undergo a training programme in Japan at KUNO Method's headquarters.
So, how do you get excited Kindergarten students to sit through a 75-minute class? Let's find out!
KUNO Method Kindergarten 1 Class: Setting The Right Foundation
Warm-up: Sensory experience via puzzles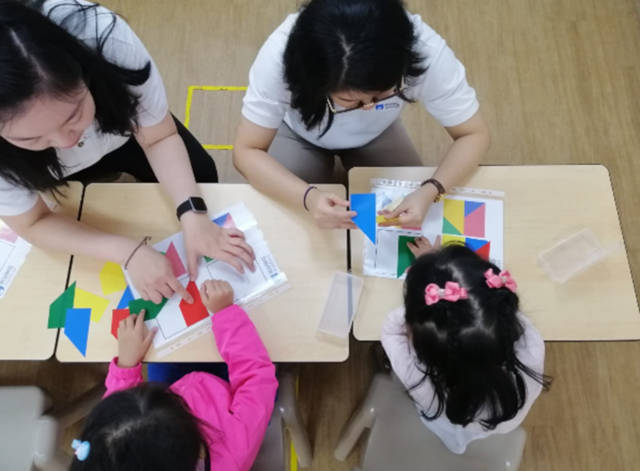 When students arrive, they start learning with a puzzle, which helps them develop shape manipulation and spatial orientation.
Starting the lesson with a sensory experience (using puzzles) eases the students' transition into class and helps them calm down and be focused.
Stage 1: Understanding of the lesson's concepts through collaborative play with concrete materials
Students go through a series of activities that involve teamwork, cooperation with peers and gross-motor actions. They work with concrete materials that can be seen, touched, felt and manipulated for deeper learning. We catch the K1 students excitedly playing a telematch!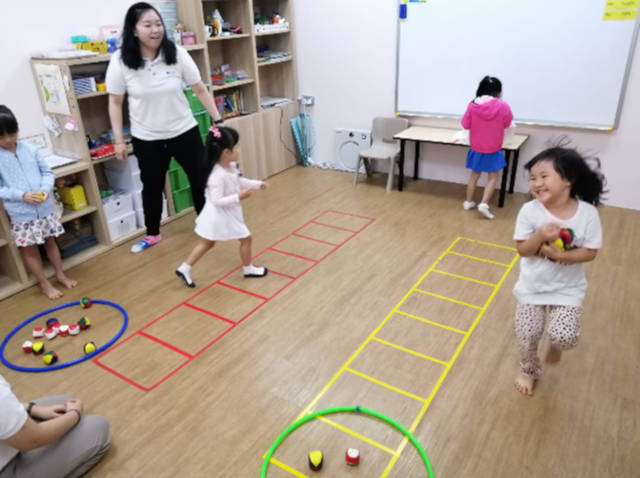 This lesson's focus is on strengthening 'number sense'.
However, Kuno Method isn't math tuition, because the lesson is structured to develop the student's ability to learn how to learn, and not cram concepts to memorise and regurgitate.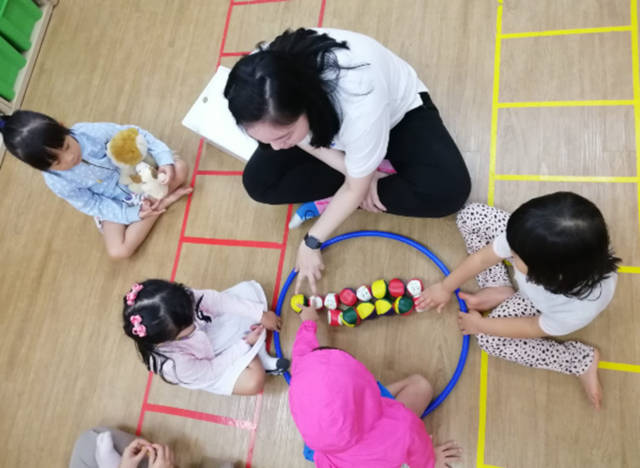 Students also learn how to compare by pairing up items. This builds children's intuition about numbers and quantity, while pairing up teaches addition and subtraction conceptually, not through memory or rote learning.
Stage 2: Using hands-on experiences to demonstrate concept
Students learn about More/Less for Numbers and Operations via a series of hands-on manipulatives and games.
In the activity above, students learn 2-step problem-solving by (1) splitting the number of "coins" to understand who has more and how many more and (2) dividing the remaining "coins" equally.
By learning the concept of more/less than via games and table activities, students are better equipped to apply what they have learnt to worksheets for the last part of the lesson.
Shenlynn Lim, Head of Teaching at KUNO Method, shares, "The 3-stage concrete-pictorial-abstract approach is the cornerstone of effective learning instruction adapted from American psychologist Jerome Bruner's conception that is "enactive-iconic-symbolic" modes of representation.
She adds, "This instructional approach is about learning by doing. It allows children to form their own understanding of the concept by being involved and the use of manipulatives."
Stage 3: Crystallising students' understanding of the concept
During the final stage of the lesson, the students conclude the experiential learning cycle by applying what they have learnt to solve worksheet problems.
The teachers take the students through each page of the worksheet together, with one-on-one coaching when the student requires additional guidance.
Here's an example of the worksheet question:
The above question requires students to find combinations of numbers that fulfill 2 conditions: (a) adds up to 6 and (b) one number greater than another number by 2.
Students use various colour pencils to complete their worksheets, as different colours help them visualise and categorise items more easily compared to just using a grey 2B pencil. All these materials are provided by KUNO Method.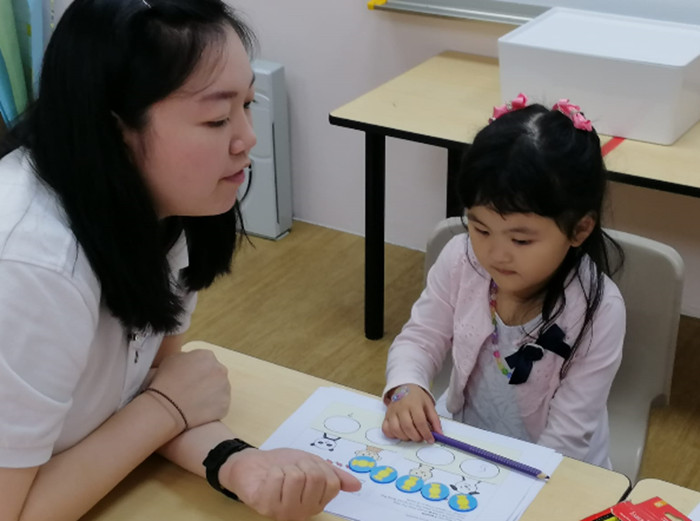 Using a combination of written instructions, cute visuals and physical objects, Teacher Shenlynn (pictured above) guides a student on the process of solving problem sums using the "more/less" concept.
The worksheets also include additional practices for students to practise at home and a section on "Ideas for reinforcement at home" for parents to carry out with their children. The teacher will run through key home practice questions during the next lesson to reinforce learning and improve recall.
End of lesson: Parents' Debrief
The teacher will explain to the parents outside the classroom on what was taught in the lesson. Parents will also receive a progress report at the end of every term detailing their child's ability in each of the 6 learning focal areas, according to the level of proficiency.
This helps the parents identify areas of strengths and/or weaknesses so they know which areas they can focus more on to help their child level up.
KUNO Method Kindergarten 2 Class: Strengthening Concepts
Like the K1 class, the K2 class is also 75 minutes long. The pace is faster and students spend more time on table activities.
Warm-up: Sensory experience via puzzles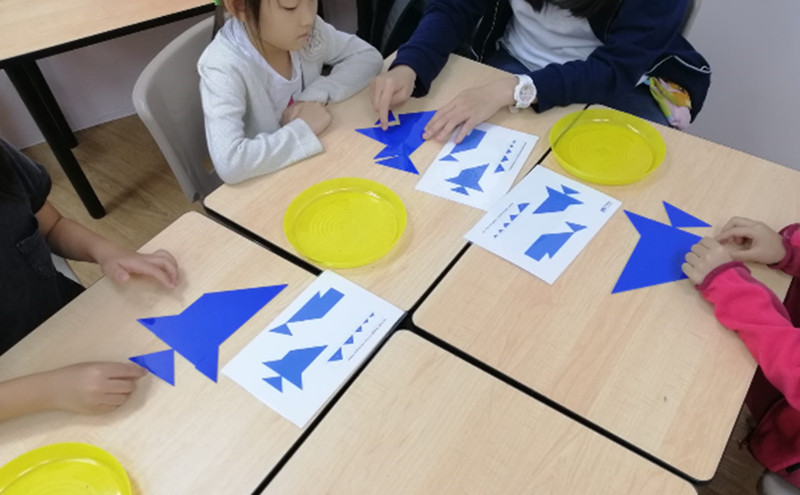 During puzzle play, K2 students work on a triangular puzzle. The puzzle pictures are not to scale, which sharpens their grasp of spatial relationships among various objects.
Stage 1: Understanding of the lesson's concepts through collaborative play
Teacher Jiayi led different games so that students have the chance to apply concepts in different scenarios.
For this lesson centered on mathematical reasoning, students learn about give and take of numbers from the perspectives of both the giver and the recipient, and substitution.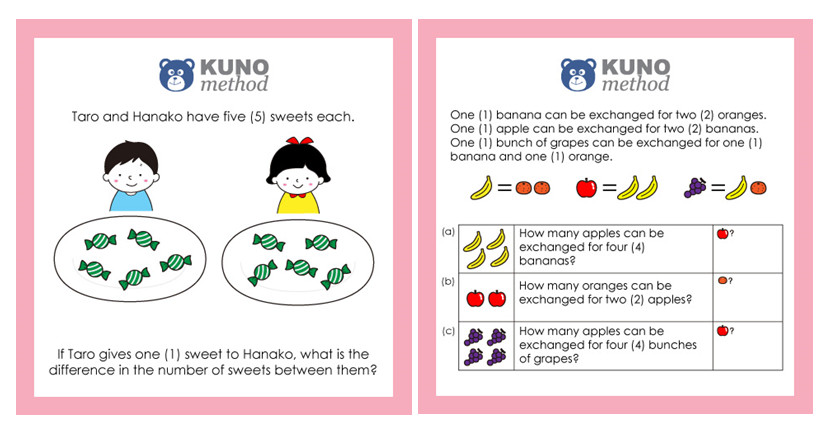 Give and take of numbers (left) Substitution (right)
K2 students learn that if both parties have equal quantity at the beginning, by giving one of their own items to another person, the difference between the two people's items is now two (or doubled).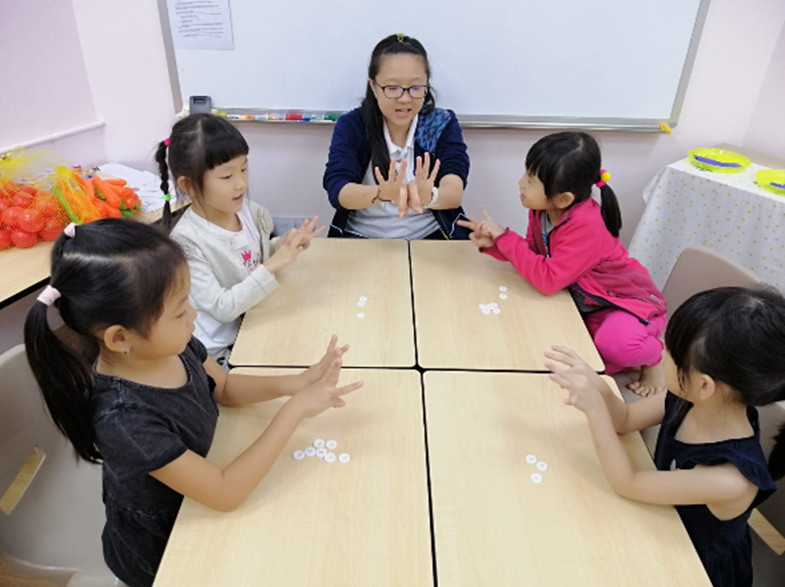 Above, Teacher Jiayi extends the concept to giving away two items, three items and so on, using two hands to help students remember the difference is double what they gave away.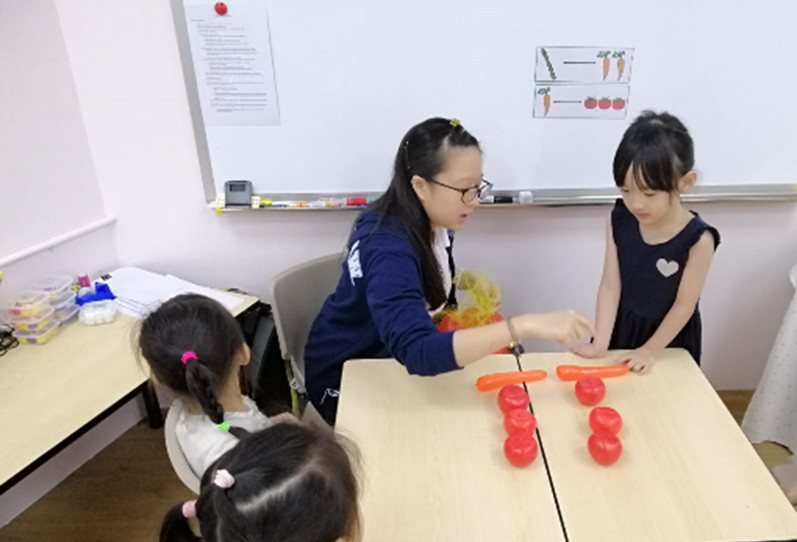 Next, she shows them the concept of substitution with asparagus, carrots and tomatoes.
Stage 2: Exploring problems from different perspectives
In this Banking Role-Play game, students learn how to problem-solve by first laying out items that need to be exchanged side by side, to ensure the exchange is accurate.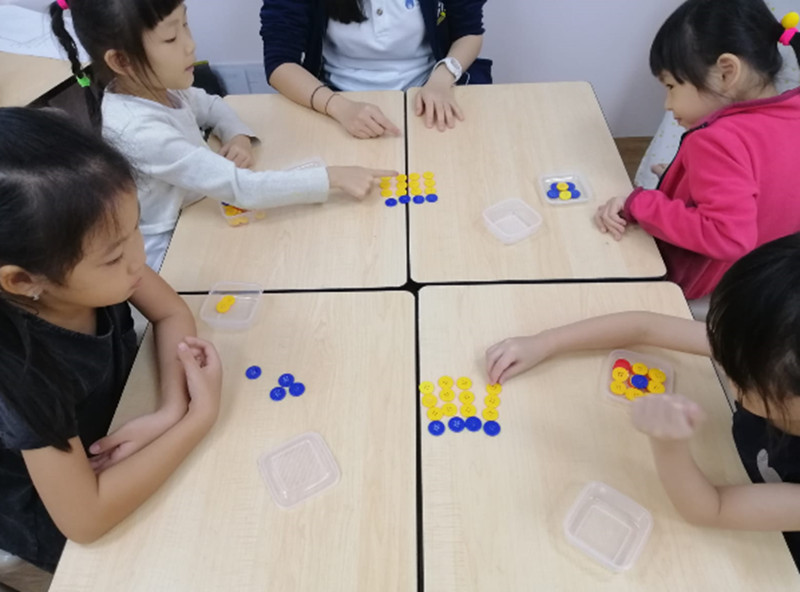 Stage 3: Assesses students' ability to internalise and articulate what they have learnt in earlier stages
Students are challenged to apply the give/take concept by working backward to find out how to equalise the number of items between two people.
They also learn how to perform substitutions and compare which set of items are more expensive than the other.
Typically, after the teacher has explained the problem sum and instructions, students are encouraged to try solving the problem on their own.
The students also learn from observing how the teacher guides another student who may be stuck at the same part, or from observing how their classmates go about solving the problem.
Being wrong after trying to complete a question is okay, as long as the student is open to hearing the teacher's explanation.
Just like the K1 class, K2 students have additional take-home practices in the worksheet, and parents can reinforce concepts with "Ideas for reinforcement at home" found within the worksheet.
The K2 teacher will also explain the lesson concepts to parents at the end of each lesson. Parents will also receive a progress report at the end of every term.
KUNO Method's progress report details how the student fares for specific learning objectives in each of the 6 learning focal areas. Parents usually find this specific evaluation enlightening and helped them identify their children's natural strengths and weaknesses.
Where Can I Learn More About KUNO Method?
KUNO Method's website shares more information about their 6 learning focal areas and 3-stage experiential learning method.
You can also read why parents choose KUNO Method, and consider enrolling your child for a trial lesson ($40 per trial lesson) at KUNO Method's centres in SAFRA Punggol, Northpoint City and Buangkok Square Mall at www.kunomethod.com.sg
Life is full of lessons that change from time-to-time. What matters most is whether our children learn how to learn, and are independent and flexible enough to apply learnt skills when the situation calls for it, instead of relying on others and expecting things to fall into their lap.
This post is brought to you by KUNO Method.
Text and photos by Julia Chan.

---
KUNO Method has been selected as one of the nominees for The New Age Parents Choice Awards! To cast your vote, head over to The New Age Parents Awards 2019 – Cast Your Votes Now! and stand to win attractive prizes. Voting ends on 15 Sep 2019.

* * * * *
Like what you see here? Get parenting tips and stories straight to your inbox! Join our mailing list here.
Running a service or business targeted for parents? Reach out to a wider audience in our Best Enrichment Classes compilation. Leave your contact details here and we will get in touch with you.