Stand a chance to win a Jorubi Adventure Kit (worth $50) for your family outdoor adventure this upcoming June school holiday!⁠
⁠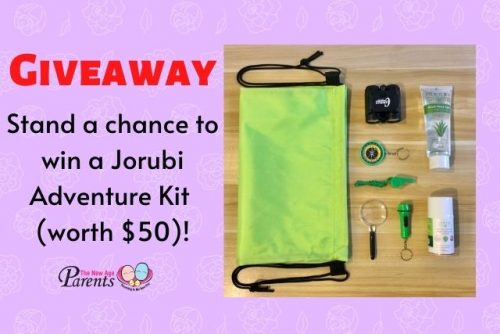 Adventure Kit consists of:⁠
Draw-string bag⁠
Mini torchlight⁠ 🔦
Compass 🧭⁠
Whistle⁠
Magnifying Glass⁠ 🔍
A pair of binoculars
Jorubi's Nature Inspired Insect Repellent
A tube of their Aloe Vera Gel
⁠Made with a nature-inspired formula, Jorubi's insect repellent is DEET-free and has a light and gentle scent through its natural aloe vera content. ⁠
⁠
The active ingredient in the repellent is IR3535®, a well-known insect repellent with a long history of safety and efficacy and is not classified as a neurotoxin unlike DEET. IR3535® is derived from Beta-alanine, a naturally ⁠occurring amino acid. ⁠
⁠
Jorubi's Nature-Inspired Insect Repellent also features their proprietary STAYTEC™ technology, a patented long-lasting repellent technology that is derived from seaweed and mushroom extracts. STAYTEC™ provides long-lasting protection from bug and insect bites ⁠for up to 13 hours from the time of application. ⁠
⁠
The formula is also safe for pregnant women, ⁠mothers who are breastfeeding, pets, and infants who are two months and older, making it an ideal choice for protecting the entire family. ⁠
⁠
It is also resistant to water, sweat and most importantly, it is also rub-proof, which maximises the effectiveness of the repellent while you're outdoors or lead an active lifestyle.⁠
⁠
* * * * *
🏆 We are giving away 5 sets of Jorubi's adventure kits each on both our IG and FB accounts. So hop over to our Instagram to increase your chances of winning!⁠
To participate:⁠
⁠
Facebook Giveaway:
1️⃣ Like and Follow The New Age Parents Facebook Page.
2️⃣ Like and share this Facebook post (Remember to set the post to public so that we can see your share).
⁠
3️⃣ Tag your friends who might be interested in winning this adventure kit under the comments section.
⁠
Instagram Giveaway:
1️⃣ Follow @thenewageparents IG profile.
2️⃣ ❤️Like this IG post.
3️⃣ Tag your friends who might be interested in the Jorubi Adventure Kit (1 friend tag per comment).
4️⃣ Share your post on your IG stories and tag @thenewageparents and @jorubialoevera #JorubiProtects!
⁠
⏳ Giveaway period: 10 – 31 May 2021 2359⁠hrs.
🇸🇬 Valid for participants residing in Singapore only.⁠
⁠
⁠#thenewageparents #tnapgiveaway #jorubialoevera #JorubiProtects
* * * * *
Terms and conditions apply. Please also read our Privacy Policy.
For more contests and giveaways, go to The New Age Parents Contest Page.