Perth, Western Australia is a common travel destination for Singaporean families due to its proximity to Singapore. Plus, it takes only an approximate 5 hours to fly to Perth.
There are surprisingly many fun and engaging things you can do with your kids in Perth. We suss out 6 popular spots to visit.
DESTINATION #1: MONKEY MIA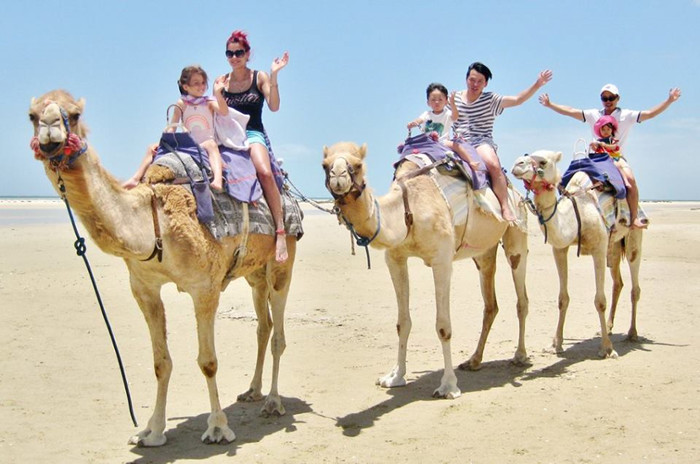 Image credit: Shark Bay Camel Safaris
If touring by camel riding is something you are interested in, then Monkey Mia has it. The camels are led by camel whisperers, meaning no experience is required and this activity is suitable for children as well as adults. Try Image credit: Jean and Ade's Vagabond Tour
Visit the Image credit: Lancelin, Western Australia
Stop by the Image credit: Daddy Ceg's Diary
An Aussie favourite, fish and chips will find itself on your meal itinerary at least once. Try the popular fish and chips (or any other seafood of your choosing) at Cicerello's Fremantle. Here, children under 12 years can enjoy a free kids meal accompanied with the purchase of an adult meal on Tuesdays, ongoing until promotion is withdrawn.
Cicerello's boasts a large world-class aquarium with over 50 species of local Fremantle marine life, which is sure to capture your kids' attention. This is great as your family gets the amazing experience of watching these fascinating marine life while having your meal, without getting your feet wet or worrying about your children's safety in waters, and best of all, at no extra cost.
Food trucks are popping all over Perth and have evolved into a new food trend. Singaporean children may not be as exposed to the existence of food trucks since they are uncommon in Singapore itself due to the red tape involving mobile food operations.
Image credit: Under the Bridge Freo Food Trucks
Take this opportunity to expose your kids to the food truck culture and enjoy good food and scenery in a picnic-style environment. The type and variety of food available each time will vary depending on how many vendors turn up and what type of food they sell, so prepare to be surprised! Do also check out the food trucks in Perth CBD during the Klook at a discount!




DESTINATION #4: ROTTNEST ISLAND
Rather than walk, rent a bike or take a bus to explore Rottnest Island, how about riding a segway to tour the island? If you walk or cycle around the island, it is great as you get to enjoy the sights directly but tourists tend to get worn out more quickly and end up exploring fewer places. If you do a scenic drive, then your view is limited from within the moving vehicle.
Image credit: Segway Tours WA
This is why segway tours with Segway Tours WA are the way to go for a fun and effortless tour around Rottnest Island with your family. Do note that there is a minimum age requirement is 12 years by Western Australia law; hence this activity may not be suitable for families with younger children.
Take your holiday snaps to the next level with a quokka selfie at Rottnest Island, which is fast becoming a social media trend. A quokka selfie is basically a selfie of oneself with a quokka, an adorable marsupial animal native to Western Australia. Dubbed as "the happiest animals in the world", quokkas are naturally happy-looking and are now mostly found in Rottnest Island.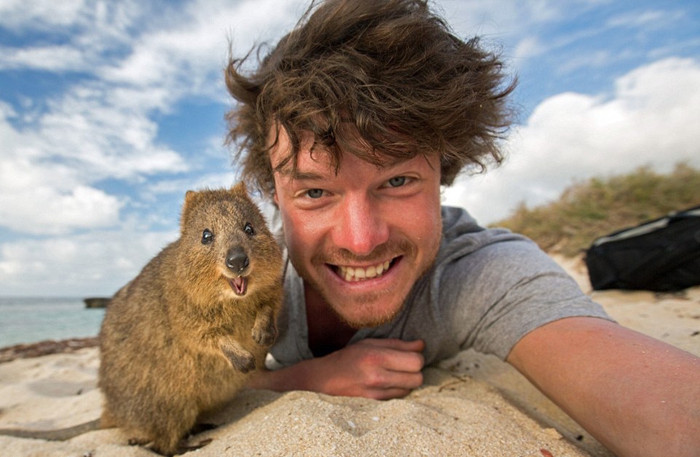 Image credit: Daily Mail Australia
It appears that quokkas have adjusted to human invasion with the massive influx of tourists in Rottnest Island every year, so they are usually not afraid to approach humans and it is relatively easy to snap a happy selfie with them. However as the numbers of quokkas have reduced significantly due to habitat clearing and the arrival of dingoes and foxes, these animals are now regarded as vulnerable. It is against the law to touch them and it is recommended not to feed them as human food can make them Klook in advance?




DESTINATION #5: SECRET HARBOUR
Image credit: Weet-Bix Surf Groms
Learn surfing at Secret Harbour Beach where there are waves all year round and it is less crowded, making it a much safer learning environment and an ideal place for surfing beginners. family bonding for majority of modern families that are time-deprived.
The lessons do have to be booked in advance and there are short 2-day and 4-day courses suitable for school holidays.
DESTINATION #6: BUSSELTON
Image credit: Busselton Jetty Facebook Page
Do not miss the opportunity to go fishing at

WA Holiday Guide website

which includes an online holiday planner.
By Michelle Tan.
If you find this article useful, do click Like and Share at the bottom of the post, thank you.
Like what you see here? Get parenting tips and stories straight to your inbox! Join our mailing list here.