On the hunt for the most magnificent fall foliage in Asia? You're in good company!
From rural regions in Japan to the national parks of South Korea, Klook has rounded up a list of its top 5 places to admire the season's changing maple leaves.
Seasons in Japan: Spring (March to May), Summer (June to August), Autumn (September to November), Winter (December to February)
Seasons in Korea: Spring (April to June), Summer (July to August), Autumn (September to November), Winter (December to March)
GIVEAWAY: Travelling to Korea or Japan this holiday season? Read on and take part in the giveaway at the end of the post!

1. Izu Peninsula, Japan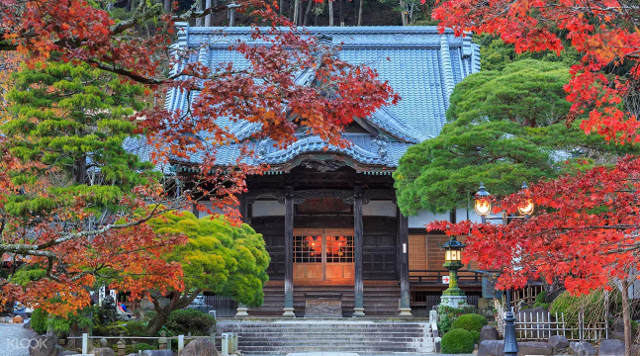 Famed for its lush forests and imposing mountains, Japan's Izu Peninsula is the perfect setting for an autumn adventure.
Offering unlimited rides on all Izu-kyu trains, the Izu-kyu Line 1 Day and 2 Day Passes from Tokyo by Klook enables travellers to visit the picturesque peninsula for wonderful woodland treks, saffron-hued leaves, and steamy hot spring experiences.
2. Hakone, Japan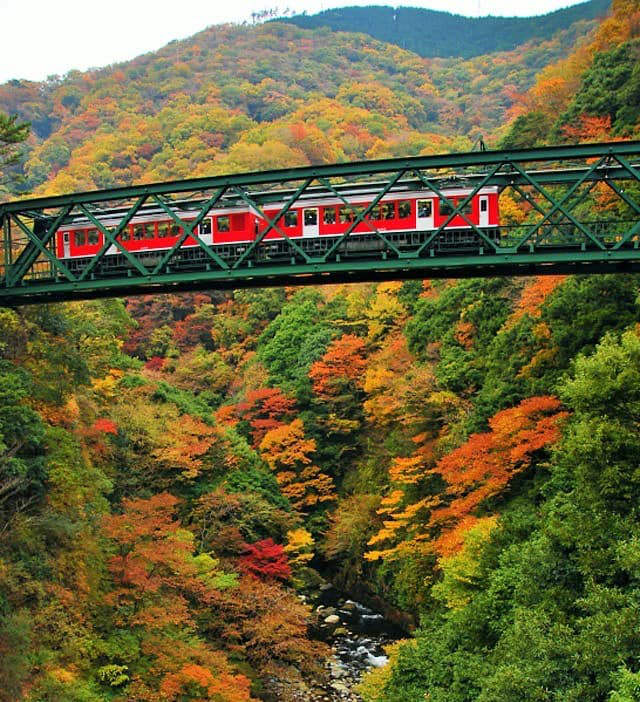 Kamakurakoko-Mae Station, Geothermal Valley and Lake Ashi Day Tour from Tokyo to Hakone, travellers will not only be surrounded by unforgettable fall scenery, but they will also have a chance to explore the volcanic Hakone Oyagi Valley and try a hands-on guided matcha experience.
Those looking to continue the fun can snap up the Hakone Free Pass (2 Days, 3 Days) with unlimited travel on eight different modes of transit including trains and ropeways – the latter offering the best views of the region's crimson-kissed canopies.
3. Kyoto, Japan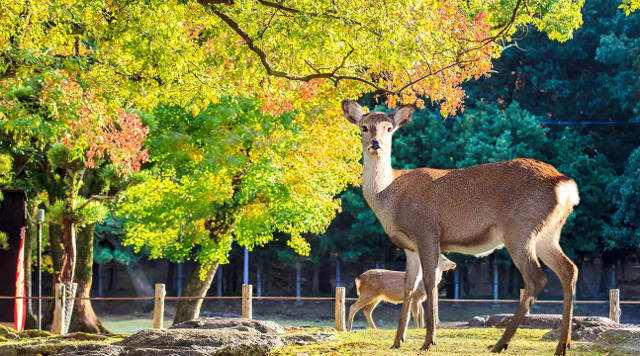 On the Kyoto Sagano Romantic Train, Arashiyama, Kiyomizudera & Fushimi Inari-taisha Day Tour, travellers will soak up the most scenic spots in the countryside of Kyoto – picture a train ride up Arashiyama mountain and a visit to UNESCO-listed Kiyomizu-dera Temple.
Another option is the Kyoto Arashiyama, Golden Pavilion Temple, Todaiji and Kobe MOSAIC Day Tour, which winds through Kyoto, Nara and Kobe.
Highlights include a trip to the gold-covered Kinkakuji Temple, the UNESCO-listed Todaiji Temple, and the vast Nara Park where ochre-hued forests.
4. Nikko, Japan
Explore the breathtaking autumn atmosphere of Nikko, located north of Tokyo, on an all-you-can-ride Nikko Pass.
A favorite destination for maple-leaf viewing, travellers will want to make a beeline to the Akechidaira Ropeway.
From this mountain-top observation point, you can admire the Kegon Waterfalls, Lake Chuzenji and endless canopies of golden leaves
5. Naejangsan Mountain, South Korea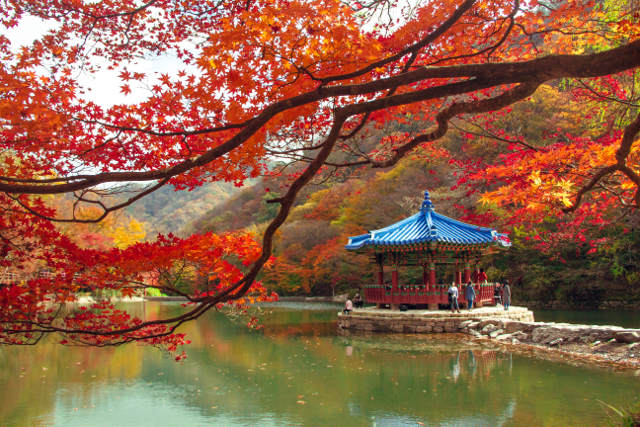 Exclusively available during the autumn season, the Naejangsan Mountain Appreciation Day Tour is a wonderful way to marvel at the changing leaves of South Korea.
Travellers will inch up the side of Naejang Mountain via cable car, then trek along a maple-tree-lined path with ruby red leaves all around.
Did we miss a spot to admire beautiful autumn foliage? Share with us in the comments below!
---
The New Age Parents x Klook Giveaway
We are giving away $100 Klook vouchers to 5 lucky winners!
To take part in this contest, all you have to do is to:
1. Like and Follow us on The New Age Parents Facebook
2. Join any of our Facebook Groups here.
3. Comment, Like and Share this Giveaway Facebook Post.
4. Bonus Chance to Win! Subscribe to Telegram channel https://t.me/newageparents
Giveaway ends 5 May 2019
Important notes:
Vouchers will be sent via email
Giveaway is open to members who are Singaporeans/PRs
Terms and conditions apply. Please also read our Privacy Policy.
For more contests and giveaways, go to The New Age Parents Contest Page.
Like what you see here? Get parenting tips and stories straight to your inbox! Join our mailing list here.