Ho Chi Minh City, previously known as Saigon, is the heart and soul of Vietnam. The city is rich in their unique cultures, filled with great foods, completed with splendid historical sites and yet, reasonable enough for a family's travel budget. Definitely a hidden gem for families! It is exciting to explore a city that preserves its rich civilization as a family.
Here are 10 reasons why you should travel to Ho Chi Minh City This Holiday!
1. Flying to Ho Chi Minh via Vietjet is Comfortable and Reasonable
Don't we all dislike long distance flight? Fret not, flying to Ho Chi Minh only takes 1 hour 50 minutes. What's more enticing of traveling with Vietjet is the reasonable fare yet comfortable and smooth journey to Ho Chi Minh. Vietjet is a new low-cost airline that currently operates 28 domestic and international routes.
The ground staff and flight attendance are attentive and polite and addressed our needs. As a Deluxe Seat passenger, you will be entitled to priority boarding, check-in baggage allowance and invitation to VIP lounge. The extra legroom make the flight experience totally comfortable and amazing.
Not to mention that, we love how VietJet offers express check-in at all airports for their passengers if you are an expectant mother or you are a young family travelling with an infant.
Vietjet To Add Extra Daily Round Trip To Singapore – Ho Chi Minh City Route
In order to meet growing demand for low-cost air travel between the two destinations, Vietjet has announced to increase the frequency of its international route from Singapore to Ho Chi Minh City from 30 May, 2015. With two round trips per day, the new route will have a capacity of 5,040 seats per week, offering Vietjet passengers even more choice when planning their travel.
The expanded schedule will see daily flights depart Singapore Changi International Airport at 1.50pm and 6.00pm (local time) and Tan Son Nhat International Airport in Ho Chi Minh City at 8.55am and 2.00pm (local time). The flight duration is 2 hours and 5 minutes. Vietjet currently operates with a fleet of 23 Airbus aircraft on 28 routes domestically and internationally.
Tickets can be purchased by booking online at www.vietjetair.com or their Vietjet's Facebook page
2. Children will love the Famous Water Puppet Show
Children love puppets, you wouldn't want to miss this interesting and unique water puppet show! This show give us a glimpse of Vietnamese culture and its rich History. Although the show is performed in Vietnamese, language will not be of any barrier to you nor the children. This interesting performance is so memorable – beautiful and unique musical instrument and delightful and funny puppets – it will definitely captivate the children's attention and interest.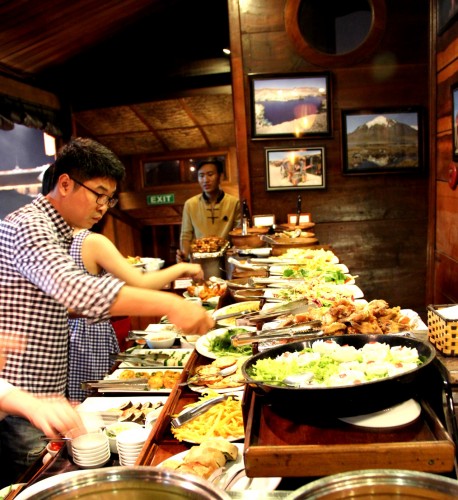 3. Cruising Saigon River on Bonsai Cruise will keep your family and their tummies happy
The most ideal way to experience the city at night with your children is to cruise along the river and soak up the city lights. Traveling on Bonsai Cruise give your family a beautiful panoramic view of the life along Saigon river in Ho Chi Minh City. Not to mention that your family will be spoilt for choices with the Buffet spread offering European and Asian cuisine. We love the various performances with includes traditional and modern dance and music put up by the locals. The children will definitely love the magic show!
4. Exploring Saigon Zoo and Botanical Gardens
You will be surprised with the entrance fee one have to pay to enter Saigon Zoo and Botanical Garden. It costs around a dollar (SGD) per person to enter and you can have the best of both Worlds – the zoo and the park. Saigon Zoo is one of the oldest Zoo around, so the amenities are a little old and bare but there are still a wide range of animals there such as the Elephants, Tigers, Giraffe, Deers. If your kids are adventurous enough, they will probably enjoy viewing the different reptiles such as the snakes and iguana in the specific enclosure. The park is well-kept and relaxing, bring some foods and have a great picnic there. Avoid weekends as it can get really crowded as the locals enjoy hanging out there.
5. Exciting activities at the three main amusement parks
There are a total of three amusement parks in Ho Chi Minh, namely – Dam Sen Cultural Park, Suối Tiên Amusement Park and Đại Nam Văn Hiến (water park). These parks comprises of zoos, sceneries, water and/or non-water games and ride. Definitely well-fitted for a family trip as it caters to the young and the old.
If you are only staying in Ho Chi Minh for a short while, then don't give the most famous yet the easiest to access, Dam Sen Cultural Park a miss. This is one of the most popular park in Vietnam with a wide range of activities for tourist and travellers.
If your kids are into exciting rides, then check out Suối Tiên Amusement Park, there will definitely love the Roller Coaster, Air Bicycle, Space Drop Tower, Ferris Wheel and Bull Riding.
6. Riding in the Cyclo
A Cyclo is like a mini trishaw that you can find in Singapore or commonly known as cycle rickshaws. The cyclo in Vietnam will surprised you as you are actually sitting in front of the Cyclo-rider. You can enjoy the city and attractions with unblock views as he peddles behind you. It can be a very relaxing and yet exciting ride as you wonder around the street beside the traffic.
The cyclo ride is pretty inexpensive and you can easily find them along the street or outside main attractions. Recommended after a long day walk around the city and it is suitable for the young and old.
7. Learning about the History of the Vietnam war
There were fighting and unsettlement in Vietnam for many years before the Vietnam War. Vietnam had suffered under French Colonial and Japan's invasion in some parts of Vietnam.
The Vietnam war, also commonly known as the Second Indochina War which lasted about 20 years, was a fight between the Northern (with the support of communist countries, Russia and China) and Southern part of Vietnam (with the support of United States) where the nationalist forces tried to unify the country under a communist government. The United States stepped in to prevent the spread of Communism for fear that neighbouring countries will fall to Communism.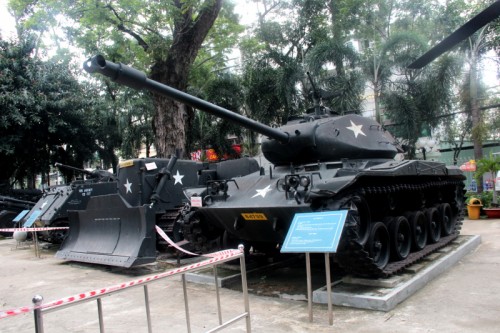 In your child and yourself are fans of the good old history, then head down to War Remnants Museum to learn more about Vietnam's history through the various photo galleries. You can also find retired military vehicles and transportation, different weapons used as well as a hidden prison cell that spoke the true living condition and treatment in the cell.
8. Getting hands-on at Cu Chi tunnels
Learning about the history of Vietnam will be complete with a visit to the actual war site of Vietnam. Visiting Cu Chi Tunnels is totally worth the 60 minutes ride out of town (approximately 30km) and it is possible with a guided tour that includes transportation back and fro from the hotel.
In Cu Chi Tunnel, you will truly understand what claustrophobia means after you tried navigating through the different interconnecting underground tunnels that can barely fit an adult! Exploring the different traps used and sampling food the soldiers relied on for survival and energy can be rather interesting for the children. You can also get your hands on an AK-47 and try shooting targets if you are 18 years and above. This trip will be totally worth your day!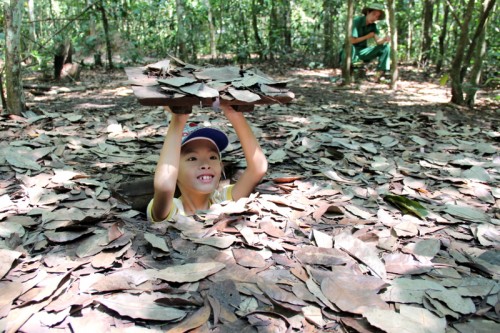 9. Trying the local delicacies
Coming to Ho Chi Minh City will not be complete without trying their famous pho (traditional Vietnamese noodle soup), Bánh mì (Toasted baguette with different ingredients) and Gỏi cuốn (Vietnam rice roll). Street vendors offer a wide variety of these common local favourites but may not be suitable for children's stomachs. If you have limited time, try out this restaurant – 160 Nha hang Ngon. They offer great food at affordable prices – definitely a great hangout for the locals and as well as travellers. It is a highly popular dining restaurant, so don't be surprise with the amount of customers they had per day. We looked high and low for the best Bánh mì and we recommend Highlands Coffee because it is cheap and good! A great place to chill and try Vietnamese coffee as well.
Photo: Tripadvisor
10. Shopping
Coming to Vietnam will not be complete without some shopping! In Vietnam, you can shop for souvenirs, their local coffee, dried food products, fashionable wears for children to adults, imitation goods, bags and accessories, Handicraft and painting and everything else.
Singaporeans are marvellous at bargaining isn't it? We will recommend you to shop at Ben Thanh Night Market and be daring enough to slash their prices at half of what the locals offer. The sheltered inner stores are opened from 7am – 7pm while the night street of Ben Thanh is open after 7pm to 12/1am. There is a great barbeque restaurant between the stalls, you can enjoy scrumptious dinner at a reasonable price.
There are other shopping street and places like Dong Khoi street, Diamond plaza, Lucky Plaza and Saigon Square (Goods at Lucky Plaza and Saigon Square are usually sold at fixed prices).
A few things to note before you travel:
Just like any other Indochina cities, the traffic can get really bad during peak hour in the city especially the rush hours (about 7am to – 9 am and 5pm – 7pm) or on crowded big streets like Ho Chi Minh City, which can have traffic jam almost every day.
More tourists are attracted to Ho Chi Minh City for great food and shopping, thus clearing the custom when you are heading back may take a while. Remember to have sufficient time (about 2 hours) for checking in and the various security checks.
The currencies widely used on the street and malls are Vietnamese Dong and United States Dollar (USD). Vietnamese Dong can get really confusing with the many zero on the note and the color of the note may even pass off as another if you are not being careful.
Travelling by cab in Vietnam is generally cheap and reasonable. We will recommend travelling with Vinasun (White taxi and bits of green) as they use the fare meter to calculate the fare without the need to bargain.
Remember to bring along the essentials such as medication, sunblock lotion, umbrellas, insect repellent and Cortisone cream, and definitely your universal adapters.
Ho Chi Minh City is a great eye opener for the family, a new adventure at this vibrant city awaits you!
Share with us if you feel there are other attractions that are suitable for families!
By Crystal Tan
If you find this article useful, do click Like and Share at the bottom of the post, thank you.
Want more comprehensive info? Check out our e-guides here.