Located at Novena Square 2 with brightly furnished interior and child-friendly furniture, Eye Level @ Novena is an enrichment centre, specializing in Math and English for children above 4 years old. Welcoming and inviting, the centre even has a small children's library and waiting/reception area.
Individualized Learning
With a small teacher to student ratio of 1:8 (Math), and 1:3 (English), the close attention and guidance provided by trained instructors allow children to learn at their own pace. Each session will take about 45 minutes each, depending on the child's performance and level of development. The curriculum is tailored according to each child's level of development and capability, which will be evaluated by the trainers through a pre-assessment test, followed by monthly level tests. Classes are also flexible, and not fixed according to age groups.
Close Communication with Parents
After each class, the Math or English trainers will sit with parents to provide detailed feedback on their child's performance and discuss about his or her strengths and areas of improvement. Julie Choi, the Math Trainer at Eye Level (Novena) adds, "We give parents a progress report every 2 months, with information such as the child's study habits, our teacher's observations of the child's work and behaviour during class. We will also provide a graph analysis of the set goals for the next 3 – 6 months." As parents and trainers discuss and share information about the child, both parties will be able to guide the child more effectively.
Curriculum – Sequential Worksheet Booklets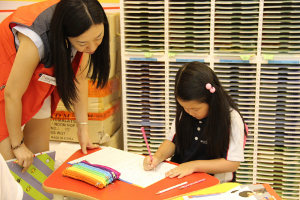 Math
With a total of 32 levels covering a range of study areas, from simple to complex, there are two categories focused in Eye Level's Math curriculum: Basic Thinking Math and Critical Thinking Math. Both categories have a total of 23 level worksheet booklets. Levels 1 – 23 are catered for 4 years old to 12 years old, while the higher level, 24 -32 are for lower Secondary students, 12 – 15 years old.
Basic Thinking Math includes topics and skills relating to Numbers, Arithmetic and Equations. Critical Thinking Math focuses more on the creative and logical thinking side of the child, such as patterns and relationships, geometry, problem-solving, reasoning and spatial sense. The purpose of Basic Thinking Math is to provide a strong foundation for the child, whereas Critical Thinking Math aims to aid creative thinking in a child, as they find out their own solution in various ways.
English
Similarly, the English program covers the whole spectrum of the language, from learning the basics such as sight words, vocabulary and motor skills, to complex concepts such as essay writing and structure for the older children.
Teaching Tools
Another unique point of their Math and English curriculum is Eye Level's own set of teaching tools.
Incorporated in the English and Math curriculum, children will get to use these teaching tools in some of their worksheets. There are a total of 9 teaching tools for the entire Math curriculum. Some of the teaching tools for the younger kids include: Flash cards, blocks and shapes, coloured blocks and mirror. In the worksheet booklets, there will be questions that require children to use the teaching tools. For example, children will have to use the coloured blocks to form the desired shapes in the worksheet. For the English curriculum, some of the teaching tools include flash cards and listening books accompanied by audio CDs.
Practice Makes Perfect
"Our math program focuses on two things; speed and accuracy. Each worksheet booklet has 16 pages, and children will bring home one booklet to do as homework, according to each child's developmental level. We believe that there must be consistency in order for a child to progress faster." Julie explains. After three to four weeks, a level test will be given to each child at least once a month, to gauge the child's level of understanding of the concept and topics, and for the trainer to set appropriate and achievable goals for the following months.
Becoming The Key To Their Own Success
Successful learning takes place at the eye level – which is the perspective of your child. With this philosophy in mind, together with their strong curriculum and trained instructors, your child's Math and English will be taken to a whole new higher level.
To find out more about Eye Level's Math and English Program, visit www.myeyelevel.com.
* * * * *
Like what you see here? Get parenting tips and stories straight to your inbox! Join our mailing list here.
Want to be heard 👂 and seen 👀 by over 100,000 parents in Singapore? We can help! Leave your contact here and we'll be in touch.