About the Books
Book #1: Living With Eczema: Mom Asks, Doc Answers! by Hugo van Bever (Author), Hua Yee Mei (Author)
This book is a unique collaboration between a mother of a child with atopic dermatitis (AD) and the doctor who is treating the child – it offers practical information on AD, recent research findings and tackles many aspects of living with eczema that patients have through the conversation between the mother and doctor.
Therefore, this book is an up-to-date comprehensive resource for people suffering from AD, parents of children who suffer from AD and practitioners who treat AD. In brief, for everybody interested in AD.
This book's importance in atopic dermatitis lies not only in its up-to-date comprehensive information, but also in that it offers an avenue where patients can have their questions answered by a doctor via the Q&A between the mother and the doctor.
Patients may not be able to ask all the questions on their mind in a consultation, and this book totalling over 100 questions will have many of them answered.
You can get this book on Amazon.
⇒ Related Read: Top 5 Tips On How To Bathe Your Child With Sensitive Skin
---
Book #2: Allergic Diseases in Children: The Science, the Superstition and the Stories by Hugo Van Bever (Author)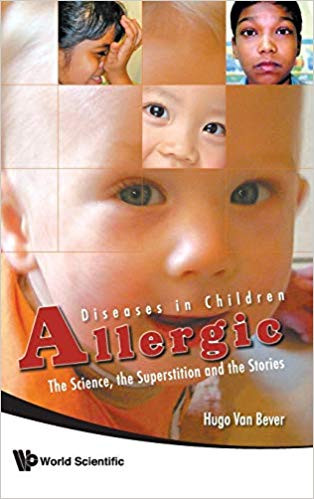 The purpose of this book is to share information and knowledge on allergic disorders in children with everybody, especially parents. Allergies in children are a common and growing problem. From the author's experience, many parents lack correct information on allergy. This has led to wrong approaches in dealing with the problem, with some parents experimenting with all kinds of non-scientifically proven testing and treatments. Sometimes these treatments can be harmful to the child.
The book comprises twelve chapters, each covering a specific aspect of allergy in children.
The first part covers general issues, such as underlying mechanisms, allergens, and epidemiology of allergic diseases. In the second part, specific allergic diseases are covered. The book ends with considerations on diagnosis and treatment, and offers suggestions for future research on allergy in children.
This book will provide useful information to the public, especially parents of allergic children. Based on current scientific information, the book should help allergic children to obtain optimal diagnosis and treatment of their allergic diseases.
You can get this book on Amazon.
---
We are giving away a set of Living With Eczema: Mom Asks, Doc Answers! and Allergic Diseases in Children: The Science, the Superstition and the Stories for our readers and fans! The bundle is worth $72 each!
To take part in the giveaway, follow the steps below:
1. Like and Follow us on Facebook or Follow us on Telegram.
2. Fill in the form below:
The giveaway has ended.
3. Like this Facebook post.
Giveaway ends 15 March 2020.
Important notes:
Winner will be notified via phone and email.
Winner will have to self-collect the prize from New Age Consulting Office.
Proof of identity will be required during prize collection.
Books are sponsored by World Scientific Publishing
Terms and conditions apply. Please also read our Privacy Policy.
For more contests and giveaways, go to The New Age Parents Contest Page.