Rainbow looming is the newest craze in town, not just in Singapore but all around the world! This new toy-craft-activity has been well-received by not just kids, but their mothers as well. And while this is an activity that definitely appeals more to the girls, little boys are not left out of the fun, since virtually all manner of characters and contraptions can be woven from these colourful bands!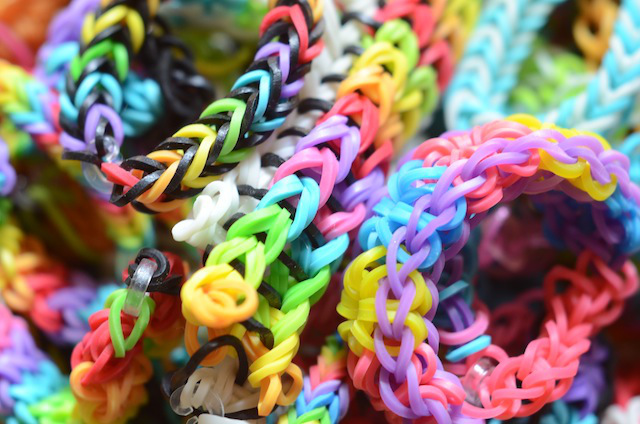 Fun Fact Trivia
Did you know that the original Rainbow Loom is the brainchild of Cheong Choon Ng, a Malaysian immigrant of Chinese descent who lives in the United Stated? His colourful and ingenious product, patented in July 2013, is the recipient of the 2014 Toy of the Year Awards which is presented by the U.S. Toy Industry Association.
A basic Rainbow Loom set comprises a plastic 'loom' on which you can arrange tiny rubber bands. You then use a small metal hook to connect, twist and loop these bands to create different patterns, ranging from simple to intricate ones, to form items like bracelets, necklaces, keychains, dolls, and even pencil ends. Best of all, no sewing skills are necessary to operate this "loom", which is great news for many mums who aren't adept at sewing.
Start Looming
Start off with simple bracelet designs, where it's the same pattern all the way around, before venturing into the more elaborate stuff like Elsa/Anna dolls, purses and even sandals. There are many tutorials to be found on YouTube, so you can search for whatever design you fancy. Here are some examples to get you started!
Diamond Trio bracelet

Single Rhombus bracelet

Triple Single Backpack Tag

While the Rainbow Loom makers recommend this product for kids aged 8 and above, younger children in kindergarten can still have a go at the easier projects (with close adult supervision because the hook is sharp).
Look out for the fakes!
Do note that there are a lot of counterfeit Rainbow Loom products on the market, and many of these fakes actually look very similar to the real thing. However, these counterfeit products are inferior in quality, which means the loom and hook may break easily, have sharp and rough edges, or contain lead and other dangerous substances which are unsafe for children. Counterfeit bands can also break more easily, which would be frustrating if your child or you is midway through a project!
Furthermore, the counterfeit products are actually not that much cheaper than the real stuff, so you might as well get the original Rainbow Loom, for both safety and quality assured. Find out how you can spot the counterfeits here.
Where to buy them
To purchase your own set of the Rainbow Loom, buy it from their official online store or authorised dealers like Pupsik Studio, Smart Alley, Ameba, Toy Plaza, Gingersnaps, OG or MPH.
By Dorothea Chow | Photo source: htekidsnews.com
If you find this article useful, do click Like and Share at the bottom of the post, thank you.
Want more comprehensive info? Check out our e-guides here.