1. Indestructibles Wiggle! March! By Kaaren Pixton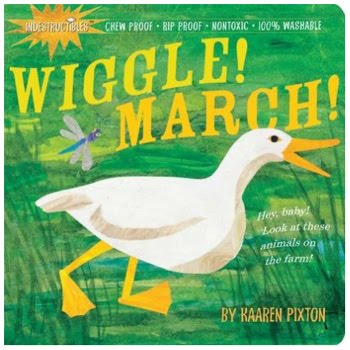 Synopsis:
Indestructibles Wiggle! March! is one of the new series of books specially designed for babies. It is strictly a picture book that illustrates the different animals found on the farm, perfect for parents to retell the story in different ways to engage their child. What is interesting about the whole Indestructible series is that these books are made of completely indestructible paper-like materials that are perfectly friendly for our little one! It is proven to be baby-friendly and durable, in short, the book will remain intact even if your little one chew, drool, pee or try to rip it apart. You can even wash the book without damaging it!
Just what you need for your little one! Check out the whole series – Creep! Crawl!; Flutter! Fly!; Plip-Plop, Pond! and more!
Age: Recommended for infants and up
2. Noisy Peekaboo: Choo! Choo! by Dorling Kindersley (DK Publishing)

Synopsis:
Noisy Peekaboo: Choo! Choo! is a new range of interactive children's books that will engage your child further. In this book, your child will be immersed in a little peek-a-boo game, finding different objects in the book. Each page will require your child to search for a particular object and sound will be produced if the correct object is found under the different flaps. Your child may find it interesting and amusing hearing the five different interesting sounds under the flaps.
This is a book that will delight and engage your child!
Age: Recommended for ages 2 and up (younger children may enjoy the book too)
3. Hoppity Hop Peekaboo! by Dorling Kindersley (DK Publishing)
Synopsis:
Hoppity Hop Peekaboo! is an award-winning series for young children. It helps to heighten children's imagination and thinking skills. It is one of the lift-the-flap series that is short and simple for the comprehension of young children. in fact, there is more than merely lifting the flaps, children get to touch and feel the different textures on the different animals and insect on their journey to find bunny. Each page is full of delightful and captivating illustrations that will attract reader's attention.
Age: Recommended for ages 2 and up (younger children may enjoy the book too)
4. Olivia the Magnificent by Sheila Higginson
Synopsis:
Olivia the Magnificent is one of the book series about Olivia's little mischief. This story talks about Olivia, who inspires to be a great magician after Grandma puts on a magic show. Olivia practices her skills every day but still, she did not manage to make object disappear. She decides to come up with a brilliant idea to make magic. Olivia makes Ian, her little brother as her assistant. When Ian shouts a spell and waves the wand, Olivia disappears! Ian embarks on a journey to find her sister back!
Children will enjoy lifting up the flaps to look for Olivia too.
Age: Recommended for ages 4 and up
5. Pat the Beastie by Henrik Drescher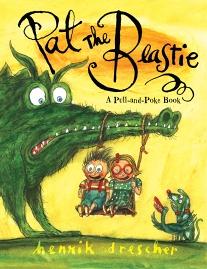 Synopsis:
Pat the Beastie is a hilarious and interactive book that brings giggles to your child's face. No doubt that each page will bring surprises and laughter to the reader. In this book, Paul and Judy, two mischievous kids have not been very kind to Beastie their pet. They find ways to play pranks and do nasty things on poor Beastie like pulling Beastie's fur and jiggling Beastie's eyes. They did not know that Beastie is all ready to repay what they have done…
Children get to join in Paul and Judy as they play tricks on Beastie by pulling its fur and boogers, jiggling its eyes, tickling its feet and so forth. This book also delivers an underlying message to the reader, telling them to be 'Kind and respectful to pets'.
Age: Recommended for ages 4 and up
6. Bear's Golden Hearts by Gillian Shields
Synopsis:
Bear's Golden Hearts is a book well-illustrated by award-winning illustrator Paul Howard. This book talks about little brown bear who sits high up on the shelf in the toy store, waiting for a day that a special child will take him home. Sadly, that day never comes. Kids that come to the toy store-bought different toys, but none of them show any interest in the little brown bear. There was nothing special about the bear, except for the sack decorated with golden hearts. One day, he was given away to a kid who purchases another toy. The little brown bear was discarded in the gutter, alone and demoralized. Words from the little bird motivate and encourage the brown bear to go and search for that special child that will take him home. The little brown bear begins his quest to find this special child.
A heart-warming story that tells a tale of friendship and belonging, bound to melt the hearts of many.
Age: Recommended for ages 4 and up
* * * * *
Like what you see here? Get parenting tips and stories straight to your inbox! Join our mailing list here.
Want to be heard 👂 and seen 👀 by over 100,000 parents in Singapore? We can help! Leave your contact here and we'll be in touch.