● Bird Paradise soft-opens with a special-priced entrance fee and visitors can pre-book tickets from April
● Mandai Wildlife West is a public node with playgrounds and various F&B, and serves as the gateway to the new Bird Paradise and the upcoming Rainforest Wild
Key highlights of the 17-ha Bird Paradise includes the eight large walk-through aviaries which reflect different biomes of the world such as dense African rainforests, South American wetlands, Southeast Asian paddy fields, Australian dry eucalypt forests, and more. Photo credit: Mandai Wildlife Group
Visitors will soon be able to walk through Singapore's new bird park and get a glimpse of how the birds and their carers are settling into their new home at Bird Paradise, which soft-launches on 8 May 2023. Next to the new park, enjoy the many dining and retail options as well as playgrounds and public artworks at Mandai Wildlife West, the new ungated public node which serves as the gateway to Bird Paradise and the upcoming Rainforest Wild.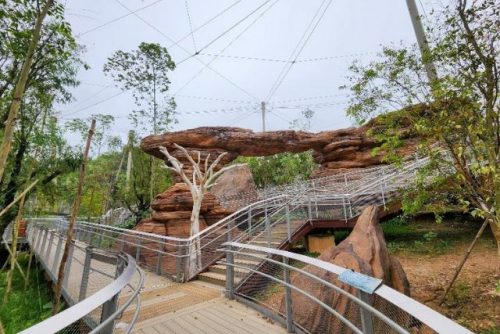 Walk amidst a landscape inspired by the region of Oceania and around, at the Australian Outback habitat. Photo Credit: Mandai Wildlife Group
Mike Barclay, Group CEO of Mandai Wildlife Group shared: "Our animal care team and veterinarians have been carrying out the mammoth task of moving more than 3,000 birds from Jurong to the Mandai Wildlife Reserve. This 'great migration' was a first-time experience for both our birds and employees, and I am glad to share that they are all settling in well at their new home. We look forward to welcoming everyone eager to visit the new park during this run-in period. We are also excited to be opening Mandai Wildlife West as a new, ungated community space. This marks another major milestone moment for the Mandai Rejuvenation Project, with other openings to follow in the years ahead."
Immerse in the symphony of colours of Bird Paradise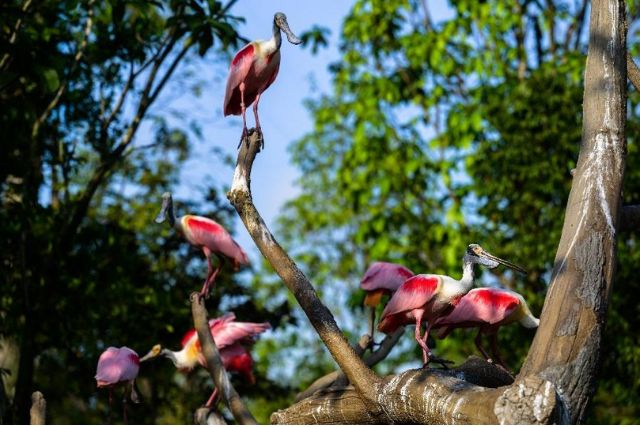 Hong Leong Foundation Crimson Wetlands comes to life with vibrant bursts of red, as flocks of Scarlet Ibises and Roseate Spoonbills take up residence in their new habitat with their striking hues creating a stunning contrast against the greenery. Photo credit: Mandai Wildlife Group
Bird Paradise is a celebration of birds and their stories, and will be home to some of the world's most threatened species – from Philippine Eagles and Negros Bleeding-heart Doves, to Straw-headed Bulbuls, Black-winged Mynas and Blue-throated Macaws. One of the species, the Socorro Dove, is extinct in the wild, and only survives because of the breeding efforts undertaken by the Mandai Wildlife Group and other conservation-minded institutions. Visitors will also be able to see the world's largest population of Hornbills under human care, many of them flying free in some of the eight large walk-through aviaries, which are inspired by different habitats from around the globe. At Sky Amphitheatre, two new avian presentations will take flight – Predators on Wings and Wings of the World. They will have a new format and content, while retaining some of the favourite elements from the previous Kings of the Skies and High Flyers presentations at Jurong Bird Park.
Guests can also look forward to intimate, keeper-led experiences, or take a "backstage pass" to discover what goes into caring for the feathered residents of Bird Paradise. These include an exclusive look into the Avian Healthcare and Research Centre, where guests can observe the vets in action as they provide the best care for their charges. At the state-of-the-art Avian Breeding and Research Centre, they will be able to have a glimpse of the many conservation breeding programmes that the park participates in, including some very important ones for Asian Songbirds, threatened parrot species, Birds-of-Paradise, and many more. Additional behind-the-scenes tours will be launched through the year.
Feeding sessions, a much-loved highlight in Jurong Bird Park, return with new varieties of birds that guests can take part in for $8 per session. These include feeding sessions with the Starlings, African Hornbills and Barbets at Heart of Africa, Pelicans at Kuok Group Wings of Asia, and the Lories at Lory Loft. All proceeds from animal feedings go towards the conservation projects that Mandai Wildlife Group supports in Singapore and across the region.
The bee-eaters' cliff at Heart of Africa. Photo Credit: Mandai Wildlife Group
Visitors will be welcomed by the majestic Forest Gateway, an 85m-long entry archway on Mandai Lake Road that leads into the precinct. The Forest Gateway features animal rock carvings that took inspiration from the wildlife parks, depicting iconic species such as the Giraffe, Malayan Sun Bear, Asian Elephant and Great Pied Hornbill.
After passing through the gateway, visitors will arrive at Mandai Wildlife West, the main arrival area for visitors to Bird Paradise and the upcoming Rainforest Wild. Continuing on Mandai Lake Road, guests will travel under the Mandai Wildlife Bridge – an animal crossing opened in 2019 for terrestrial native animals to move about safely between the neighbouring forested areas – before arriving at Singapore Zoo, River Wonders and Night Safari.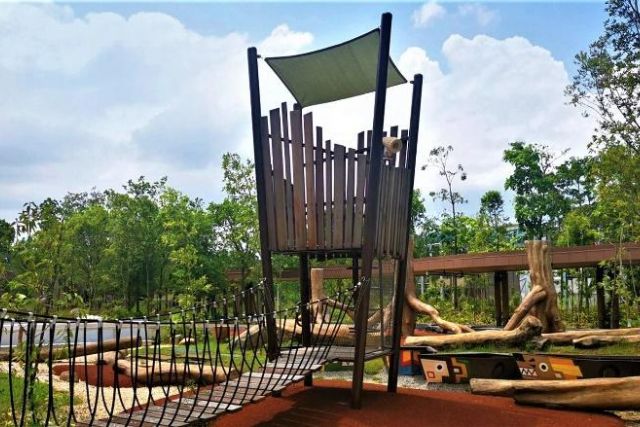 Forest Stream, one of the interactive play areas at Mandai Wildlife West. Photo credit: Mandai Wildlife Group
It will be a picturesque start at Mandai Wildlife West's arrival point, as guests are greeted by a 10m-tall waterfall before they start their wildlife adventure. This waterfall is sculpted after Indonesia's Madakaripura waterfall, in a celebration of the region's tropical rainforests. Get to the top of the waterfall by following the winding path behind a cascading water curtain and enjoy the cool mist, before arriving at the upper deck where playgrounds and F&B are located.
A cascading waterfall at West Node where visitors can move about to enjoy recreation activities as well as dining options before or after visiting Bird Paradise. Photo Credit: Mandai Wildlife Group
Mandai Wildlife West – Bringing together nature and active learning
Venture on into two anchor play areas inspired by a native Singapore species, the Sunda Pangolin, at Mandai Wildlife West. The Pangolin Adventure and Pangolin Hideout encourage junior guests and the young at heart to mimic the behaviour of the mammal with movements like climbing, burrowing and sliding.
The Pangolin Adventure, one of two pangolin-inspired play areas in Mandai Wildlife West. Young ones get to enjoy the public play areas while adults take a break and fuel up at the many F&B options. Photo credit: Mandai Wildlife Group
Educational interpretives all around also offer intriguing insights into the diverse flora, native wildlife, and various ecosystems. Weave through the root-like structures inspired by mangrove forests at Forest Stream, an ode to nature and the vulnerable riverine forest ecosystems. At Epiphytic Cluster, the different species found at various forest canopy levels, and their role in nature, take centre stage. This includes orchids, epiphytes which are plants that grow on other plants, as well cauliflorous species which refer to plants that flower and fruit from their main trunks or branches. At the Foraging Trail, learn about the bountiful treasures of the rainforest including abundant food and medicinal resources which both wildlife and people rely on. A Green Roof atop the sheltered linkway from the multi-story carpark helps to give biodiversity a boost with verdant displays of butterfly and bee-attracting flowering plants to attract pollinators and host caterpillars. Green roofs also lower the surrounding temperature and purify the air, while the planting of native and naturalised species in the area minimises the need for extensive water management.
Dining and Retail crafted with sustainability in mind
At the heart of Mandai Wildlife West is a variety of dining and retail options. From garden-themed interior designs to sustainable furnishings, and menu choices thoughtful of the planet, foodies and lovers of the outdoors can indulge in all-new flavours by familiar household names and new brand partnerships.
In a first, Luke's Lobster, Leckerbaer and Mr Holmes Bakehouse will be housed together in a flagship multi-concept store, while home-grown Birds of Paradise presents a Gelato Boutique and Sandwich Bar. American fast food chain A&W and western restaurant Collin's join the pack, along with Han's Union for fusion meals, as Pavilion Banana Leaf spices things up with North & South Indian cuisine. Quick bites and caffeine fixes are available at Coffee House by Old Chang Kee, Starbucks, and Cheers. And not to be missed – Unpackt, Singapore's home-grown zero-waste grocery and lifestyle store, makes a statement, too.
These tenants will bring a mix of eco-friendly dining and shopping experiences through plant-based menus, sustainably sourced ingredients, and using recycled materials and environmentally friendly packaging in their operations. Food waste will also be recycled at Mandai Wildlife West in a food digester which can decompose two tons of food waste in 24 hours.
A range of initiatives to encourage guests to make better choices to benefit people, wildlife and nature are embedded across the Mandai Wildlife Reserve precinct – charging stations for electric vehicles, bike racks, recycling bins, water points for drinking in place of single-use plastic bottles, FSC-certified and biodegradable products, reusable bags – and more.

Soft-opening entrance fees for Bird Paradise
From 8 May 2023 onwards, Bird Paradise will be open daily from 9am to 6pm, with the last admission into the park at 5pm. For the soft opening period from 8 May to 26 May 2023, single-park admission is at a special rate of $38 for adults, $23 for children (aged 3 to 12 years old) and $20 for senior citizens. Members of the public can pre-book their admission tickets via Klook and any add-on programmes from 24 April 2023, with visit dates from 8 May. Visits from 27 May 2023 will be at the full price of $48 for adults, $33 for children (aged 3 to 12 years old) and $20 for senior citizens.
For repeat visits, local residents can also join the Friends of Wildlife membership from 24 April 2023, which provides year-round access to all four wildlife parks including Bird Paradise. Members can enjoy priority privileges, exciting wildlife experiences and special benefits such as F&B, retail discounts and more. Annual fees start from $195 for Friends of Wildlife and $245 for Friends of Wildlife Plus. Alternatively, sign up for a complimentary WildPass digital membership and enjoy discounts of up to 30 per cent for admission, F&B and retail.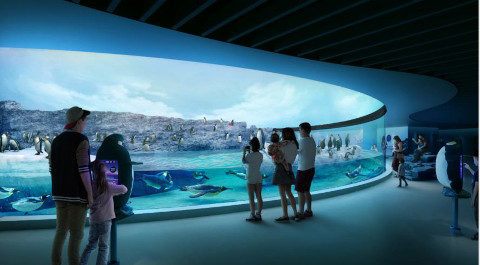 Artists' illustration of Penguin Cove. Photo Credit: Mandai Wildlife Group
Artists' illustration of Australian Outback habitat. Photo Credit: Mandai Wildlife Group
---
How to Get to the Bird Paradise
Address: Mandai
Bus: TBD
Opening Hours: 9am – 6pm
Admission: Charges apply.
Bird Paradise Price: For the soft opening period from 8 to 26 May 2023, single-park admission is at a special rate of $38 for adults, $23 for children (aged 3 to 12 years old) and $20 for senior citizens.
You can get tickets via Klook.
Other Attractions by Mandai Wildlife Group:
Nearby places to check out:
Mandai T15
Upper Seletar Reservoir
* * * * *
If you find this article useful, do click Like and Share at the bottom of the post, thank you.
Want to be heard and seen by over 100,000 parents in Singapore? We can help! Leave your contact here and we'll be in touch.