● Situated within Mandai Wildlife Reserve and opening in the second quarter of 2023, the new Bird Park will feature 10 zones including eight large walk-through aviaries
● Native habitats with over 400 species of birds and cultural influences from regions in the world have inspired the landscapes of the aviaries
● A showcase of avian conservation work to help protect wildlife species and inspire others to care
A cascading waterfall at West Node where visitors can move about to enjoy recreation activities as well as dining options before or after visiting Bird Paradise. Photo Credit: Mandai Wildlife Group
Set to open in the second quarter of 2023, the 17-hectare Bird Paradise will be the first of the new wildlife parks located at Mandai Wildlife Reserve to open to the public. Managed by the Mandai Wildlife Group, Singapore's new bird park – Bird Paradise – will transport visitors into a colourful world that will be the home to 3,500 birds from over 400 avian species. Designed to encourage discovery at every turn, Bird Paradise will welcome visitors into immersive and naturalistic mixed-species habitats, where they will explore eight large walk-through aviaries which reflect different biomes of the world such as dense African rainforests, South American wetlands, Southeast Asian paddy fields, Australian dry eucalypt forests, and more.
By co-locating all of Singapore's wildlife parks and other nature-based experiences together at the Mandai Wildlife Reserve, it is being positioned as a unique destination for nature and wildlife activities. This will offer more potential for the Bird Paradise, which includes an avian hospital, and the Mandai Wildlife Group's other operating parks to become leading centres of animal conservation, education and research.
Mike Barclay, Group CEO of Mandai Wildlife Group said, "When the Mandai Rejuvenation Project was envisioned, we wanted Bird Paradise to exemplify our commitment to operating open, immersive wildlife parks that place animal welfare at the centre of what we do. We have designed Bird Paradise to offer guests an array of carefully themed and choreographed walk-through aviaries, that will bring visitors even closer to some of the most stunning bird species in the world. The support facilities are also of the highest standard, including a state-of-the-art avian hospital and an extensive breeding facility. As an organisation dedicated to protecting wildlife, I am confident that Bird Paradise will provide us with the perfect platform to further our education programmes, capacity-building initiatives and our important work to protect threatened bird species across the region."
A fascinating exploration through immersive habitats
The new bird park is designed to emphasise environments inspired by different ecologies and habitats, the natural behaviours of birds and the unique avian adaptions found across species. Visitors will be transported to different parts of the world as they wander and explore the large aviaries which reflect the naturalistic ambiance of distinct regions with geographically-appropriate features, vegetation and bird species. The habitats will come to life with the songs and natural behaviours of the birds, from taking flight to feeding, nesting or foraging through the undergrowth.
A key highlight is the Heart of Africa where visitors will find themselves in the forested valleys of continental Africa. Featuring an elevated canopy experience, visitors will be led into a dense misty forest with meandering forest streams, where they can observe birds displaying their natural behaviours. A stunning recreation of the tranquil bamboo forests and sloping rice terraces of Southeast Asia can be found at Wings of Asia. The landscaping serves more than just an aesthetic function, with the labyrinth of bamboo providing a major food source for the animals living in the habitat. The terraces also create a unique ecosystem for birds like the critically endangered Baer's Pochard and endangered Milky Stork.
Over at the Penguin Cove, a state-of-the-art indoor habitat will eventually be home to penguins such as the Gentoo Penguin, King Penguin, Humboldt Penguin and Northern Rockhopper Penguin. It will offer guests a fascinating look into the oceanic life of these birds.
Guided by the knowledge and experience accumulated from operating the 51-year-old Jurong Bird Park, the new Bird Paradise will continue to preserve the incumbent bird park's heritage and legacy and pay tribute to Singapore's pioneer wildlife park by retaining iconic features such as the heliconia collection.
At the forefront of avian conservation
Some of the park's most threatened species will be housed in Winged Sanctuary, a zone specially dedicated to birds of high conservation value including critically endangered species like the Philippine Eagle, Vietnam Pheasant, and Negros Bleeding-heart.
Building on Jurong Bird Park's ex-situ and in-situ conservation efforts for globally threatened avian species, 24 per cent of the species in Bird Paradise will be threatened species, the highest percentage listed under human care in a single zoological park.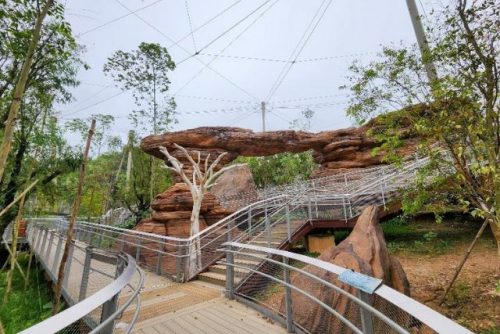 Walk amidst a landscape inspired by the region of Oceania and around, at the Australian Outback habitat. Photo Credit: Mandai Wildlife Group
The new bird park will also have the world's largest living genetic reserve of Hornbills under human care, with over 20 species. This includes new species such as the Knobbed Hornbill and Sulawesi Hornbill, offering greater opportunities for research and conservation work. Songbirds from Southeast Asia will also be a key area of focus for conservation at Bird Paradise, with more than half of the species listed as threatened in the wild.
Aligned with the park's commitment to be a globally recognised hub for avian conservation and research, there will be over 75 ex-situ managed breeding programmes represented, as well as several species that are directly linked to field conservation projects in the region.
Integrating conservation education into visitor experiences
Throughout the park, education programmes and features such as tactile and digital interactives, bird interactions and feeding sessions will allow visitors to engage in hands-on and interactive encounters with the birds. Going beyond play, these elements also create awareness among visitors and evoke deeper reflection on the real-life threats faced by the animals in the wild, many of which are at risk of extinction should action not be taken to conserve their habitats.
Every area of the park is designed to ignite the call-to-action for visitors to do their part for conservation. Transitional zones in between habitats double up as educational spaces where visitors can learn more about avian features and behavioural patterns. Fun and interactive elements will deepen visitors' appreciation of the avian world, alongside sensorial exploratives like human-sized nests, and opportunities to recreate the dawn choruses of Southeast Asian songbirds.
Visitors can embark on meaningful behind-the-scenes tours to Bird Paradise's fully-equipped Avian Health and Research Centre, Avian Nutrition Centre as well as a Breeding and Research Centre. Through these tours, they will learn about breeding programmes as well as how to establish assurance colonies that hedge species in the wild against extinction. They will be exposed to conservation research projects that help to sustain and protect species populations in the wild. A 2,000-seater amphitheatre is also set to enchant with free-flying demonstrations and refreshed presentations.
Visitors can also look forward to designated family fun areas at Tree Top Play and Egg Splash for dry and wet play respectively. Treetop Play is inspired by the movement of birds within the tree canopies, while Egg Splash takes inspiration from eggs of waterbirds to create a fun, playful waterscape for children.
Incorporating sustainable design
In line with the precinct-wide sustainability efforts for Mandai Wildlife Reserve, Bird Paradise will be applying to be certified under the Landscape Excellence Assessment Framework (LEAF), optimising best landscape and sustainability practices throughout its design strategy. This includes implementing solar panels on available roof spaces and incorporating passive design to achieve thermal comfort and avoid glare in the large visitor spaces. More than 5,000 trees have also been planted throughout the park to recreate natural habitats and provide shade for visitors, while utilising energy-efficient hybrid ventilation systems to replace air-conditioning where possible. For areas where air-conditioning is required, water and energy-saving measures will be implemented, allowing spaces such as Penguin Cove to achieve the Green Mark Platinum for Non-Residential Buildings.
The Great Migration and A Flight To Remember
Preparations for the great migration from Jurong Bird Park to Bird Paradise began more than three years ago, with the Avian team working on the species plan and acquisition strategy for new species. Over the last two years, retheming of existing aviaries such as the African Treetops at Jurong Bird Park was done to mirror the new habitats of Bird Paradise to start introducing different bird species that would be housed in the same habitat at the new park. The move is set to happen after Jurong Bird Park closes and will see all its feathered residents relocated to the new Bird Paradise over a few months.
The work of conditioning the birds for the move has begun, with small conditioning aviaries placed in larger walk-through habitats to encourage the birds to enter voluntarily and be comfortable inside. These conditioning aviaries will be used to transport them safely to the Mandai Wildlife Reserve.
The move is a massive undertaking. An extended planning exercise has identified more than 100 steps that need to be undertaken to complete each transfer. A comprehensive assessment of the entire moving process was conducted, and various mitigation measures have been put in place to ensure the safety and welfare of the birds and the staff involved. Upon release into their new homes, the birds will be closely monitored to ensure they are adjusting well and given sufficient time to settle into their new environments.
Jurong Bird Park is currently on its last flight, A Flight To Remember. Following Jurong Bird Park's official last day of operations on 3 January 2023, the process of moving the avian residents to Bird Paradise will begin.
You can get tickets online via Klook, KKday or Trip.com.
With Singapore's new bird park set to open next year, development work for the rest of the precinct is also well underway. The remaining features are set to open progressively through to 2025.
---
Descriptions of the habitats and key features of Bird Paradise
Upon entering the Entrance Plaza, visitors will be greeted by a majestic winged entrance canopy that paves the way to a cascading waterfall. Spotlighting our local heritage and ecology, the Entrance Plaza will showcase mature tree clusters and native fauna-attracting plants to enhance eco-connectivity to the Central Catchment Nature Reserve. A lively display of colourful orchids will also feature at the waterfall forecourt, a nod to the local history of the site, which was the location of the former Mandai Orchid gardens.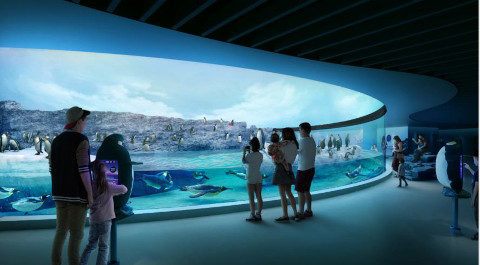 Artists' illustration of Penguin Cove. Photo Credit: Mandai Wildlife Group
As visitors make their way into Bird Paradise, they will encounter Winged Sanctuary, which shines the spotlight on rare and predatory species of high conservation value that have been excluded from the mixed-species habitats. Housing over 100 species of birds, including the Brahminy Starling, Santa Cruz Ground Dove, Maleo and Philippine Falconet, the exhibits offer close-up observations and understanding of these species and their behaviours. Beside the Winged Sanctuary, Penguin Cove brings cool respite, showcasing the fascinating behaviours of penguins. The cold salt-water habitat is designed to facilitate the natural behaviours of the penguins. Penguin Cove also features a sustainable dining experience immersed in an underwater environment with the aquatic birds.
The bee-eaters' cliff at Heart of Africa. Photo Credit: Mandai Wildlife Group
Visitors can then make their foray into the eight walk-in aviaries, the largest of which is Heart of Africa, which draws inspiration from the forested valleys of continental Africa and the colourful birds that live amongst the towering rainforest trees. The habitat features a Bee-eater's Cliff where bee-eater species may be observed to dive and swoop to catch insects mid-air. Replete with immersive cultural elements such as Congolese pavilions and a larger-than-life artificial sycamore fig tree, visitors can observe the vibrant plumage of birds like the Red-fronted Barbet, Blue-bellied Roller and Great Blue Turaco perching in the trees while hiking up to the viewing tower for a unique vantage point of the entire habitat.
Next, paying homage to the diverse forests of Southeast Asia, Wings of Asia features spectacular pheasants scouring the undergrowth for food, and charismatic hornbills soaring above the trees. Visitors can soak in the serene ambience while admiring the cultural elements that have been integrated into the habitat, such as a Balinese-inspired split gate, pavilions, and water-based sound sculptures.
Fittingly named, Crimson Wetlands will enthral with colour, mainly the colour red. Scarlet Ibises and Roseate Spoonbills will glide over the marshy wetlands set against the backdrop of a floating village in South America. The habitat features a clay lick wall, where colourful macaws can be observed feeding and a waterfall, as a tribute to the Waterfall Aviary of Jurong Bird Park. An elevated restaurant at the Crimson Wetlands will offer breath-taking views of the habitat and waterfall, with a menu curated by a local celebrity chef.
Bird Paradise will also honour the rainforests of South America with Amazonian Jewels, with its iconic ficus trees, large buttress root, terrestrial and epiphytic bromeliads and unique bird species like the Amazonian Motmot and Chestnut-eared Aracari. Beside it, Songs of the Forest set the stage for the singing songbirds of Asia to shine, where the Bali Myna, Straw-headed Bulbul and Asian Fairy Bluebirds deliver a melodious symphony. Inspired by the riverine forests of Southeast Asia, visitors can immerse in a peaceful haven characterised with large overhanging leaves and gentle, glistening streams.
Artists' illustration of Australian Outback habitat. Photo Credit: Mandai Wildlife Group
The elusive Birds of Paradise of New Guinea will enrapture visitors at Mysterious Papua with their flamboyant courtship dances, amid the coastal rainforest of pandanus and its iconic stilt roots. A longhouse-style bird hide will also offer visitors the exceptional opportunity to observe the Papuan birds' up close, such as the Southern Cassowary, North Papuan King Parrot and Palm Cockatoo. Down under, a dry arid forest at Australian Outback will be home to various species of Lorikeets and endangered cockatoos boisterously communicating in the trees, and flocks of cooing pigeons.
Reminiscent of the much-loved Lory Loft at Jurong Bird Park, the new Lory Loft at Bird Paradise will resonate the monsoon forest of Irian Jaya with gregarious lories and eye-catching parrots amid lush forest canopies. From elevated suspension bridges themed after ethnic treehouses in Papua, visitors can revel in the thrills of offering the excited birds a nectar cup, enticing them to come up close and even to perch on their wrists and shoulders. Memorialising the feeding experience at Jurong Bird Park, the experience echoes the heritage, legacy and memory of the much-loved Lory Loft.
---
How to Get to the Bird Paradise
Address: Mandai
Bus: TBD
Opening Hours: TBD
Admission: Charges apply.
Bird Paradise Price: To be advised
Other Attractions by Mandai Wildlife Group:
Nearby places to check out:
Mandai T15
Upper Seletar Reservoir
* * * * *
If you find this article useful, do click Like and Share at the bottom of the post, thank you.
Want to be heard and seen by over 100,000 parents in Singapore? We can help! Leave your contact here and we'll be in touch.