Do you notice your child moving closer to the television, squinting while doing homework, frequently blinking, rubbing eyes, or having poor concentration?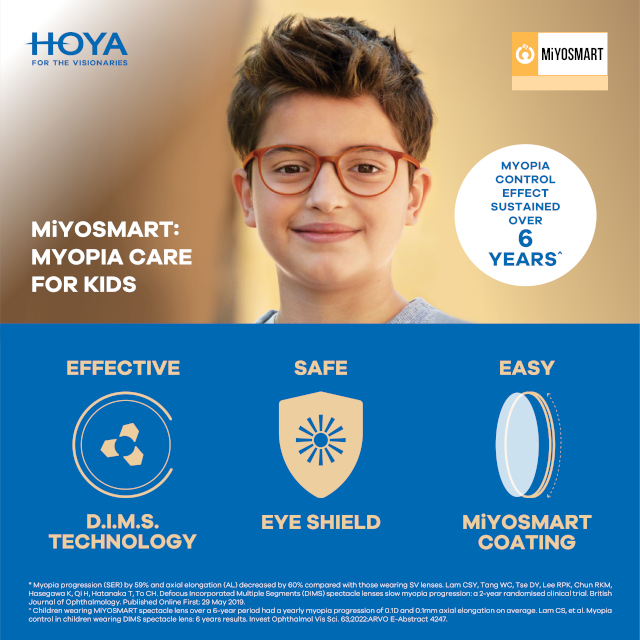 Your child may have myopia, a condition defined by either eye being diagnosed with a Refractive Error of ≤-0.50D (aka a 'power' of 50 degrees or more), meaning he/she can see near objects clearly, but objects farther away are blurry.
Singapore is often labelled as the "Myopia Capital of the World" as the prevalence of myopia in Singapore is among the highest in the world. In Singapore, 83% of young adults are myopic, and over 65% of children are myopic by Primary Six (MOH). By 2050, it is projected that 80% to 90% of all Singaporean adults above 18 years old will be myopic and 15% to 25% of these individuals may have high myopia.
What causes myopia?
One main cause of myopia is genetics. If you have myopia, the risk of your child developing myopia is 2 times higher. If both parents are myopic, this risk increases to 8 times more! Low outdoor time and excessive near work like reading and using digital devices also increase the risk of myopia.
Myopia usually begins mild, but without treatment, it can affect one's quality of life and puts one at risk of many eye disorders later in life, such as early cataracts, glaucoma and macular degeneration.
With academic work and digital devices being a part of our child's school and daily life, how can we, as parents, assist in controlling their myopia progression? In this article, we will explore easy and effective tips that are non-invasive for myopia management.
What are the different types of myopia control?
There are various non-invasive and invasive options to control myopia.
Non-invasive:
Behavioural: having more outdoor time, taking Vitamin D, having sufficient indoor lighting
Optical: using ophthalmic lenses (like MiYOSMART D.I.M.S. lenses)
Invasive:
Optical: using contact lenses (such as Ortho-K)
Pharmaceutical: applying eyedrops (such as Atropine, Pirenzepine, Cyclopentolate)
Surgical: (For the treatment of pathological myopia) PSR (posterior scleral reinforcement)
Invest in myopia-control lenses such as MiYOSMART
If your child has myopia, investing a specialized myopia-control lens such as MiYOSMART is one of the easiest and most effective non-invasive methods to manage myopia.
One thing you need to know about myopia is the strong correlation between the amount of myopia and the length of one's eye (known as axial length). Axial length is typically defined as the axial distance from the anterior cornea to the retina.
The longer the eye grows, the higher the myopia. One's axial length can be measured with an Optical Biometer, which has no contact with the eyes.
How do myopia management treatments like MiYOSMART prevent your child's eyes from growing too long?
MiYOSMART with Defocus Incorporated Multiple Segments (D.I.M.S.) technology is a single vision corrective lens with a convex surface that is comprised of hundreds of small segments, each providing myopic defocus. Not only does this lens structure helps to correct your child's vision, but it also retards the growth of the eyeball to control the elongation of your child's eye.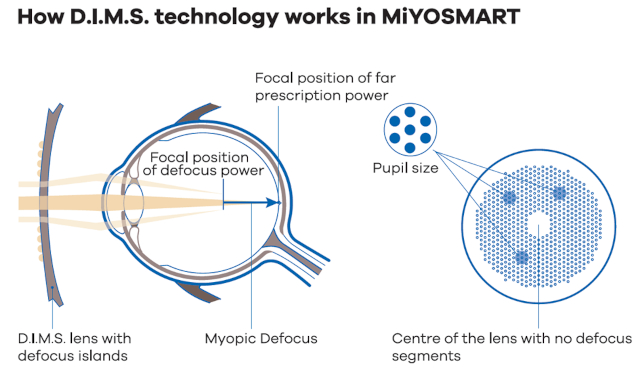 MiYOSMART is clinically proven!
A two-year randomized clinical trial revealed that children who wore MiYOSMART had their myopia progression curbed by an average of 59% and their axial elongation (elongation of the eyeball) also decreased by an average of 60% compared to children wearing conventional single vision lens.
The result from using MiYOSMART lens is so impressive that in 2018, the D.I.M.S. technology in MiYOSMART lens won the prestigious Grand Prize, Grand Award and Special Gold Medal at the 46th International Exhibition of Inventions of Geneva, Switzerland. MiYOSMART was also one of the 2020 SILMO d'or laureates.
In 2021, results of the three-year follow-up clinical study on MiYOSMART showed that slowing in myopia progression over time was sustained for children who continued to wear MiYOSMART in the third year. Children who switched from regular single vision lens to MiYOSMART lens showed a significant and immediate slowdown in myopia progression.
Just this month, the six-year follow-up clinical study on MiYOSMART, the longest study conducted on a myopia management spectacle lens ever, was shared. It proved that the MiYOSMART spectacle lens myopia control effect is sustained over time for children wearing the lens. It also confirmed that children who stop wearing MiYOSMART spectacle lens show no rebound effects when compared to the initial myopia rates of progression during the two-year randomized control trial or with the general population.
Made with young children in mind, the lens is child-friendly: impact-resistant, water-repellent, thin, light, and comes with UV protection. It is also extremely low maintenance as the lenses have a special easy-to-wipe anti-reflective coating.
Today, one million children in more than 30 countries have benefited from wearing the MiYOSMART spectacle lens. Parents who are concerned for their children's well-being should consider a non-invasive and effective myopia control solution such as MiYOSMART, which helps both parents and children ensure future vision health.
Hear from a parent who switched his son's lenses to MiYOSMART
Still considering whether to invest in MiYOSMART lenses for your child? To help you make an informed decision, hear from this father who switched his sons' single vision lenses to MiYOSMART lenses.
Mr Francis Wong is a father to two sons – Irvin, 11, and Isaac, 9, who were diagnosed with myopia at age 7 and 8 respectively. Speaking about his experience when his first son was diagnosed with Myopia, Mr Wong said, "Irvin started to wear the normal lens, but after a year or so, the degree kept going up."
As Mr Wong also suffers from myopia, he could understand the difficulty of not being able to see clearly without spectacles. As every parent wants the best for their children, he started looking for an alternative to control his sons' myopia progression.
"I was trying to find a solution for him too because I didn't want him to be hitting 600 degrees by the time he is 12 or 13 years old. That would be quite bad for him," Mr Wong said.
One day, Mr Wong came across a brochure in an optical shop which explained the benefits of MiYOSMART lenses and decided it was time to give it a try. Having had both kids experience the lenses for themselves, Mr Wong added, "I would recommend parents whose children have myopia to consider MiYOSMART lenses to help your kids maintain and stabilise their eyesight."
Mr Wong's son, Irvin, also had only praises for MiYOSMART lenses, especially when it came to the appearance of the lens. Although the lens is comprised of hundreds of small segments, the cosmetic appearance of the lens is highly similar to a regular single vision lens, and this is due to the excellent conception and innovative production technology. "They did a really good job making the lens feel like normal glasses. I didn't even notice the difference when I wore the new glasses."
Manage myopia the smart way with MiYOSMART and good eye care habits
Besides opting for MiYOSMART's lenses, parents can also encourage children to practise good eye care habits to manage myopia.
Good eye-care habits include reducing time spent on near work (e.g. reading, writing, using digital devices), and taking regular breaks after 30-40 min of near work. Ensure a well-lit environment where your child can sit upright in a comfortable chair and read a book or use a computer at arm's length.
MOH has revealed that increased outdoor time may reduce the prevalence of myopia by 13% in children. Outdoor time at the playground also improves motor and social skills as your child develops and improves his/her overall health including eyesight.
To sum it all up, manage myopia the smart way by combining good eye care habits and choosing MiYOSMART lenses. MiYOSMART provides your child a clinically proven, safe, easy and non-invasive way to control myopia progression and helps protect his / her eyesight in the long term.
To learn more about curbing your child's myopia progression, check out MiYOSMART's website and visit one of their eye care practitioners today.
Brought to you by HOYA. All pictures courtesy of HOYA.
By Julia Chan.
* * * * *
Like what you see here? Get parenting tips and stories straight to your inbox! Join our mailing list here.
Want to be heard 👂 and seen 👀 by over 100,000 parents in Singapore? We can help! Leave your contact here and we'll be in touch.