Home is where your little one feels safe and a time to relax for the whole family. You may feel more assured spending family time at home than in crowded restaurants or malls, especially during the peak flu seasons.
But when it comes to the air that you and your child breathe at home, it may not be as clean as you think.
Do You Know These Common Indoor Air Pollutants?
Indoor air pollutants come from many sources, both within and outside the home. Many activities we do around our homes actually cause air pollution. The more common indoor air pollutants are:
Bacteria and viruses
Mold and Mildew
Dust mites
Pollens
Odours and Chemicals
With all these possible air pollutants in your home, you may be wondering how to protect your family's health. Air purifiers are used to clean the air in our homes. They work by moving air through a filtration system. Filtered clean air is then distributed back into the environment.
Although most air purifiers work well, most of them do not measure the quality of the air or provide feedback to the user. This leaves us wondering, "Is my air purifier working?"
Thankfully, with the new air purifiers from TruSens™, there's no more guessing.
Introducing TruSens™ Air Purifier
TruSens™ Air purifier has been awarded the prestigious Red Dot Award: Product Design 2019, attesting to its outstanding design quality. But what we're excited about is the purifier's one-of-a-kind functions.
Clean Air in Every Corner
It uses PureDirect™ Technology, a bi-directional dual airflow proven to distribute purified air more effectively throughout the room.
This contrasts with other purifiers that direct the air either vertically up or straight out, which may leave areas in the room with little to no air circulation.
So, no matter which corner of the room your child is in, rest assured that he or she is breathing in clean, purified air.
Air Filtration that Works 360o
The filtration system is a key component of any air purifier. TruSens™ Air Purifier uses a 360-degree filter that draws in air from all directions, instead of the conventional flat filter that restricts air intake to one side of the purifier.
Furthermore, its DuPont™ filtration system is able to pick up and capture both large and micro particles in the air; whether it's large particles such as dust or pet hair, or micro particles matter down to 0.3 microns.
It also has an ultraviolet sterilization that kills over 99% of the germs and viruses that build up on the filter, preventing recirculation of live germs.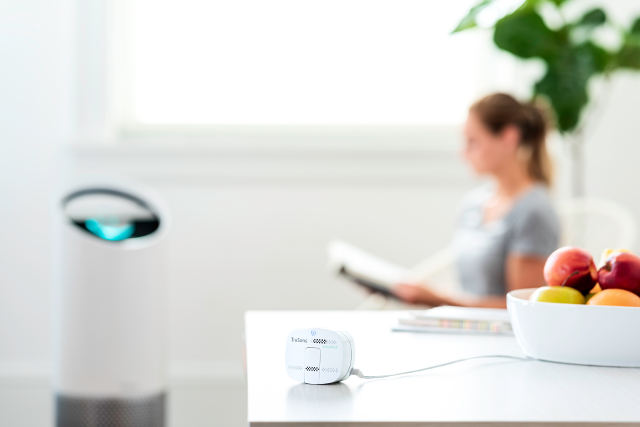 TruSens™ Air Purifier works with a remote SensorPod™ which is a separate sensor that can be placed anywhere across the room away from the air purifier.
Take for instance, you are preparing dinner and your baby must be moved near the kitchen to be in your line of sight. How can you assure that your baby is breathing in clean, purified air?
Simply place the SensorPod™ near the crib and it will measure the air quality readings around the baby and communicate back to the air purifier.
The air purifier will automatically adjust its fan speed to ensure clean air is evenly distributed throughout the room. This way, you can be certain your baby is breathing in clean, purified air even while you are cooking.
Additionally, TruSens™ Air Purifiers with SensorPod™ comes with a digital display which provides real-time feedback on the air quality using the 1-500 point Air Quality Index (AQI) scale, created by the US Environmental Protection Agency (EPA).
Experience the Difference in Air Quality
There are many things in life that are out of your control. The air that you and your children breathe at home should not be one of them. TruSens™ not only delivers clean air, it also allows you to monitor the air quality, giving you a peace of mind.
Don't wait for the next haze to hit Singapore. You can come home to fresher, cleaner air today. TruSens™ Air Purifier is now available online here in three sizes, for small, medium and large rooms.
Exclusive Promo For TNAP Readers! Enjoy a 10% discount on all TruSens™ air purifiers. Note: This discount is only redeemable as a coupon on Lazada, valid from 16 Aug – 16 Sep 2019. Only one redemption per customer.
Visit here to redeem your voucher today.
This post is brought to you by TruSens™.
By Marcie Mei.
* * * * *
Like what you see here? Get parenting tips and stories straight to your inbox! Join our mailing list here.
Want to be heard 👂 and seen 👀 by over 100,000 parents in Singapore? We can help! Leave your contact here and we'll be in touch.