When my two year old was recently ill, it was all arms to battle stations as we fought temperatures peaking 41.5°Celsius (106.7°F), dehydration and sleeplessness. At the hospital, I was informed it could be either pneumonia or meningitis. So when it was confirmed that we'd escaped the latter, I was so relieved I nearly didn't register what the doctor said next. "He'll have to stay in the hospital for the next five nights, so we can begin the antibiotics treatment and monitor him closely."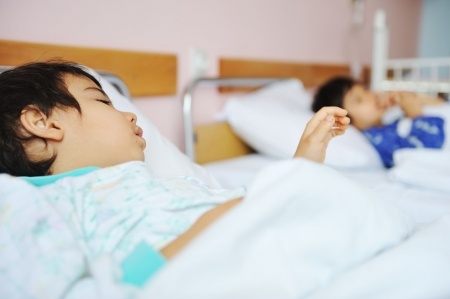 A hospital stay with your loved ones can be unsettling and often traumatic. It becomes almost unbearable when the ill person is a child. It is distressing to see their suffering. You feel helpless to make them better. You want to do is magically take the pain away, but all you can do is comfort and soothe them, and place your trust in the medical heroes.
In such stressful situations, the last thing you want is to worry about running out of clean clothes or forgetting your asthma inhaler. If you're a single parent or a parent with other children at home, you may not be able to afford the time and luxury to keep going back and forth to your house to get what you want for your hospital stay. You must also pay attention towards you – take care of yourself so that you are in the best possible position to look after your child.
➡️ Related Read: Financial Assistance Schemes for Single Parents in Singapore
So avoid all the unnecessary fuss once, and ensure you carry a bag that contains everything you require. Here's a handy list of items you'll need if you ever have to stay overnight in a hospital with your child.
What to bring for your child
Nappies
Wipes
Nappy cream/talcum powder
Toothbrush, toothpaste, tongue-scraper, floss
A set of clothes (e.g. vests/onesies, shirts, trousers, underwear, socks and shoes/slip-ons, woollen cap/sun hat)
Soother/dummy/comforter
Favourite toy/book/music/game
Milk bottles and sippy cups (and formula milk if your baby is aged less than a year)
Bottle brush
Blanket
Towel
Spit-up rags for general cleaning
Other medication/aids taken regularly (e.g. eczema cream, vitamin syrup, asthma inhaler, laxative sachets)
What to bring for yourself
Mobile phone and charger – An absolute must to stay in contact with family and other support. Also useful to temporarily distract the child (e.g. during a quick injection) by playing songs, watching family photos, or videos on YouTube. The camera lets you take pictures of everything from the wrist tag to any procedures carried out
Check if the hospital has free Wi-Fi to connect to the Internet. You may like to have this option to look up medical terms bandied about by doctors and nurses, or find a nearby restaurant that can deliver hot food, or even to chat to friends for sanity
Your IC and health insurance card with associated documentation
Cash and credit cards – Keep coins for parking meters and vending machines. Ask for receipts for every payment you make, even at the hospital snack shop or cafe, in case you may be able to get it reimbursed later
Your child's health and immunisation record
Toothbrush, toothpaste, tongue-scraper, floss
Soap, shampoo, deodorant, nail clipper
Comb/hair brush and hair bands/clips
A set of clothes (innerwear, outerwear, outdoor and indoor footwear)
Towel
A book or iPad/iPod – Helps you get through the sleepless nights
Wipes – Useful to wipe down any surface from your own face to toilet seats
Any medication taken regularly
Any other items you use on a daily basis (e.g. contact lenses, mouth-guard, aids for relaxation, neck pillows, eye masks to catch up on sleep during the day)
An empty water bottle – For everything from drinking to using as a prop or distraction object
A couple of tablets of paracetamol
A notepad and pen – To record times and doses of medication given to the patient, etc
Snacks (e.g. fruit, crackers, juices, cereal bars, your special tea bags)
A roll of kitchen towels/tissues
Plastic bags – There will be a lot of rubbish generated and your room's small garbage can may either not be sufficient or may be a magnet for a bored child
Make-up kit if desired (e.g. lip gloss, tweezer, eyeliner, foundation, razor, Vaseline)
It is a good idea to keep a bag packed with spare items just in case an emergency should arise.
Once your child begins to get better, they will get more active and it will become difficult to keep them restrained on the bed within the confines of the hospital room. With intravenous infusion bottles, there is also the danger the long cords and tubes will get entangled in arms and legs or worse, around delicate necks, at night as the child tosses and turns in sleep. So caregivers must remain alert to the dangers of pulling, breaking, bending, or strangulation. Find activities to keep your child occupied. Carry read-aloud books, colouring books, toys, video games, play dough, etc. You may want to keep a folder to carry the discharge paperwork in.
A hospital stay with an ill child can be a tremendously demanding time. With preparation and patience, you will get through this tough period on to happier days.
By Devyani Borade.
* * * * *
Like what you see here? Get parenting tips and stories straight to your inbox! Join our mailing list here.
Want to be heard 👂 and seen 👀 by over 100,000 parents in Singapore? We can help! Leave your contact here and we'll be in touch.