Flying to Singapore for the First Time!
The World's Favourite Christmas Show – Opening Soon
From 12 to 15 December, The Snowman will be coming to Singapore in a never-before-seen adaptation of Raymond Brigg's beloved book at the Esplanade Theatre.
The Snowman in Singapore (Credit Herbie Knott)
Presented by ABA Productions and Birmingham Repertory Theatre (UK), The Snowman promises an unforgettable experience – music, dancing and the magic of flying are brought together in this extraordinary performance. Featuring Howard Blake's classic song Walking in the Air, this world-class live show has captivated audiences for two decades in London's West End and been seen by millions of theatre goers.
⇒ Related Read: Places To See Snow In Singapore This Christmas
The famous Walking in the Air tune was an epic hit in the UK charts when sung by choirboy Aled Jones and was voted number 2 in a poll conducted by Classic FM to find out children's favourite pieces of classical music, beating Prokofiev's Peter and the Wolf and Tchaikovsky's Dance of The Sugar Plum Fairy amongst others. Renowned artists including Celtic Woman, Tom Chaplin, Birdy and many others have covered the well-known melody.
For each performance, a large professional crew of 42 people is required to bring The Snowman to life – 17 dancers, 5 musicians and 20 stage crew. A total of 60 costumes are used for the show and each one is made by hand in Birmingham Repertory Theatre's wardrobe department. With a whopping number of 265 individual props used in the show, the transformation of the stage is something that is not to be missed.
The Snowman is a Christmas treat for people of all ages, pulling at the heartstrings of the young and old through its touching portrayal of friendship.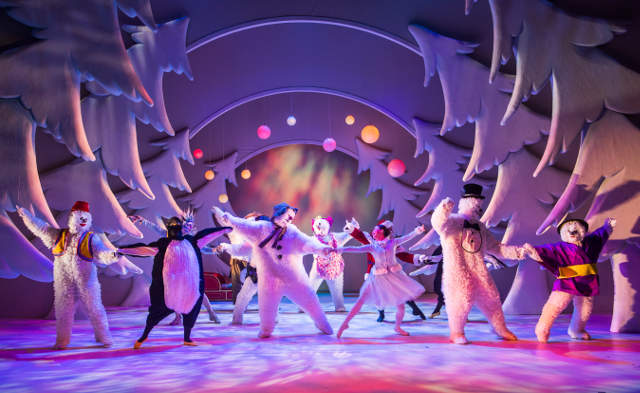 The Snowman (Credit Tristram Kenton)
Quotes from the Media
"Sheer theatrical magic. Go see The Snowman and melt." The Times
"It doesn't come much better at Christmas" The Guardian
"It has become one of those shows that gets me through the winter. Magical flight to a winter wonderland" Daily Telegraph
"The roar of delight when the second act began said it all" Sunday Times
"An essential part of London's Christmas calendar" Time Out
---
About The Snowman
Date: 12 to 15 December, 2019
Show Schedule: Thursday and Friday: 7pm | Saturday and Sunday: 11am, 3pm, 7pm
Venue: Esplanade Theatre
Running Time: Approximately 1 hour 45 minutes (inclusive of 15 minutes interval)
Synopsis:
When a young boy's snowman comes to life on Christmas Eve, the two set off on a night-time quest for adventure. They meet Father Christmas, dancing penguins, reindeer and crowds of The Snowman's friends, but will they escape evil Jack Frost and get back home for Christmas morning?
Based on Raymond Brigg's much-loved book and featuring Howard Blake's classic song Walking in the Air, this enchanting live show has thrilled audiences throughout the world since first appearing on stage over twenty years ago. Be a part of the magic.
Online Ticket Prices
Category Price (SGD)
| | |
| --- | --- |
| Category | Price (SGD) |
| Cat 1 | $138 |
| Cat 2 | $118 |
| Cat 3 | $98 |
| Cat 4 | $78 |
| Cat 5 | $58 |
| Cat 6 | $48 |
Tickets are now available through SISTIC or by calling 6348 5555. Prices start from $48.
General Discounts Available
SAVE 10% when you book 6 or more tickets
4-for-3 Offer: Buy 3 and get 1 free on select showtimes
---
☃️⛄️ TNAP The Snowman Tickets Giveaway ☃️⛄️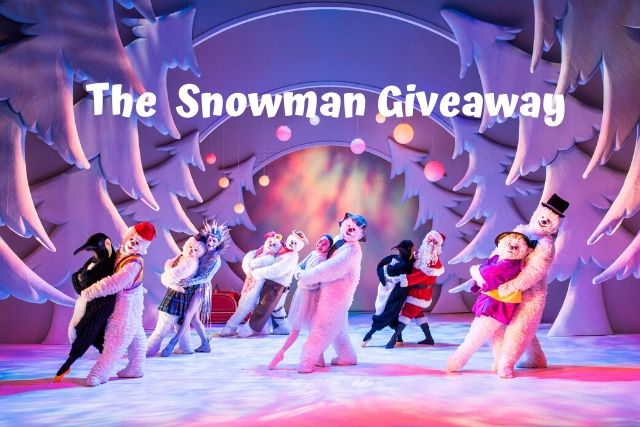 The Snowman (Credit Tristram Kenton)
We are giving away 2 sets of 4 Cat 2 tickets (worth $472 per set)!
Details of Show
Date: 14 December 2019
Time: 3pm show
Venue: Esplanade Theatre
To take part in the giveaway, follow the steps below:
1. Like and Follow us on Facebook and Telegram.
2. Fill in the form below:
The giveaway has ended.
3. Like and comment on this Facebook post and tag 3 friends for a bonus chance to win. Readers with 'Top Fan' badge get an additional chance.
Contest ends on 10 December 2019.
Important notes:
Winners will be notified via phone and email.
Collection of tickets will be at Esplanade Theatre ticketing area before 3pm. There will be a booth set-up labelled "ABA Productions Ticket Collection".
Proof of identity may be required.
Valid for The Snowman at Esplanade Theatre on 14 December 2019, 3pm show ONLY.
Terms and conditions apply. Please also read our Privacy Policy.
For more contests and giveaways, go to The New Age Parents Contest Page.
---
It is the year end November & December holidays. We have compiled a list of November-December School Holidays 2019 Activities for Kids. Click image to find out more.