There are days when fatigue or illnesses get the better of us or our family. The reasons for low immunity may differ for each family member – children are vulnerable to bacteria and viruses because their immune systems are still developing. As parents, we experience fatigue from having to constantly juggle work and family commitments. This can take a toll on our immunity levels.
Increasing research has shown that an unhealthy balance of gut bacteria can affect not just our digestive system but also our heart, kidneys, immune system, emotions and even weight.
How can we ensure that our gut remains strong and healthy?
The Power of Probiotics
If you are not familiar, probiotics are "friendly" or "good" bacteria that are essential for your gut health. It maintains the balance of beneficial bacteria in your digestive system, which can help to fight pathogens that weaken your health.
Especially for those who take antibiotics regularly, did you know that in the process of killing bad bacteria, antibiotics can also deplete your good gut bacteria?
You might be wondering at this point, where do I even start with probiotics? For a start, we think it is crucial to understand what makes a probiotic effective.
What Makes an Effective Probiotic?
You may have heard – fermented dairy products such as yoghurt and milk drinks are some of the best natural sources of probiotics. There are also fermented foods like kimchi, tempeh, miso, kefir and sauerkraut.
However, it is important to note that not every yoghurt contains probiotics or the necessary strains that are beneficial to your gut health.
Here are some factors you should consider when evaluating the effectiveness of a probiotic:
1. Colony Forming Unit (CFU) count
Fundamentally, you need to make sure you're getting live and active cultures, and CFUs offer you an estimated number of viable bacteria. Generally, most studies have found that higher doses produce best-desired results.
2. Its ability to withstand the harsh environment of the gut
CFU is not the only factor. Not all probiotics – including those found in yoghurt – can survive the harsh, acidic gut environment, and if they don't make the journey, you won't get to enjoy the benefits!
3. Format
Apart from natural foods, probiotic supplements come in various formats: powder, liquid and capsule. It's arguable which is the most effective – but it is important to consider the convenience of the format and the design of the product because remembering to take it is also key to enjoying its upsides.
A Trusted Probiotics Supplement
If you're looking for a trusted probiotics supplement with proven efficacy for your family, consider Youguth. Youguth is a new brand developed by CKD, the company behind Korea's best-selling probiotic LACTO-FIT.
Here are 5 reasons why Youguth is an effective probiotic:
1️⃣ Backed by CKD's 50 years of research excellence and advanced fermentation know-how, Youguth probiotics are cultivated with patented technology to ensure higher survivability in the intestines for maximum efficacy
2️⃣ Youguth contains 100 billion Colony Forming Units per sachet, which means you get more live culture or good bacteria packed within a small serving
3️⃣ Youguth probiotics come in handy and slim powder sachets, so it's easy to take on the go or add into smoothies or yoghurt
4️⃣ Youguth comes in milky and fruity flavours, so every family member – even the little ones – can look forward to taking it!
5️⃣ Even more thoughtfully, Youguth comes in 4 different formulae, each containing ingredients optimally tailored for specific age groups and stages of life
Youguth Probiotics: The Number One Health Supplement You Need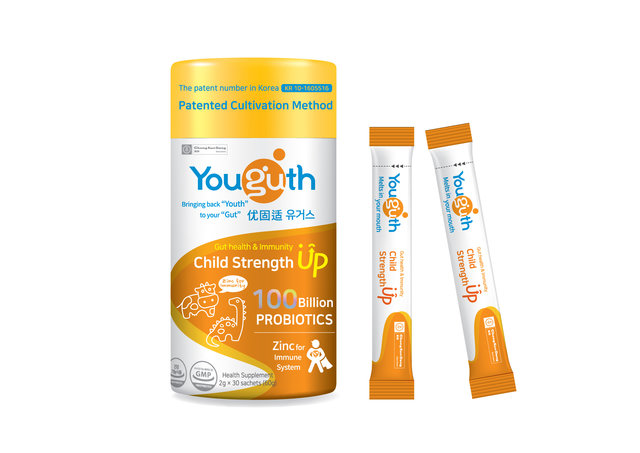 ● For kids 1 and above: Youguth Child Strength Up
Developed to assimilate quickly into your child's intestine, this probiotic will improve his or her gut health. It also contains colostrum and zinc to boost your child's immunity and support growth.
● For busy working parents: Youguth Green Energy Up
Suited for busy adults or working parents, Green Energy Up contains Vitamin B complex to boost your energy levels and maintain a healthy nervous system. It also contains Gingko Biloba extract which helps improve memory and blood circulation.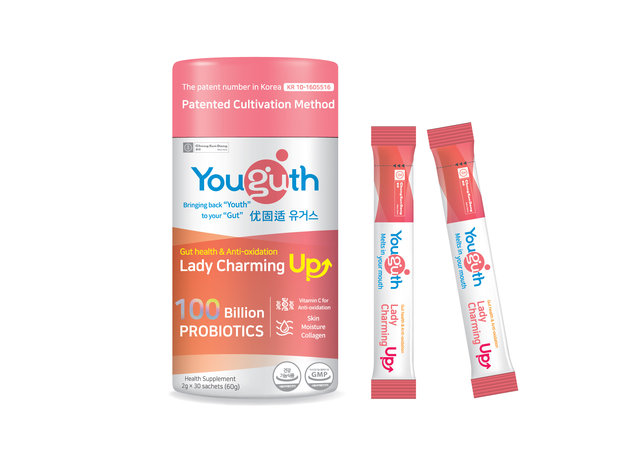 ● For mothers: Youguth Lady Charming Up
Isolated from fresh vegetables such as spinach, kimchi and tomato, this probiotic is rich in antioxidants – namely, vitamin C and collagen – which help to give women a natural glow in their complexion.
● For the silver generation above 50 years: Youguth Silver Up
Give the older folks in your family additional protection for their bones with manganese.
Invest in Your Health
Cleaning the house, doing the laundry, helping your kids with their homework, work stress, managing your child's extra-curricular activities, taking care of our ageing parents, spending time with our loved ones… the things on our to-do list may seem endless.
Amid all the hustle and bustle, take time to check on your health needs. Now that you understand how immunity is linked to gut health, invest more in your gut health and consider probiotics as a key supplement for yourself and your family.
Youguth is available at www.youguth.com.sg, Guardian, Unity & Watsons.
This post is brought to you by Youguth.
* * * * *
Like what you see here? Get parenting tips and stories straight to your inbox! Join our mailing list here.
Want to be heard 👂 and seen 👀 by over 100,000 parents in Singapore? We can help! Leave your contact here and we'll be in touch.