Parenthood is both an exciting and challenging phase in many people's life. Babies can bring much joy to a family and because they are vulnerable, it is the responsibility of caregivers and parents to have first aid knowledge and cardiopulmonary resuscitation (CPR) skills.
This will ensure that they recognize an emergency, not panic and may even save their loved ones. An important phone number, which is 995, should also be communicated to caregivers. This is the number to call in an emergency either for an ambulance or a fire engine.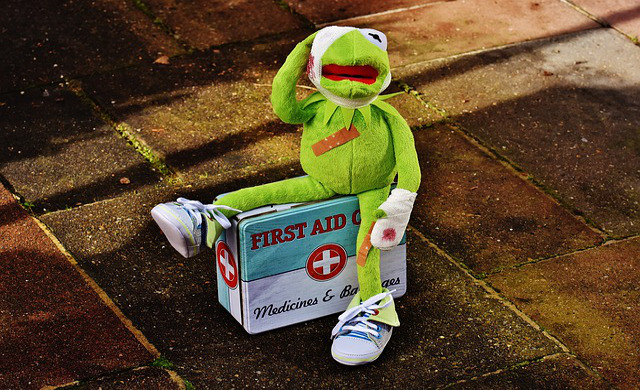 The first consideration is that of a first aid kit at home. Ideally this kit should be ready before the baby is born, both parents and caregivers (e.g. grandparents and even helpers) should familiarize themselves with the kit and its uses.
An ideal first aid kit should include the following:
1. First aid manual – this should be a fairly easy to read copy, with lots of illustrations, in a language that caregivers are familiar with.
2. Thermometer – a digital thermometer, to measure armpit temperature, is recommended; an ear thermometer can be used in babies more than 6 months old.
3. Simple painkillers, such as syrup paracetamol. However, giving paracetamol to babies less than 3 month, without a doctors' consult is not recommended.
4. Antiseptic cream – for scratches and simple wounds, this is again not recommended for babies less than 6 months, or if the wound is on the face or near the eyes.
5. Antiseptic wipes – for open wounds.
6. Simple dressing – plasters, tape, bandages, gauzes.
7. Scissors – for cutting plasters and gauzes.
8. Ice pack – to reduce swelling. This is not recommended without a doctor's advice.
9. Saline solution and eye bath – this can come in very handy in a eye emergency when noxious solution is accidentally introduced into the eyes or mucous membranes, tap water can also be used.
The kit should be kept in a cool dry place, accessible to all adults and should be routinely updated and expired medications replaced.
Some basic first aid for simple emergencies in babies:
Head injuries
This can be relatively common after 6 months of age when babies can be relatively mobile. Preventions include child proofing the house and having good reliable caregivers.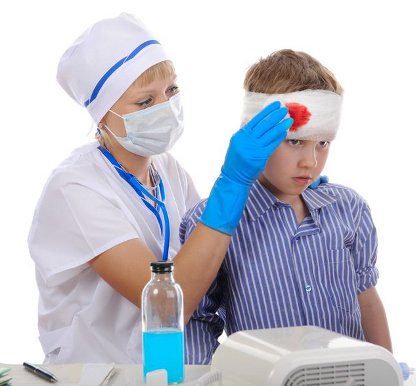 Important aspects include height of the head injury (any baby that fell off from more than their body height is considered significant), the way the child landed on the floor and what kind of flooring (e.g. carpet vs. wood). Important symptoms include loss of consciousness after the fall, abnormal movement, bleeding from the nose and ears as well as nausea and vomiting. Babies with the above symptoms should be sent to the Children's Emergency via the ambulance as soon as possible. All other babies should ideally be seen by a doctor as soon as possible after the fall.
Eye injuries
These can include minor scratches to major burns.
If any noxious liquid comes into contact with the eyes, babies tend to cry and rub the eyes a lot. The affected eye can appear red, watery or even have a blur surface, to the caregivers. I would advise parents to flush the eyes with saline eyewash or tap water immediately and to call for an ambulance if the child is in a lot of discomfort. All other eye injuries should ideally be assessed by a doctor, who will decide if there is any need to refer the child to an eye doctor for further tests.
Burns
Burns can happen in the kitchen (from hot soups or drinks), toilet (from hot bath or tap) or even from electrical sockets.
Again, prevention is of the utmost important when there is a baby in the house.
Caregivers should wash the burn wound by flushing it with copious amount of cool water, do not apply anything to the wound and send the child to a doctor immediately. Any child that is less than 6 months old should be sent directly to the Children's Emergency for a full assessment. Any burns to the face, throat and genitalia are considered serious and has to be assessed in a hospital.
CPR in Babies
Cardiopulmonary resuscitation is an important life skill, which parents and caregivers should learn. Simple first aid skills as well important aspect of how to identify choking and management of choking are usually covered in these courses.
These courses are usually conducted by our local red cross, hospitals (both public and private) and also some private companies in Singapore.
By Dr Ellen Tay Ghim Hoon, Paediatrician, Thomson Paediatric Centre.
This article was first published in The New Age Parents e-magazine.
* * * * *
Like what you see here? Get parenting tips and stories straight to your inbox! Join our mailing list here.
Want to be heard 👂 and seen 👀 by over 100,000 parents in Singapore? We can help! Leave your contact here and we'll be in touch.