In the age of climate change, raising the next generation of eco-conscious individuals has never been more important.
Teaching your child to care about the environment can also foster their empathy for others and aid in developing a greater awareness of the world around them.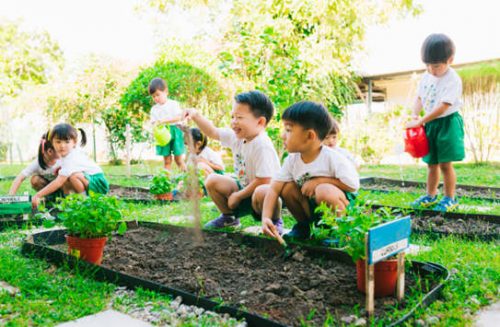 Ms Amy Lim, Principal of Kinderland at Yio Chu Kang, shares how parents can instill greater awareness and consideration for the environment. Here are her 5 tips on how to raise an eco-conscious child.
1. Breakdown the 3 Rs (Reuse, Reduce and Recycle) into everyday life
Appreciation and consideration for the environment we live in begins early on. But, at a young age, concepts such as resource conservation and waste management can be tough for children to understand.
A lot of children's learning occurs incidentally – in the classroom and at home – so break down the 3 Rs by linking them back to everyday activities.
For example, reuse plastic bags by bringing them to your next shop, reduce by switching off lights, fans and taps when not in use, and recycle paper or plastic bottles where appropriate.
2. Engage in fun, hands-on projects
Creative projects are a good way to get children engaged and a great opportunity to bond with the family. There are a host of recycled materials – plastic bottles, newspapers, paper rolls, and even coffee grounds! – in everyday life that can be transformed into interactive toys and wonderful works of art.
At Kinderland, our "Home Learning Link Program" encourages parental involvement through planned recycling projects that children can do at home. This ensures that children follow through on these practices, not just in school but also at home.
3. Rationalise to Reinforce
Children are inherently curious and will ask why. Pre-schoolers are always brimming with questions such as 'Why do I need to switch off the lights?' or 'Why should we recycle paper?'
As children become exposed to the different forms of wastage reduction, it's important to reinforce these behaviours by rationalisation. So take the time and care to explain in simple terms the issues of global warming, food scarcity and the importance of conscious consumption.
4. Allow them to self-serve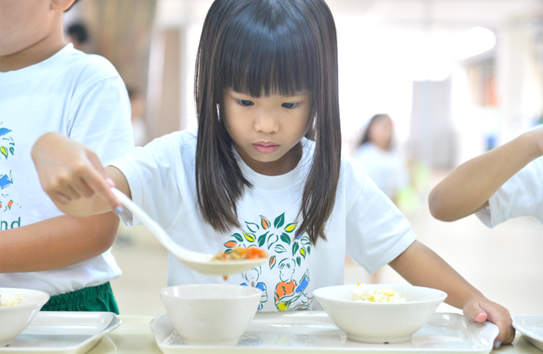 Whilst proactively teaching children how to reduce waste is important, it's also crucial to take a step back and allow them to learn by themselves.
For example, letting children self-serve their meals enables them to be mindful of consumption habits and consider the implications of food wastage. They also learn to become independent, fine-tune motor skills and practise proper etiquette.
5. Make it a habit, not an occasion
Inspiring the next generation of conscious consumers is a commitment. Whilst you may not be able to implement all lifestyle changes overnight, remember that small and consistent changes will help behaviour become a habit.
This article is contributed by Ms Amy Lim, Principal of Kinderland at Yio Chu Kang.
* * * * *
Like what you see here? Get parenting tips and stories straight to your inbox! Join our mailing list here.
Running a service or business targeted for parents? Reach out to a wider audience in our Preschool Singapore compilation. Leave your contact details here and we will get in touch with you.