No mess, no fess, just endless of creative fun!
Shape it, squish it, squeeze it or squash it! The playfoam is made up of lightweight colourful micro foam beads that you can pull apart and put back together in an instant!
What the New Age Parents liked:
We opened a pack for ourselves to test it out. As we were squeezing, squishing and pulling, we could actually see very fine 'sticky' threads on the beads as we pulled them apart (think Japanese nato beans). But what's interesting was it leaves no sticky feeling or residue to your hands at all! Also, it does not stick on to any surface, making it mess free and easy to clean.
And with just a firm squeeze, the once separated bits of the foam will be whole again. It's mouldable like play dough but not as messy and sticky. What's more, the colours do not blend, so your child can mix the different colours to create new multi-coloured shades of their own.
We put it to the test when we passed Playfoam to a 5 and 6 year old child. The result? After making star and butterfly shapes on their own, the two little ones started to engage in their own pretend play, using Playfoam as their 'toys' and 'characters'. They broke the foam into various sizes, flattened the smaller pieces as their 'people' and used the bigger pieces as buildings and cars. This kept them occupied for a good 30 minutes!
Playfoam's malleability and softness helps to promotes sensory perception and fine motor skills in children. And because it has no fixed shape, it can be anything your child imagines or wants it to be. Such is the power of an open-ended toy. There is simply no end to what your child can do with it.
Oh, and the best part? It never dries out. So you can use it over… and over… and over again!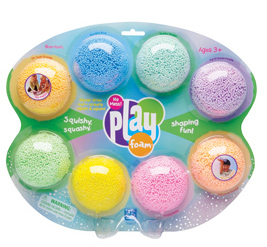 Worried about safety or health hazards?
Playfoam has been certified by the American Society for Testing and Materials (ASTM). It is non-toxic, non-allergenic, and contains no phthalates and latex. 
The Playfoam Combo 8-Pack includes 8 vibrant colours: Ooh La La Orange, Twinkle Pinkle, Ya Ya Yellow, Glitzy Green, Oh Yeah Orange, Blooble Blue, Guishy Green and Pat It Down Purple.
Suitable for children 3 years and above.
Playfoam is available at the following stores: Smart Alley, Times Bookstore, Kiddy Palace and Cheri Kids.
If you find this article useful, do click Like and Share at the bottom of the post, thank you.
Want to be heard and seen by over 100,000 parents in Singapore? We can help! Leave your contact here and we'll be in touch.