When you become a parent, your world changes in more ways than one. What used to be your little love-nest, is now a war zone of diapers, soiled clothes and wet wipes. And whatever couple-time you might have had before the baby came along may seem to have flown out the window ever since that first piercing baby cry was heard.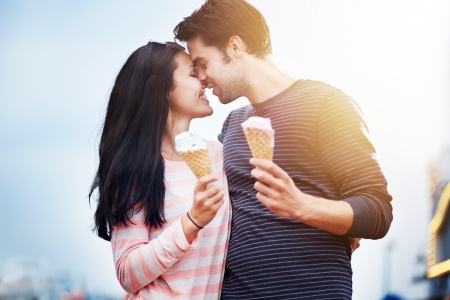 Fret not, you who are finding yourselves spread more thinly than you've ever been, who are sleep-deprived and caffeine-addicted and wishing you could have the luxury of an hour in the bathtub once again… there are ways to keep the romance alive, even as newly minted and slightly crazed parents.
1. Date Night In
If you can't get out of the house to the cinema, why not bring the cinema to you? Rent a video ahead of time to avoid being disappointed with whatever is available on cable for the night. Make your movie experience Gold Class style, in the comfort of your own home. Put the kids to bed a little earlier than usual, serve up some decadent snack like popcorn or those chocolate Tim Tams, pour yourself some wine, kick back your feet, and settle back on your comfortable old sofa to enjoy the night.
2. Babysitting Swap
Trade-in your talents for some babysitting hours from your trusted friends. If you're a photographer, offer to do a couple photoshoot in exchange for babysitting duty for half a day. Or take turns to babysit each others' kids – like a babysitters' "pool" of sorts – this week you babysit mine and yours, next week I'll take them all.
3. Holiday Picks
Choose your holiday destinations wisely. Many resorts seek to be family-friendly and may have a Kids Club (or equivalent) where you can drop off your children for some craft activities or play while you two enjoy some alone-time. Or book hotel rooms where your children sleep in a separate linked room so that you can enjoy couple-time once the kids have gone to bed.
⇒ Related Read: Family Resorts Near Singapore | Resort Getaways for Couples
4. Take a Walk in the Park
An evening stroll is a great way to release those happy endorphins and catch up on the day's events with your other half. You can also use the time to plan the week ahead or share some of the frustrations you are experiencing at home or work. As for the children? Younger babies will be happy to be pushed along in their prams, while older kids can scoot, cycle and run about on their own, just near enough for you to keep an eye on them.
⇒ Related Read: Children Parks in Singapore
5. Grab Lunch Together
If you're living or working in the vicinity, meet up for a mid-day rendezvous once in a while. Or if you're a SAHM and the kids are in school, make a trip down to surprise him at his office and treat him to lunch!
It can take a while to find something that works for you both but doesn't give up trying new ways of spending quality time together. After all, a happy marriage makes for a happy family, and your marriage vows were not to your future kids but to each other.
⇒ Related Read: A Happy Marriage: The Best Gift To Our Children
To love and to cherish, till death parts us.
By Dorothea Chow.
* * * * *
Like what you see here? Get parenting tips and stories straight to your inbox! Join our mailing list here.
Want to be heard 👂 and seen 👀 by over 100,000 parents in Singapore? We can help! Leave your contact here and we'll be in touch.