What's it like to be cruising with the Mercedes-Benz B-class? Why not let our Mercedes-Benz B-Class Weekend Experience winners share their experience with you.
Winner: Robert Sim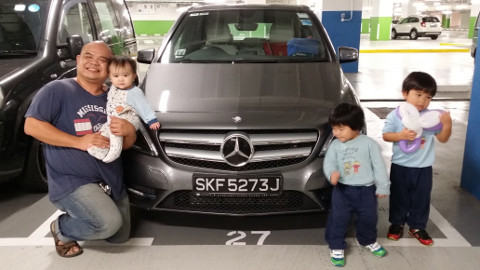 It was a pleasure to test-drive the Mercedes-Benz B-class. The finishing of the car was beautiful and the interior (mainly leather upholstery) was lux and comfortable, exactly what you would expect from Mercedes-Benz!
The car has a centralised digital control sound system with Bluetooth. Configuration was easy and within minutes, I manage to hook my phone to the car system and was able to make calls with the built-in system, without needing to physically touch my phone.
The car engine was quiet and the pick-up was good. This is probably due to the car's turbo-charged engine which makes the car feel like a 2.5L. Gear shifting was easy and with the cruise control, driving in the KPE tunnel was a breeze. The B-class also performed commendably in terms of car control. Easy manoeuvrings and accurate turnings helped to create a smooth driving experience.
Overall, the B-class was a robust MPV that suited our family of five (2 adults and 3 children), not forgetting our luggage for our staycation. Even when the boot was fully loaded, the car did not show any signs of lagging.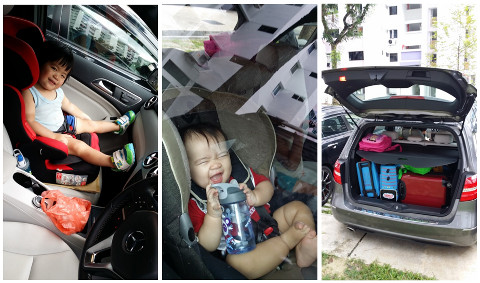 All ready to for our family staycation!
We would like to thank Mercedes-Benz for the opportunity to test-drive a solid top-performing car. It really made our little staycation extra special and memorable. Thank you Mercedes-Benz!
Winner: Jasman Ng
When we got the Mercedes-Benz B Class for the test drive, my son immediately exclaimed, "Papa! Nice new Car!"
With the EASY-VARIO-PLUS, the car rear seats can be folded down with various split options to quickly convert your interior to load and transport large and bulky items. The low boot sill with wide and retraceable cover proved really handy for shopping and keeping bulky items such as my sons' strollers. Plus the spacious rear legroom made my driving journey really beats my daily current daily drive!
The driver and passenger seats were comfortable and I liked how the car had high-seating position. The car engine is lively and although I found the COLLISION PREVENTION ASSIST to be a little over-communicative at times, motorway cruising was smooth and effortless.
So smooth and effortless, our baby slept through the ride.
Thank you Mercedes-Benz for the test-drive!