Becoming a parent is one of life's biggest events. It affects how you plan for your future, especially when everything now focuses on your family and loved ones. Just like how planning for a new car means acquiring one that is going to fit all your needs as a parent.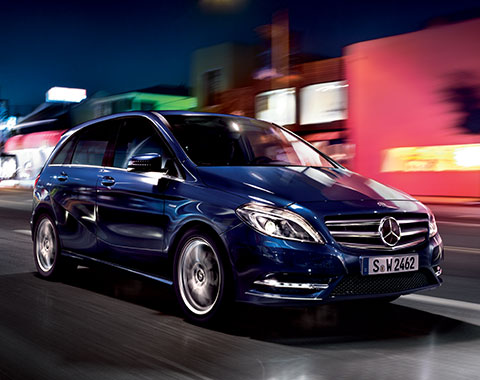 The new B-Class anticipates and addresses these needs with a host of features.
KEEP YOUR LOVED ONES SAFE
One of the most important aspects is safety. Nothing matters more on the road than ensuring that your loved ones are well taken care of. The B-Class helps ensure the safety of your child thanks to the ISOFIX child seat and TopTether anchorage points for added stability. No matter where the road takes you, your child remains securely in place.
The B-Class also comes with COLLISION PREVENTION ASSIST to warn you of hazards on the road should your attention be distracted by your children's activities in the backseat. This radar-assisted warning system senses impending dangers, and alerts you via visual and acoustic cues to give you ample time to avoid dangers.
On top of this system, the B-Class also comes with ADAPTIVE BRAKE which makes brakes more responsive, allowing you to brake effectively with less effort. The additional 'hold' function prevents unintentional rolling backwards on slopes, even if you take your foot off the brake pedal.
However, in the event that a collision is unavoidable, our PRE-SAFE® system offers your family the best possible protection through a variety of anticipatory measures. Triggered by emergency braking, this includes front seat belt tensioners and automatically closing open windows and the sunroof.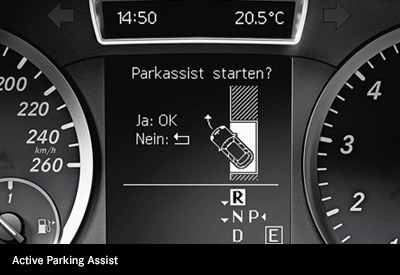 YOUR LOYAL ASSISTANT
Besides comprehensive safety features, the B-Class is equipped with a multitude of functions that assists you in a variety of ways to make driving easier.
Take the ATTENTION ASSIST for example. The B-Class monitors the driving 'behaviour' of anyone behind the wheel. This may indicate drowsiness or concentration lapses, which then alerts the driver using visual and acoustic warnings.
Plus the Lane Keeping Assist serves to warn you if you drift from your lane. Blind Spot Assist helps you avoid mishaps as you switch lanes. And DISTRONIC PLUS helps to ease some of the driving stress by maintaining a safe distance from the car ahead of you.
We have also taken one of the basic aspects of driving and made it a breeze. Active Parking Assist helps you find a suitable parallel parking space and automatically steers you in and out of the space, hands-free. This makes finding a good spot and parking there less time-consuming, and less stressful.
FOR YOUR CONVENIENCE
As your life unfolds, your needs begin to change as well. That makes it absolutely vital that you have a car that is flexible enough to fit any new lifestyle.
Get all the space to suit your needs with the optional EASY-VARIO-PLUS system. Your rear seats can be folded down with various split options to quickly convert your interior to load and transport large and bulky items. Now you can go from packing strollers and bicycles after your first family nature hike, to loading that new furniture when you move into your new home in no time at all.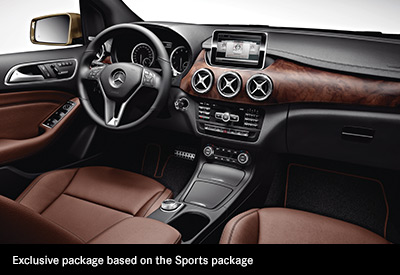 FUNCTION HAS A NEW LOOK
While you focus on the functions, we know that form plays a key factor. Who says responsibility is boring? Opt for the uniquely designed Chrome or Sports packages and customize your B-Class to suit your distinctive character.
With all these features packed into one car, you are prepared for everything that you are about to face in the years to come.
For more information on the new B-Class, visit www.mercedes-benz.com.sg