Because multi-media can stimulate more than one sense at a time, it may be able to hold and retain more attention. Studies have also shown that students who learned through multimedia were able to make more lasting connections. In addition, a learner's level of engagement is also significantly higher, regardless of a person's abilities.
Learning Through Multi-media with English-Time
In the English-Time Series by TDP, there are a total of ten videos to introduce new vocabulary and characters. Each video is 35 minutes long, accompanied with ten 36-page hardcover, full colour books and 10 activity books for your child to practice. With a total of 40 units, covered in the 40 CD-ROMs, there are more than 330 activities designed to improve your child's English skills. If that's not enough, you will also have unlimited access to the online test to help you track your child's progress at the end of each unit.
One of the most comprehensive English program in the market today, English Time comes with a whopping 6 components – 10 hardcover books, 10 DVDs, 11 audio CDs, 40 CD-ROMs, 10 activity books, song book and picture dictionary. Furthermore, all characters and songs that appears in the program are original.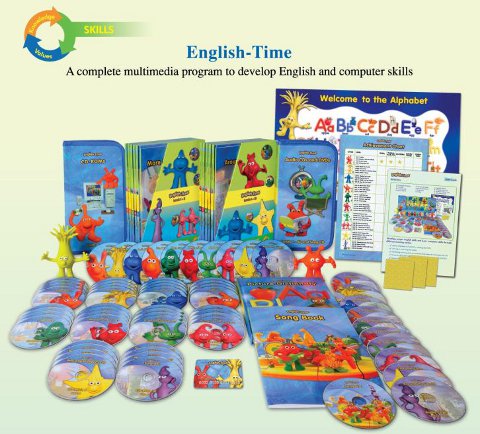 Xiaoling, a mother of two, believes in starting young for her two kids, 4 year old Jie Yi and 1 year old Jie Xi. Even with a busy schedule, having to take shift duties as a nurse, Xiaoling ensures she reads to them at 3 times a week. "Jie Yi loves the English Time program. She watches the DVDs daily, and we have lots of fun going through the program together."

Our Verdict:
Children today are born in the era of digital learning. The wide range of multimedia resources and activities available in this series is more than sufficient to last your child through his Preschool and Primary school years. Ideal for children who are visual and audio learners, this series know how to tap on the current 'digital wave' and maximizes the use of multimedia at its best.
For more information, log on to their website or call them at 6336 8185
Stay tuned for more on TDP Early Learning Program!
TDP is developed by ETL Learning, a subsidiary of Marshall Cavendish Publishing Group.