Date: 17 to 30 August 2015
Venue: Alliance Française Theatre, Sarkies Road
Recommended for: Anyone 4 years old and above
Duration: 50 minutes with no interval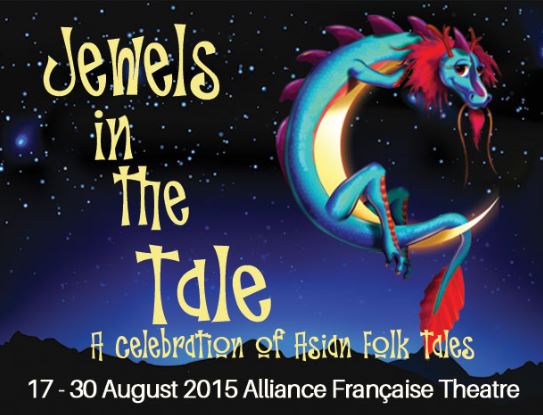 Jewels in the Tale is a marvellous and mischievous production, featuring a very carefully selected collection of stories and folklore from around the region. We searched for suitable tales from all over South East Asia… and now we bring you The Little Green Frog from Korea, The Crane's Gratitude from Japan, Tenali Raman and the Three Thieves from India, and The Four Dragons, from China, amongst others. Each tale is told in a different style, with elements of Japanese Noh, Classical Indian Dance, Chinese opera blended with western styles of broad slapstick fun and energy.
We playfully present these fascinating folk tales through energetic physical theatre, masks and puppetry. With fun, colour and music, this is theatre that will enthral and entertain both young and old alike. Lively action, beautifully crafted stories, and multi-layered performances highlight interesting morals and questions that will challenge and engage. This is a wonderful and unique opportunity to discover some of this region's colourful heritage of folk tales in a fun and very accessible form.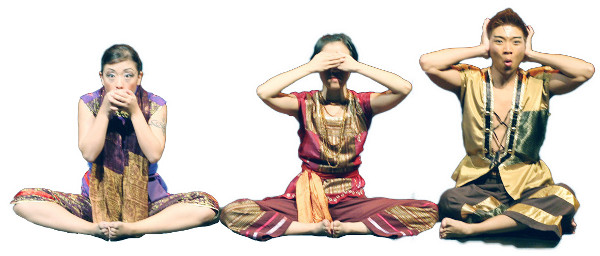 PRODUCTION TEAM
Script: Brian Seward
Directed By: Brian Seward
Music composed by: Stan and Soap
Cast: Elizabeth Loh, Adelynn Tan, Alecia Kim Chua, Ebi Shankara
Choreographer: Cathy Kee
Set Designer: Wai Yin Kwok
Costume Designer: Brian Seward
Costume Realisation: Joanne Ng Mui Huang
TICKET PRICES
Adult/Child $30.00
Family Package (4 Persons) $114.00
Big Family Package (5 Persons) $135.00
Corporate Groups (min 20 persons) 24.00
15% DISCOUNT
Friends of I Theatre
OCBC Baby Bonus Card Holders
OCBC Platinum & Arts Platinum Card Members
OCBC Credit & Debit Card Members
PAssion Card Members
IKEA Småles and Family Members
NTUC Card Members
eXplorerKid Members
Toys'R'Us Star Card Members
Civil Service Club Members
The Gingerbread Man Ticket Stub Holders
10% DISCOUNT
Students (Local & International)
Senior Citizens (above 55 years old)
Group/School Bookings
For group/corporate/school bookings contact tickets@itheatre.org or 6341 5960.
Tickets available through: SISTIC Website www.sistic.com.sg SISTIC Hotline (65) 6348 5555 SISTIC Authorised Agents islandwide.