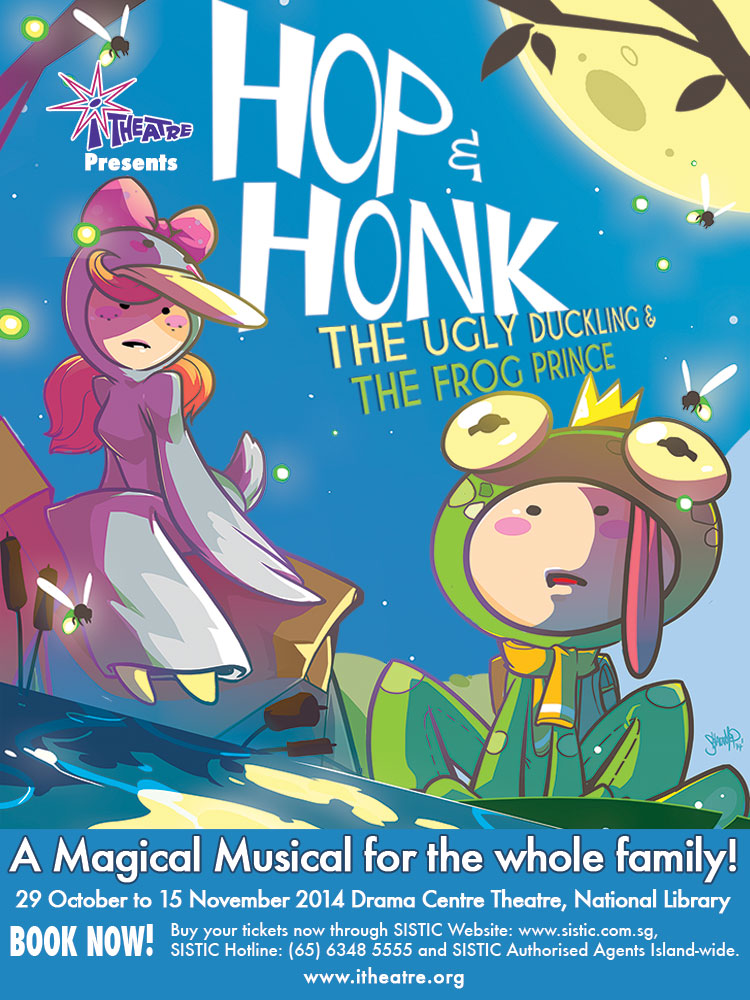 I Theatre presents Hop and Honk – The Ugly Duckling and the Frog Prince. A Magical Musical for the whole family! 29 October to 15 November 2014 Drama Centre Theatre, National Library.
Book Now! Buy your tickets now through SISTIC website http://www.sistic.com.sg/events/honk1114.
Event Date:
Wed, 29 Oct – Sat, 15 Nov 2014
Tue – Fri: 10am & 2pm
Sat & Sun: 10.30am, 11am & 2pm
Venue: Drama Centre Theatre
Synopsis
Prepare to be dazzled and enchanted by two beautiful classic fairytales in one spectacular musical for the WHOLE family.
We bring The Ugly Duckling and the Frog Prince together and see how together and apart they overcome obstacles, dodge danger, and support each other.
Carefully crafted to capture the attention of all ages, there's fun, laughter and colour to entertain the tadpoles of four years and up, with fascinating story and character development for the teens, and a few knowing winks to the adults in the audience.
Whether you are 4 or 104 there will be something here to grab your attention; entertain, challenge and tickle your funny bones; from the top class performers to toe-tapping music, spectacular sets to glittering costumes, magical lighting to jaw-dropping puppetry, this may be the most ambitious and spectacular I Theatre Production to date!
Good stories exist because people like to tell them, and more importantly, people like to listen to them! Therefore the decision to use The Ugly Duckling and The Frog Prince was not a difficult choice for us. But even your favourite stories can become a little boring over time. We felt it was time to breathe new life into these two classics.
It has been almost 175 years since these fairytales were first published; and they have been adapted into many versions and forms. There were always a few questions left unanswered for us though. How, and why did the prince turn into the frog? Who did the ugly duckling meet when she ran away? And bringing the two stories together – what happens when the frog meets the duckling? Catch Hop and Honk and maybe you will find some surprising answers!
Recommended for 4 to 104 year olds. Fun for the WHOLE family!
For more information, visit www.itheatre.org