In this final segment of our Heguru Education series, Michelle Hon shares her daughters' progress for the past year and lists down frequently asked questions about the program.
It's been a year since my daughters; Lauren (4 years-old) and Georgia (2 years-old) attended their first Heguru class. As a mother, I've learnt a lot in the past 12 months myself. When I first started, I had little knowledge about right-brain education. I now have a better grasp and understanding of what it is all about.
Here are some commonly asked questions.
Why right-brain? Why not train the whole brain?
Both the left and right brain is equally important. However, most of the formal education learning predominantly happens on the left-hand side of our brains – e.g. mathematics, spelling, taking instructions and so on. It's important to work the right and creative part of the brain which helps us to retain our memories and also processes large amount of data at fast speed. This gets stronger with practice; you either use it or lose it.
See also: Interview with Heguru Founders Ruki and Hirotada Henmi
Isn't a 1, 2 or 3 year-old too early for Heguru right-brain training program?
I thought so too. But a child's brain grows MOST rapidly during the 0 to 3 window. This is the best time for learning to take place.
Can I practice the Heguru method by reading more about the method online, without having to join a class?
Yes. If you understand the concept completely and know what are the correct techniques. Also, you need to take your children's developmental milestones into consideration. Heguru classes are tailored to children's age and therefore, the classes keep them engaged and interested at every stage.
Are weekly classes enough or do you have to carry out home practice as well?
It is recommended to carry out home practice. At the end of every class at Heguru Education Centre, parents receive a "Parents' Lecture" handout, explaining the purpose of the special activities conducted, how these activities will benefit your child's development and how parents can replicate the same teaching methods at home. I believe attending weekly classes keeps me committed and more consistent in exposing my children to right brain training activities.
How do you carry out home practice? How long does it take?
I'm not very consistent with home practice. I try to do it two to three times per week or whenever an opportunity arises. Attending the classes with my daughters gives me ideas on how to be more creative with my home activities. A home learning activity actually doesn't have to take very long.
For example, you can engage your child with short bursts of fast-paced activities. The easiest things to do are: Speed reading, flash cards and speed counting. Here is a list of Heguru-inspiried home activities you can do at home.
Heguru Review: My Daughters' Report Card

Georgia with Teacher Jill
Cognitive
Both Lauren and Georgia have developed an excellent visual and audio memory.
Lauren surprised me from time to time with foreign language words she picked up from Heguru. She learnt certain greetings in Japanese two terms ago and just the other day, she greeted me in Japanese. I thought she would only remember the word without knowing the meaning, but she could explain to me what it meant as well!
Georgia can remember song lyrics easily. She can now sing an entire song on her own. She loves to bring books to me, and listen to me reading to her. She picks up words we learnt in these books and applies them into our daily chats. I have a rather specific storage system for my girls' toys but when it comes to clean-up time, Georgia is able to sort them according to where they belong on her own.
In terms of language development, Lauren's vocabulary has exploded over the last 3 months. These days, she talks non-stop and uses new words every day. Georgia has also started to speak more fluently. She is able to express what she wants or doesn't want, almost too eloquently for a toddler.
Social & Emotional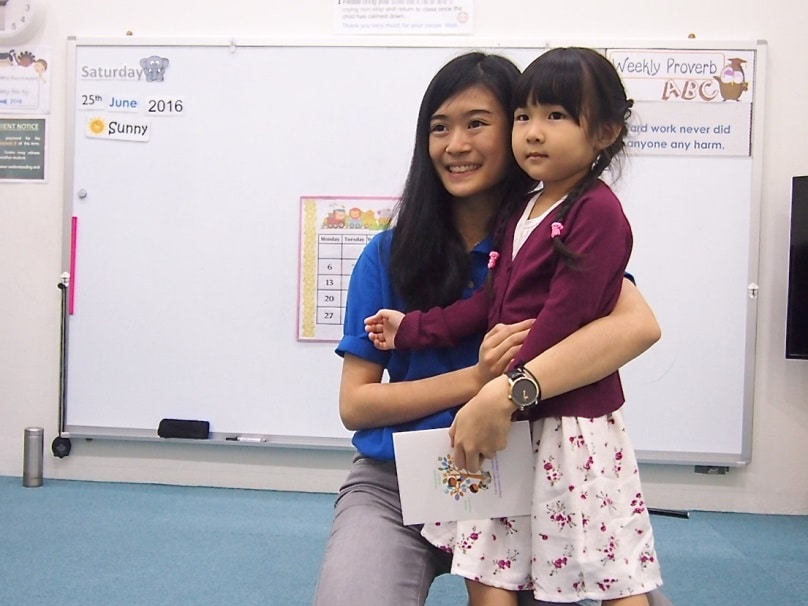 Lauren with with Teacher Yun Tong
Socially, both girls are less shy now. They warm up to their cousins and grandmother with more ease, when both relatives visited us from overseas. Lauren has grown in confidence, from a shy preschooler to one who loves to laugh and perform in front of the class. Her teacher describes her as outgoing, with a competitive and winning spirit.
On the emotional aspect, I am now able to help manage Lauren's anger and frustration better. When Lauren is frustrated, I guide her through the 'deep breathing' technique we learnt in Heguru to calm her down and re-focus again.
Both girls have shown great signs of empathy too. They console each other when either one is upset and say 'Sorry' immediately when they bump into each other unintentionally. They are more sensitive and can even pick up on my emotions. Of course, there are times when they still behave like children their age – snatching things from each other and being fussy when they are tired.
Final verdict
My three big takeaways from this past year are:
Don't belittle the power of simplicity Sometimes the simplest of activities can help and empower children to develop their right brain potential
Children can stay focused and maintain their attention; they are always eager to learn new things
Always be encouraging; children thrive in a positive learning environment.
Heguru has helped my girls to develop in more ways than I can imagine. I'm so happy and thrilled to see my daughter's progress after a year at Heguru Education Centre. I am thankful to the team and teachers for their effort, love and dedication. My daughters' weekends won't be the same without Heguru!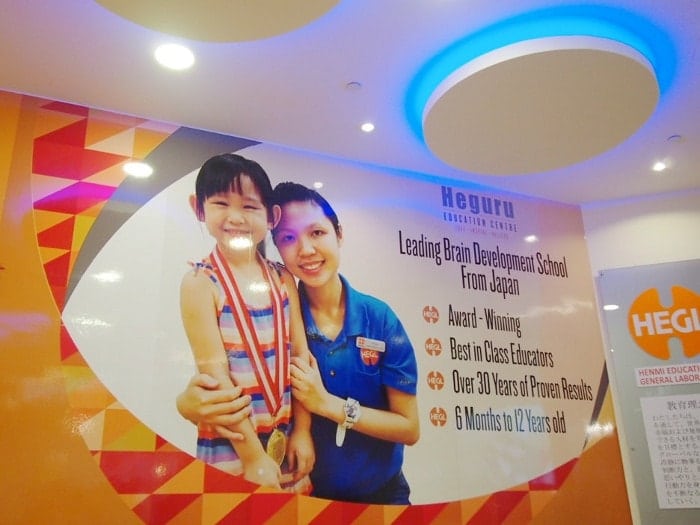 If you'd like to find out more about the right brain training for your kids at Heguru, visit the Heguru Education Center website www.hegurueducation.com.sg or call 6346 4646.
---
Heguru Education Centre has been selected as one of the nominees for The New Age Parents Choice Awards! To cast your vote, head over to The New Age Parents Awards 2019 – Cast Your Votes Now! and stand to win attractive prizes. Voting ends on 15 Sep 2019.

Michelle Hon is a mother of two, writer and founder of The Chill Mom Baby Planner & Maternity Concierge. A certified early childhood educator, she has helped many busy mothers-to-be plan and manage the arrival of their babies. Michelle has been featured on The Asian Entrepreneur and Harper's Bazaar Kids. Besides being a contributing writer at The New Age Parents, Michelle shares her motherhood tips and experience on her website at www.thechillmom.com
This was first published in The New Age Parents e-magazine
This is the sixth and final part of The New Age Parents and Heguru Education series.
Read the earlier article series in our related post below!
If you find this article useful, do click Like and Share at the bottom of the post, thank you.
Want more comprehensive info? Check out our e-guides here.
Want to be heard and seen by over 100,000 parents in Singapore? We can help! Leave your contact here and we'll be in touch.