International Women's Day (8 March) celebrates the social, economic, cultural and political achievements of women. In Singapore, women have contributed to the legacy of our transport system more than we may be aware of.
The National Transport Workers' Union (NTWU) visited female bus captains and MRT staff to thank them for their dedication and hear their views on working in Singapore's transport system.

Female Bus Captains Receiving a Surprise Visit by Melvin Yong, Executive Secretary of NTWU
Do you remember the old days when there were no air-con buses and the emergence of the air-con Super Buses was the rage?
SMRT launched the air-con super bus in the 1990s
It was a tough fight among bus drivers to be among the first to drive the Super Bus. Typically male drivers who had more experience driving buses would be given first dibs, till their female counterparts managed to prove themselves worthy of the ability to drive a double decker air con bus.
One thing many Singaporeans do not know is that some bus terminals previously did not have separate toilets for males and females, one female bus captain (who has been driving for over 20 years) shared with NTWU.
Eventually, as Singapore progressed, working conditions improved for bus captains, which is why the female bus captains who were engaged in a dialogue with NTWU have continued to stay in the transport line for so many years.

Female bus captains sharing their life and work experiences with NTWU and SMRT management
Not all female bus captains started off driving buses as their first jobs. Although some have been driving for more than 20 years, they previously held other jobs such as chef, teacher and even lorry driver!
One bus captain, who was previously a cook in a Japanese restaurant, decided to follow in her family's footsteps (her parents and siblings were all in the transport industry) and joined SMRT a couple of years ago, after hearing what her brother shared about the staff benefits of working in the transport sector versus the F&B sector.

SMRT Bus Captain Progressive Wage Model
However, female bus captains still face stress on the job. A couple of captains shared how some passengers insist on taking their cup of hot drinks into the bus, spilling it over a seat and leaving a sticky mess, which the captains had to stay back to clean up by themselves after a long journey.
Besides spilled drinks, one captain had to clean up urine, while another captain found faeces inside her bus.

Are you guilty of these bad behaviours on public buses?
A few captains shared how they had to tolerate abusive behaviour from passengers every day, such as one lady passenger who complained to the bus captain every day that the bus was late, and then get off two stops later, not without pointing a finger and admonishing the bus captain to be on time the next day.
One captain faced sexual harassment from male passengers who would purposely lean over to encroach into her personal space. All these unnecessary incidences add to their stress over getting their passengers to their destinations on time every day without incident.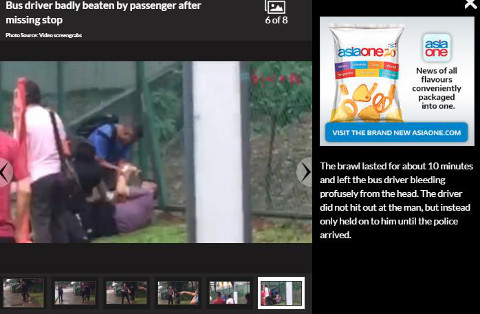 Video screengrab of passenger physically assaulting a bus captain
Our children learn from us, for good or bad. Our actions today will determine their actions tomorrow.
Many Singaporeans complain when the train breaks down or when the bus doesn't arrive on time. Some even go further to physically vent their anger on front-line staff.
Yet how many of us consciously make the effort to greet our bus captains and even thank them for a job well done? It is something we should act on, because if we were in their shoes, how would we feel?
Article contributed by Julia Chan.
* * * * *
Like what you see here? Get parenting tips and stories straight to your inbox! Join our mailing list here.
Want to be heard 👂 and seen 👀 by over 100,000 parents in Singapore? We can help! Leave your contact here and we'll be in touch.