Most of us associate acne purely with youth and adolescence. While that is somewhat true, given that the skin condition is most common among teens, it actually affects people of all ages. In Singapore, adult acne affects more women than men. To add to that, they also tend to experience more severe forms of acne breakouts such as cystic and inflammatory acne.
Besides, if you have experienced acne before, you would know that the condition has far-reaching consequences that affect individuals well into their adulthood. Some people are lucky enough to have blemishes that fade away without leaving a trace. Others, however, are left with long-lasting damage to their epidermal layers despite good care habits.
A pimple mark can take weeks or months to disappear – if it ever fades at all. The more invasive the pimple, the more persistent the after-effects. Fortunately, there are effective steps to take that can help you to erase the appearance of these marks and restore your skin to the pink of health.
If you are looking for effective methods to fade these scars away, we've got good news for you: we've uncovered one of the leading treatments for acne scars at Geo Aesthetics.
Geo Aesthetics: A Wide Range of Aesthetic Services in the Heart of Town
The leading aesthetic centre is located in the heart of town along Robinson Road. With over 15 years of experience, the centre offers a remarkably wide range of aesthetic services. Body aesthetic treatments include Cellulite Treatment, Fat Burning, Fat Removal, Laser Hair Removal, Underarm Whitening Therapy. As for the face, they offer Dark Eye Circle Removal, Deep cleansing, Facelift (without surgery), Large Pore Treatment, Pigmentation Removal, Skin Whitening, Acne Removal, and of course, the reason you're reading this: Acne Scar Treatment.
Now, here's all you want and need to know about the well-loved treatment.
Geo Aesthetics Review: What Is Acne Scar Treatment?
Let's start with a riddle: What has witnessed over 25,000 happy customers, is well-loved and raved about by tons of celebrities and influencers, and has been featured in major publications like The Straits Times, Mediacorp, Women's Weekly, and Cleo?
If you answered Acne Scar Treatment, bingo, you are right! The team at this aesthetic centre is extremely knowledgeable and experienced when it comes to tackling pimple scars. Capitalising on this knowledge and experience, the procedure is formulated to be safe and risk-free while providing visible results with long-lasting effects.
The procedure has been proven to successfully erase marks on the skin, quicken the production of new collagen to tighten pores, and tone sagging skin. In addition to stimulating collagen production, this completely safe and risk-free procedure is great for repairing cellular tissues and boosting your body's ability to resurface the skin.
The best part? This procedure treats more than just acne scarring. It has been proven to alleviate problems associated with rosacea, dullness, inflammation of the pores, hyperpigmentation, uneven skin tone, and even soften wrinkles and fine lines.
In other words, this popular procedure will leave you with what you've been wishing for all this time – a smoother, evenly-tone complexion.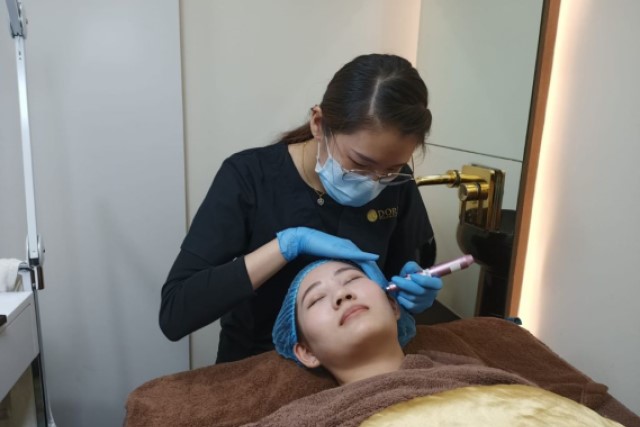 Geo Aesthetics Review: A Comprehensive Walkthrough
The comprehensive Acne Scar Treatment consists of four special and thorough steps. These steps will be carefully performed by a friendly and experienced specialist.
Step One – Multi-action Serum
Your skin's healthy tissues can be damaged by inflammation. As your epidermis works to heal its way back to health, insufficient collagen production can impede the healing process. This could lead to the pesky pimple marks that you may be way too familiar with.
Prepping your skin increases the absorption of tone-correcting products for better results. In Step One, your face will be exfoliated and deeply cleansed so that dirt, oil, sweat, and dead skin cells will be removed. As a result, you'll notice that the treatment will be effective in dealing with blackheads as well!
Once your skin is clean, your friendly specialist adopts a non-invasive method to first infuse the multi-action serum into the deeper layers.
Step Two – Take Away the Pain
If you are a firm believer that the price of beauty is pain, we're about to show you otherwise. The Acne Scar Treatment isn't just 100% safe – it is designed to reduce discomfort and pain as well.
In Step Two, an experienced aesthetician will slather on a numbing cream onto the pitted marks on your face. This cream will essentially reduce any form of discomfort that you may feel during the procedure so you can focus on relaxing and unwinding during the procedure.
Step Three – Repair, Renew, and Soften
Step Three is where the real repairing starts. Your friendly aesthetician will employ the use of a special applicator that is filled with salmon DNA. This special applicator comes with a micro-needle tip. Not to worry, these microneedles are sterile and completely safe for use.
As your aesthetician gently presses the applicator tip onto your face, this unique treatment method will trigger your body's cellular-repairing enzymes. The result? Skin tone that is softened and improved, and damaged cells that are repaired and renewed!
Step Four – The Results
The final step is the step that you'll undoubtedly love the most. In Step Four, you will begin to heal in just about one to two days. Look into the mirror and you will notice that your skin is now clearer, more youthful, and free from uneven tone and texture.
Geo Aesthetics Reviews: Affordable and Accessible
A popular, safe, and natural, treatment with proven results and long-lasting effects? It doesn't get better than this, right? Well, we have one more piece of good news. You can try out the highly-raved Acne Scar Treatment right at the popular aesthetic centre for just $28.
Head over to their website and book an appointment today!
Address: 160 Robinson Rd, #04-02, Singapore 068914
Phone: +65 6702 1478
Opening hours: 11am to 9pm, Daily
This post is brought to you by Geo Aesthetics.
By Joanne Heng.
* * * * *
Like what you see here? Get parenting tips and stories straight to your inbox! Join our mailing list here.
Want to be heard 👂 and seen 👀 by over 100,000 parents in Singapore? We can help! Leave your contact here and we'll be in touch.