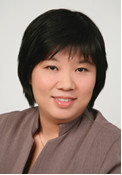 Dr Jenny Tang
Paediatrician
Special Interest in Asthma, Lung, Sleep and Allergy
Qualifications
MBBS (S'pore), MMED Paediatrics (S'pore), MRCP (UK), FAMS, FRCPCH (UK)
Doctor's Biography
Dr Jenny Tang obtained her Bachelor of Medicine and Bachelor of Surgery from the National University of Singapore. She obtained her specialist qualifications of Master of Medicine in Paediatrics and membership to the Royal College of Physicians (United Kingdom) in 1995. She has also been conferred Fellowship by the Royal College of Paediatrics and Child Health and is a member of the American Academy of Sleep Medicine.
Prior to joining SBCC, Dr. Tang held the position of Deputy Head of the Department of Paediatric Medicine, Head and Senior Consultant of the Respiratory Medicine Service and Medical Director of the Sleep Disorders Centre, KK Women's and Children's Hospital. She was also Adjunct Associate Professor of Duke NUS Graduate Medical School Singapore and Senior Clinical Lecturer at the Yong Loo Lin School of Medicine, National University of Singapore.
Dr Tang was presented with the Young Investigator Award in Japan in 2005 for her work on childhood sleep apnoea and has also won several other awards for her work in this area. Dr Tang was awarded the Health Manpower Development Programme Fellowship from the Ministry of Health and underwent advanced training in Paediatric Respiratory Medicine and Sleep Medicine at the Cleveland Clinic Foundation and Rainbow Babies and Children Hospital, Cleveland Ohio USA.
She is also a member of Allergy and Clinical Immunology Society of Singapore, Australasian Sleep Society, Asian Pacific Society of Respirology, Academy of Medicine of Singapore, American Academy of Sleep Medicine and Singapore Paediatric Society.
Common conditions managed by and common procedures performed by Dr Tang include asthma and lung disorders, including bronchoscopy and lung function testing; sleep disorders, including sleep studies; and allergy disorders, including allergy skin prick testing.
Practice Address
SBCC Baby & Child Clinic
Asthma, Lung, Sleep and Allergy Centre
6 Napier Road
#04-15 Gleneagles Medical Centre
Singapore 258499
Tel: 6475 0820
Email: info@sbcc.sg