Does your child have a learning difficulty that affects his ability to cope in mainstream education? Are you frustrated with not knowing what your child needs and how to facilitate a positive learning environment for him?
For parents of children with learning difficulties, it can be challenging to identify the right resources and tools to support your child's learning. You may also be facing difficulties in communicating with his teachers and advocating for his needs in a mainstream environment.
You don't have to walk this journey alone. To empower both yourself and your child, seek early intervention and support so you can better understand and advocate for his learning needs.
The New Age Parents interviewed Bridging the Gap (an early intervention centre) to share the following tips with parents.
Step 1: Assess your child's needs
Bridging the Gap understands that every child is unique with his own set of strengths and challenges. It first conducts a comprehensive assessment to understand your child's learning needs and identify opportunities for learning. This helps you to be more aware of specific learning difficulties, and what can be done to bridge the gaps.
Step 2: Formulate an early intervention plan
The assessment results are used to formulate an early intervention plan designed to be holistic, covering all aspects of your child's development, including cognitive, social, and emotional development. This plan is tailored to your child's specific learning needs and goals to ensure that he receives the right level of support.
With this plan, large goals that may seem impossible are broken down into little steps that are easier to achieve. You can even help reinforce some of these little steps at home or at family outings.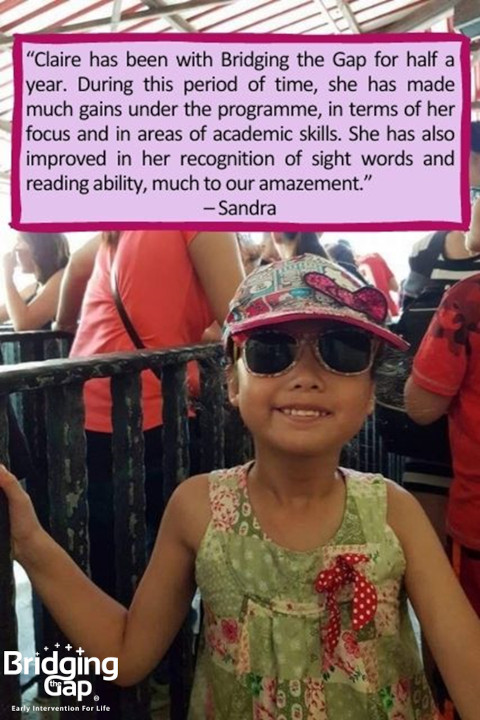 Step 3: Enrol in Integrated Early Intervention
By enrolling your child in Bridging the Gap, he will receive integrated early intervention that facilitates the development of language and communication skills, build fine and gross motor skills, and practise and improve his social skills, all in one class.
You are also equipped with the intervention strategies you need to support your child's development and adaptation in a variety of settings.
For example, you can continue some of these intervention strategies at home, in the mainstream preschool, on a family trip, visiting relatives, and in other daily routines your child has.
Step 4: Get Tips for Home Exercises
Once a week, Bridging the Gap shares tips for home exercises with you to incorporate in your child's daily routines to support your child's learning and development. By engaging in these exercises with your child, he learns how to practise his developing skills in multiple scenarios, and bond with you too.
Get more tips from Bridging the Gap's treasure trove of blogposts such as self-regulatory activities and fun home activities.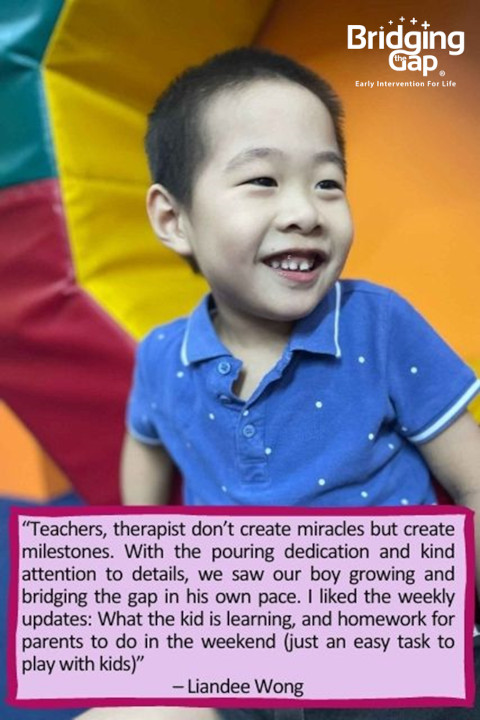 Step 5: Empowering Yourself To Advocate in Mainstream Settings
When you have familiarised yourself with the routines and scaffolding techniques that Bridging the Gap provides your child with, you would be more aware of what works and doesn't work for your child.
Being equipped with early intervention strategies in the previous steps, you are in a better position to identify gaps in your child's mainstream education environment. Share these early intervention tips with your child's mainstream school and its teachers and empowering them to create a supportive environment for him at school.
This knowledge sharing would give your child a better chance at ensuring his learning needs are met so he is able to thrive academically and socially.
Step 6: Having a listening ear by friends who understand
Bridging the Gap was founded by parents Max and Janice who wanted their son, who has learning difficulties, to have a safe and positive environment to learn and thrive in.
As they have also walked this journey before, they understand that parenting a child with learning difficulties can be challenging and overwhelming. With a listening ear and an early intervention plan, you can feel assured that you are supported by a community of friends rooting for you and your child.
Step 7: Take action to get your child the support he needs
Now that you know what support you can receive for both your child and yourself, find a suitable early intervention programme for your child at bridgingthegap.com.sg.
Learn more about Bridging the Gap via Bridging the Gap with Early Intervention Programmes for Inclusive Learning.
Read more about the founder's story via Finding My Purpose – An Extraordinary Mum's Journey to Founding Her Own Early Intervention Centre
This post is in collaboration with Bridging the Gap.
Photos courtesy of Bridging the Gap.
By Julia Chan.
* * * * *
Like what you see here? Get parenting tips and stories straight to your inbox! Join our mailing list here.
Want to be heard 👂 and seen 👀 by over 100,000 parents in Singapore? We can help! Leave your contact here and we'll be in touch.