This lively show for children 2 and up is full of fun, feathers, laughter and excitement and features original music and lots of audience participation! The friendly bus driver leaves us with one simple instruction: "Don't let the pigeon drive the bus!" However, the Pigeon is very clever and whines, bribes, pleads and even sings a song to get his own way BUT WILL YOU LET HIM DRIVE???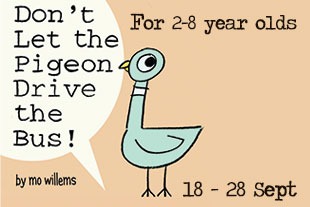 This show has been thrilling children in the UK for over three years and has just returned from a successful tour of the USA and Canada. Author Mo Willems has won six Emmy Awards as a writer and animator for Sesame Street and is the creator of The Cartoon Network's hit shows Sheep in the Big City and Codename: Kids Next Door. He was recently awarded the Caldecott Honor for children's literature.
Event Dates:
Thu, 18 – Sun, 28 Sep 2014
Tue – Fri: 10am & 2pm
Sat & Sun: 10.30am & 2pm
Venue: Alliance Francaise Theatre
Book your tickets now via www.sistic.com.sg/events/pigeon0914
This show is brought to you by I Theatre.