Gardens by the Bay is ready to ring in the Lunar New Year with an abundance of festive offerings for the whole family.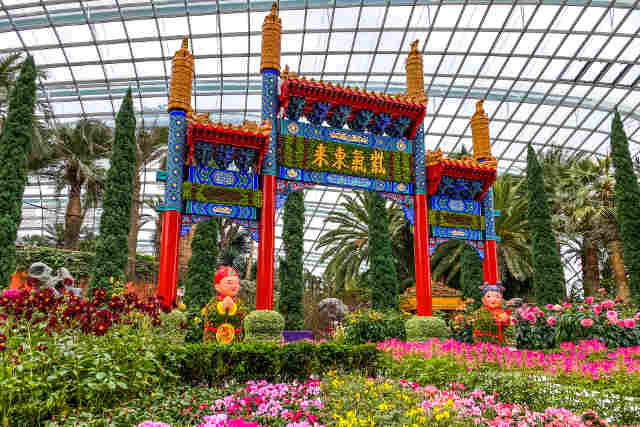 The 7-metre-tall 'Auspicious Omens' archway flanked by 'Golden Boy and Jade Girl' in the Dahlia Dreams floral display at Gardens by the Bay
Dahlia Dreams – The Heavenly Race (大丽花之梦 – 十二生肖争霸赛)
The festivities kick off with the annual Dahlia Dreams floral display, which opens today in Flower Dome and features spectacular horticultural works of art including a five-metre-wide Fu medallion, a majestic seven-metre-tall archway, and two lucky Golden Rats, all decked in greenery.
One of the two Golden Rats adorned in mosaiculture for the Dahlia Dreams floral display at Gardens by the Bay
This intricate horticultural art form uses bedding plants to carpet metal frames and create three-dimensional "living sculptures". Known as mosaiculture, it is showcased in this year's display as part of a collaboration between Gardens by the Bay and Chinese landscape design company Beijing Florascape Co., Ltd., who is known for designing large-scale floral displays for major Chinese events such as the 2008 Summer Olympics and the 70th anniversary of the People's Republic of China at Tiananmen Square.
Dahlia Dreams runs from today till 23 February in Flower Dome.
*******************************
Dahlia Dreams – The Heavenly Race (大丽花之梦 – 十二生肖争霸赛)
Date: 17 January to 23 February 2020
Time: 9am – 9pm
Location: Flower Dome. Admission charges to Flower Dome applies. (Get your tickets online to enjoy more discounts from Klook.)
Details: Admission charge to Flower Dome applies. Visit here for details of the display.
Spring Surprise (春 ● 喜)
Throughout the Gardens, there will be a myriad of free performances and activities for visitors to enjoy.
This year, Gardens by the Bay's Chinese New Year programme Spring Surprise will see the debut of the "Golden Pyro Dragon Dance". Performed by local troupe Tian Eng Dragon & Lion Dance Centre, this is the first time cold pyrotechnics will be incorporated into a dragon dance in Singapore to present a dazzling performance featuring a 14-metre-long dragon under a shower of fireworks-like sparkles.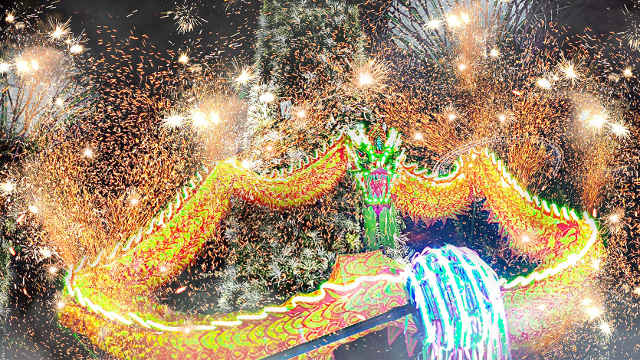 Visitors can also discover the origins of Chinese New Year traditions in "The Story of Nian". Produced by Dick Lee Asia under the creative direction of Dick Lee, this colourful retelling of the ancient Chinese legend about a mythical creature called Nian combines music, drama and puppetry, with puppet design by local award-winning puppeteer Frankie Malachi.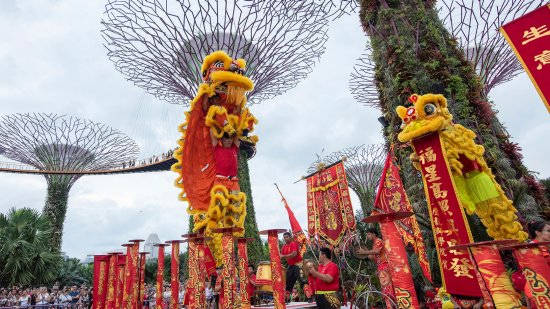 Golden Pyro Dragon Dance
Spring Surprise will run from 27 January to 9 February with a series of free activities including cultural performances such as Traditional Lion Dance and Shadow Puppet Performance, as well as festive music performed by Singapore Chinese Orchestra, Ding Yi Music Company, Drum Feng, Dicapella and other musical groups. Adding to the festive atmosphere are colourful rat lanterns hand-painted by beneficiaries of REACH Community Services.
Spring Surprise (春 ● 喜)
Date: 27 January to 9 February 2020
Time: Various timings
Location: Gardens by the Bay
Details: Programmes are free. Visit here for programme details.
*******************************
CHINESE NEW YEAR 2020 TICKETING PROMOTION
Chinese New Year is a time for family reunions and get-togethers. From 25 January to 9 February 2020, purchase one full-priced Singapore Resident Adult admission ticket to the conservatories and receive one complimentary Singapore Resident Senior admission ticket. Terms and conditions apply. Visit here for details.
Photos credit: Gardens by the Bay
---
CHINESE NEW YEAR 2020
We have compiled a list of Where to go during Chinese New Year 2020 especially for our readers. Click on the image to read more.
Like what you see here? Get parenting tips and stories straight to your inbox! Join our mailing list here.