Usher in the New Year with Gardens by the Bay's first floral display of 2019, "Dahlia Dreams", which features a wide variety of dahlias alongside other festive and auspicious blooms in a Chinese garden landscape.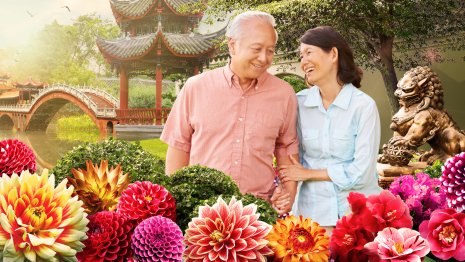 Dahlia Dreams (大丽花之梦)
Stroll through a Chinese garden blooming with colourful dahlias as the popular "Dahlia Dreams" floral display at Gardens by the Bay returns once again to usher in a brand new year. Amidst a scenic landscape dotted with elegant pavilions, rotating water wheels, and a majestic 40-metre-long archway of red lanterns, take time to admire the spectacular dahlias – some with blooms as large as one's face – along with other festive and auspicious plants like narcissus, cymbidium and chrysanthemum.
Keep your eyes peeled for the exquisite Senrinzaki or "Thousand Blooms" chrysanthemum arrangements, which have been painstakingly cultivated over a period of at least one year to present the magnificent display of 500 to 1,500 flowers blooming from a single plant.
To celebrate the Year of the Pig, delightful sculptures of the animal can also be spotted in Gardens by the Bay's first floral display of 2019.
Date: 18 January to 24 February 2019
Time: 9am – 9pm
Location: Flower Dome Details: Admission charge to the conservatories applies. (Get your tickets online to enjoy more discounts from Voyagin or Klook
.)




CURIOUS TO FIND OUT MORE?
Pick up a "Dahlia Dreams" Garden Trail for more interesting information or join us for daily "ASK Me!" tours by our friendly Display Interpreters as they share fascinating botanical facts and anecdotes about the floral display.
Date: 18 January to 24 February 2019
Time: Daily at 11am and 3pm (2pm – 5pm on 19 & 20 January, and 2, 3, 16 & 17 February)
Details:
Guided tours are free, but admission charge to the Flower Dome applies.
Tours last approximately 15 minutes and are available on a first-come-first-served basis.
To participate, gather at the "ASK Me!" poster near the Flower Field. Tour will begin when a group of five or more visitors is assembled.
Tours will not be conducted on Flower Dome closure dates.
Like what you see here? Get parenting tips and stories straight to your inbox! Join our mailing list here.