Tucked away on the second floor of Cineleisure Orchard is a castle of a different kind from the ones you usually read about in books.
To be sure, there is the mandatory fiery dragon, dangerous moat and all the rough and tumble action one would expect from your typical knight-in-shining armour tale, but Amazing Castle is not just your average castle.
Coming to Singapore all the way from Russia, Amazing Castle opened its doors (or drawbridge) to welcome visitors of all ages just a couple of months ago.
This is not just an indoor playground for the kids, or a video arcade for teens – it's a little bit of everything rolled into one, really, and translates into nine exciting stations that combine the joys of old school play with technological innovations.
It's a place where friends and family, couples and colleagues, can spend a refreshing time together and play to their heart's content.
We think it's a great option for filling in the waiting time before catching your movie upstairs, and a fun way to spend time doing something active as family without sweating too much. It could also be a unique way to spend a date, or perfect for a spot of team bonding before the end of the work day.
We visited Amazing Castle on a weekend night, and had a wonderful time working out an appetite for our dinner! Since we were going to try out all nine games, we were given a red wrist token to wear.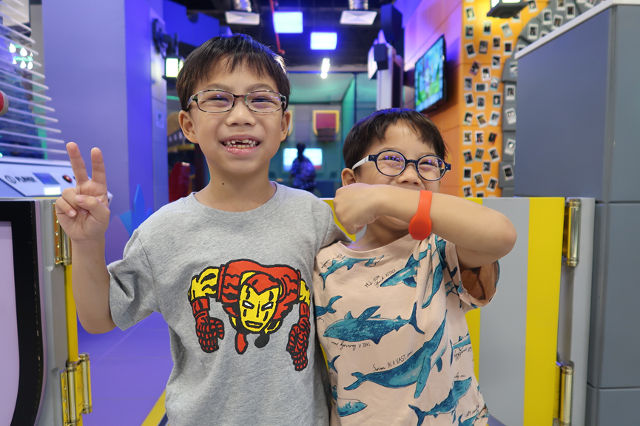 You would get a different colour depending on which package or route you want to take. The token is used to activate the different game stations by tapping on the game console.
Each game lasts a few minutes, and 2-3 players can play at any one time. There are some games that might be challenging for very young kids – which we'll touch on below. Here's a line-up of the nine different activities we enjoyed during our time in Amazing Castle.
Goons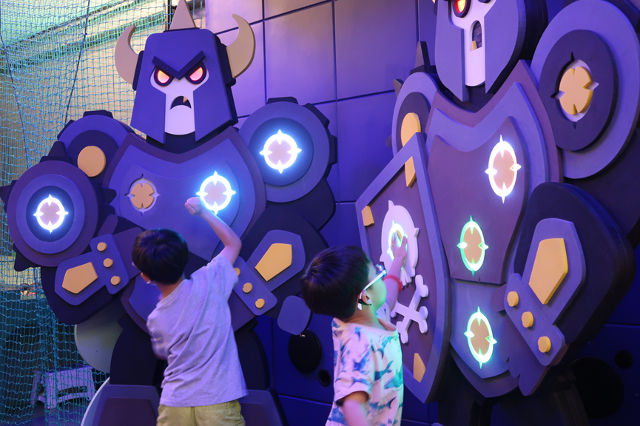 We started off with this relatively simple game to warm up. The objective is simple enough – tap the target buttons that light up. Or in the boys' case, give it a whack! The button action starts to accelerate after a while though, and it's hard to keep up! And because the boys are on the shorter side, there was lots of jumping to reach the higher buttons too!
Shoot The Goblin
This is similar to the kind of ball toss games you'd find in a carnival, but the game is made more challenging because the wheel of targets is constantly turning as you throw and the target faces light up at different times. The boys were more than ready to hit some goblins, and even climbed on top of the counter to get a better aim.
IQ Basketball
What do you get when you marry a fun trivia quiz with a well-loved sport? IQ Basketball! The game of shooting hoops is spiced up by answering a series of questions on the screen – your choice of answer determines which hoop you are aiming for. The questions ran the gamut of general knowledge to nonsensical, and definitely made for a very entertaining game of basketball!
Scream
View this post on Instagram

This was possibly the best stress relief my husband and I had all week! And the boys certainly didn't complain about getting the license to shout as loud as they could. Simply scream as loud as you can into a soundproofed cave and score points based on how loud you are. Such a great way to de-stress don't you think?
Although, I must say, kids like my boys don't quite get the concept of screaming inside the cave at the start… it took them a few tries to realise they needed to put their heads into the cavity before they started yelling their heads off.
Dragon Tower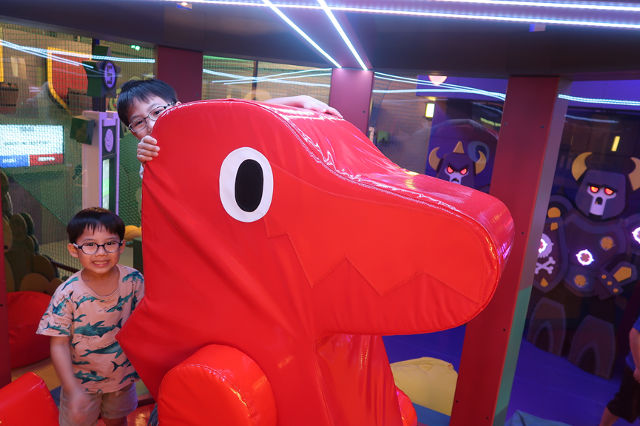 Every castle has a fiery dragon, and this one is locked up in a tower with a rotating floor. The aim of the game is to tap the lighted up buttons on the sides of the tower as the room rotates, which is actually harder to do than it sounds but it's certainly a whole lot of fun!
The floor and big dragon are made of foam and well-padded, safe for the kids and to play too. This was our boys' favourite game, and they went for it a grand total of four times! Warning: Exhausting but very addictive.
Seventh Heaven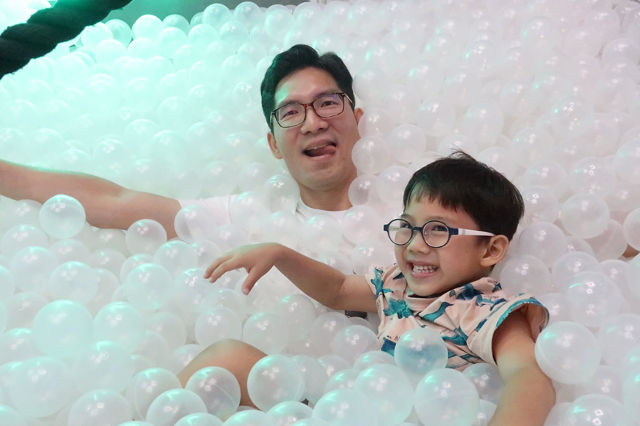 Find me a child who does not like ball pits. I've often watched in envy as my boys dived into ball pits in other indoor playgrounds, wishing I could do the same. Well, here you can!
The ball pit in Amazing Castle is not your regular knee-deep hole in the ground – this is a human-height tank full of transparent plastic balls, and because you're the only ones playing the game at that time, you have it all to yourself for those few minutes.
But you're not just there to enjoy the feeling of "floating" in the sea of balls. The challenge is to tap the squares that line the sides of the tank whenever they light up.
Sounds simple, right? But it's definitely no easy feat when you are neck deep in balls.
That's why there are two ropes strung across the tank, to give you some leverage to hoist yourself from one end to another.
Burning Surfer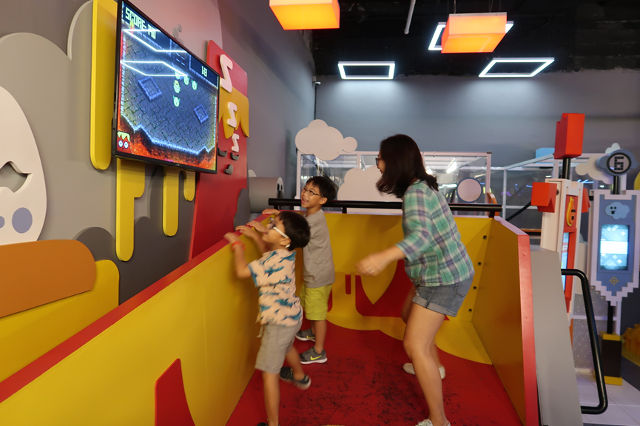 If you grew up in the 80s or 90s, you'll love the old school charm of this game interface. There are no buttons to press or handheld guns to fire in this game. Instead, it's a battle of balance, using physical movement to shift a giant see-saw platform that controls your "aim" of volcanic lava at the target enemies on screen.
View this post on Instagram

Older kids and adults will probably strategise on where to position themselves to take fire, while younger kids just love the thrill of dashing from one side to the other to get the bad guys.
Magic Pyramid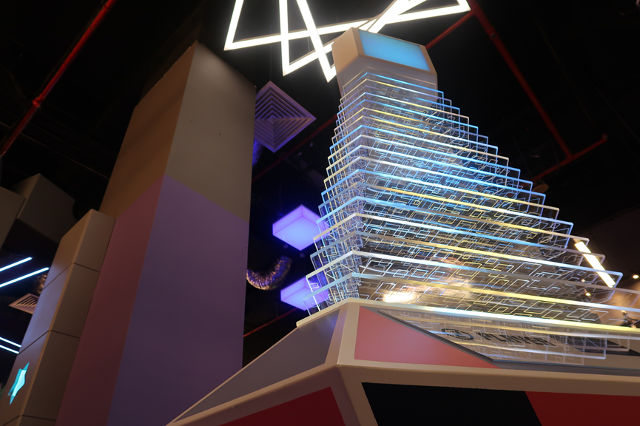 It's all about timing in the Magic Pyramid game, which 2-3 players can play. The challenge is to press the button whenever the row of stationery purple lights perfectly aligns with the moving rows of green lights. You'll need to focus all your attention and concentration for this one.
Freeze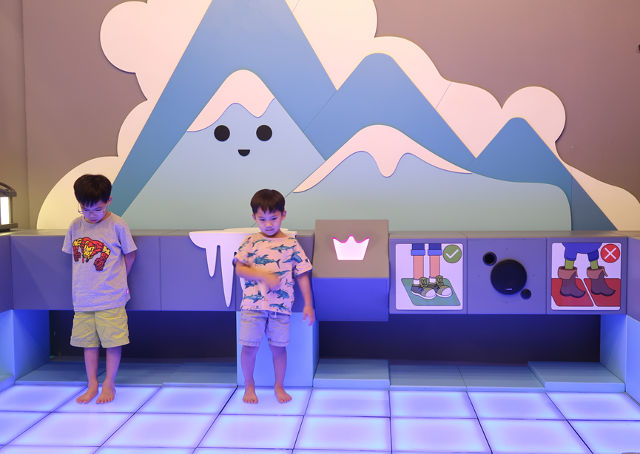 Probably what catches the eye of anyone who walks by the centre is this life-sized board game on the floor. It's a mix of the memory card game and team work.
Each round, a selection of squares light up briefly, and everyone needs to immediately memorise where they are. Then the mission is to step on all those squares that were lighted up – and only those – without crashing into each other along the way!
View this post on Instagram

Writer's note: The last two games on our list (Magic pyramid and Freeze) are more suited for older children or adults, as the instructions given and skills required may be too advanced for preschoolers and toddlers to grasp.
To play at Amazing Castle, you have three packages to choose from, and prices depend on the time and day that you go.
| | |
| --- | --- |
| Day and time | Rates |
| Weekdays before 6pm | $5 for 1 game, $18 for 4 games, $35 for 9 games |
| Weekdays after 6pm | $6 for 1 game, $22 for 4 games, $40 for 9 games |
| Weekends, all-day | $7 for 1 game, $26 for 4 games, $50 for 9 games |
Routes of 4 games are fixed, but you are free to mix and match when playing all 9 games. Check their website for more amazing discounts!
Address: 8 Grange Rd, #02-04A/05 Cineleisure Orchard, Singapore 239695
Opening hours: Mon 12pm – 10pm | Tue to Sun 11am – 10pm
Tel: 6951 3056
This post is brought to you by Amazing Castle.
Text, photos and videos by Dorothea Chow.
* * * * *
Like what you see here? Get parenting tips and stories straight to your inbox! Join our mailing list here.
Want to be heard and seen by over 100,000 parents in Singapore? We can help! Leave your contact here and we'll be in touch.